Links, News, and Notes: Andlauer gets down to business
Michael Andlauer to sit down with Daniel Alfredsson, where Alex DeBrincat could end up and more.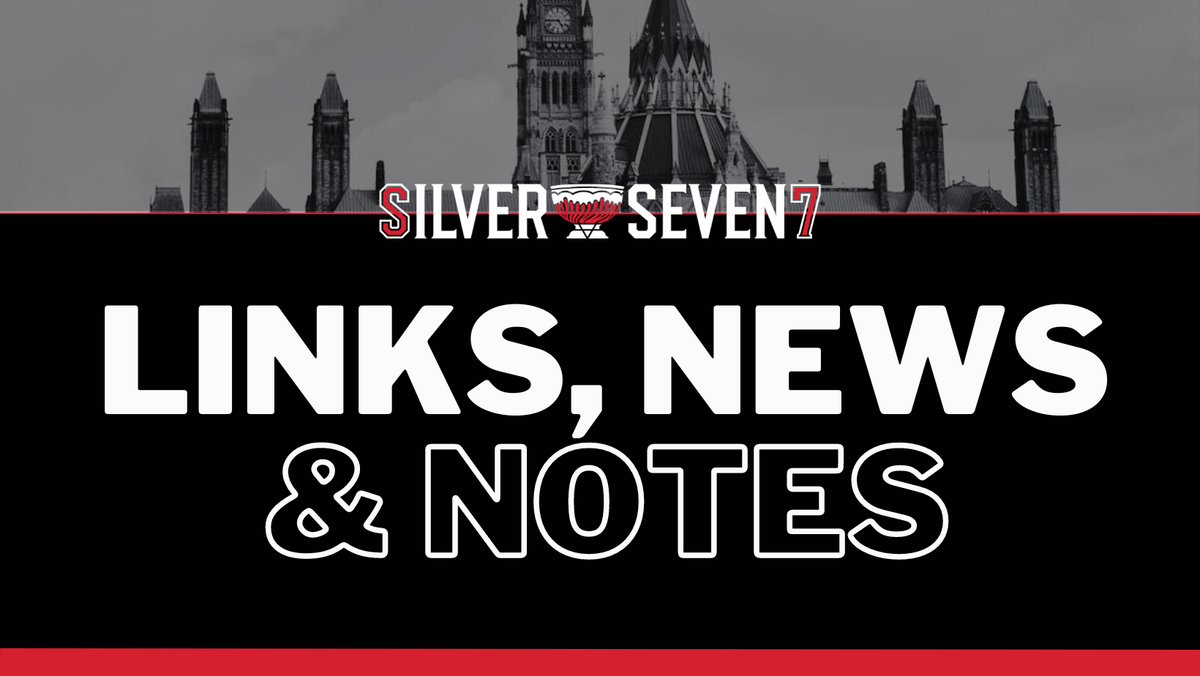 It's Monday, which means it's time to catch up on what's been going on over the weekend. Here's your start-of-the-week edition of LNN.
Michael Andlauer (the new owner, if you somehow missed it) is sitting down with Daniel Alfredsson and Mayor Mark Sutcliffe. The article can say what it wants, we all know Alfie is the true mayor of Ottawa.
One of the items on the agenda for the meeting with Mayor Alfredsson Sutcliffe could be alternate arena locations that are actually downtown($). Are these realistic options, or the Mayor taking a long-shot at downtown revitalization? You be the judge!
We don't know for sure that Alex DeBrincat wants out, but if he does, his preferred destinations appear to be Detroit, Florida, Vegas, or Dallas. The team from his home state plus 3/4 teams that made the Conference Finals this year probably makes sense.
The Hockey News takes an in-depth look at Sens prospect Angus Crookshank, suggesting we could see him take a big leap forward in his development this year.
The Leafs may buy Matt Murray out of the final year of his contract, which would leave the Sens with a $230k cap hit this year and $667k cap hit next season, as part of his salary retained.
The Hockey Writers looks at pending Flames UFAs that the Sens could look to sign, though of the names they list, I think Nick Ritchie is the only even somewhat logical fit. Even then, I don't think he brings anything the team doesn't already have internally.
Speaking of buyouts, the Canucks got this going by buying out Oliver Ekman-Larsson. A trade that looked dumb at the time now ends in a pretty regrettable way.
The Devils are getting things tied up, signing (former Senators trade target) Jesper Bratt to an 8-year, $7.875M-AAV extension, while taking Timo Meier to team-elected arbitration the same way the Sens are doing with DeBrincat.
With a broken foot and necessary shoulder surgery, Aaron Ekblad will miss the start of training camp for the Panthers. Once again, the NHL's culture of playing through pain has me wondering if a guy with a broken foot and wrecked shoulder is actually helping the team, while also seriously jeopardizing their future.
The Associated Press digs into why former Secretary of Labor [sic] Marty Walsh left to become the head of the NHLPA. Any article that doesn't mention his 1400% raise in salary probably isn't mentioning the biggest reason.
Supposedly the Leafs want to extend Sheldon Keefe, which... ask your neighbourhood Leafs fan what they think of that news, at any rate.
The Golden Knights will party, and then get down to business. Orders of business include deciding what to do in goal (Adin Hill and Laurent Brossoit are UFAs; Logan Thompson will return, as may Robin Lehner), deciding what to do with UFAs Ivan Barbashev and Teddy Blueger, and then figuring out who to extend of the 2024 UFA class (Jonathan Marchessault, Chandler Stephenson, Michael Amadio, and William Carrier).
Elias Lindholm and Noah Hanifin are either getting extended or else getting traded before the draft.
And lastly, here's Stanley Cup champ Jack Eichel working the drive-thru at Raising Cane's chicken:
Not everyone can afford to pay for sports coverage right now, and that is why we will keep as much of the site's content free for as long as we can.
But if you are able to, please consider subscribing to help keep our articles free (and get a few extra perks).
Erik Condra
Ability to comment and participate in our community
Twice monthly newsletter available only to subscribers
Ad-free reading
Our undying love and appreciation
Brady Tkachuk
Everything from the Erik Condra tier
10% discount on all merch
Access to any future paywalled content
A personal thank-you from the Silver Seven staff
Daniel Alfredsson
Everything from the Brady Tkachuk tier
Inner peace knowing you are supporting quality, independent coverage of your favourite sports team