Links, News, and Notes: We're A Team!
Some Sens-centric links, news, and notes for you on this balmy Monday.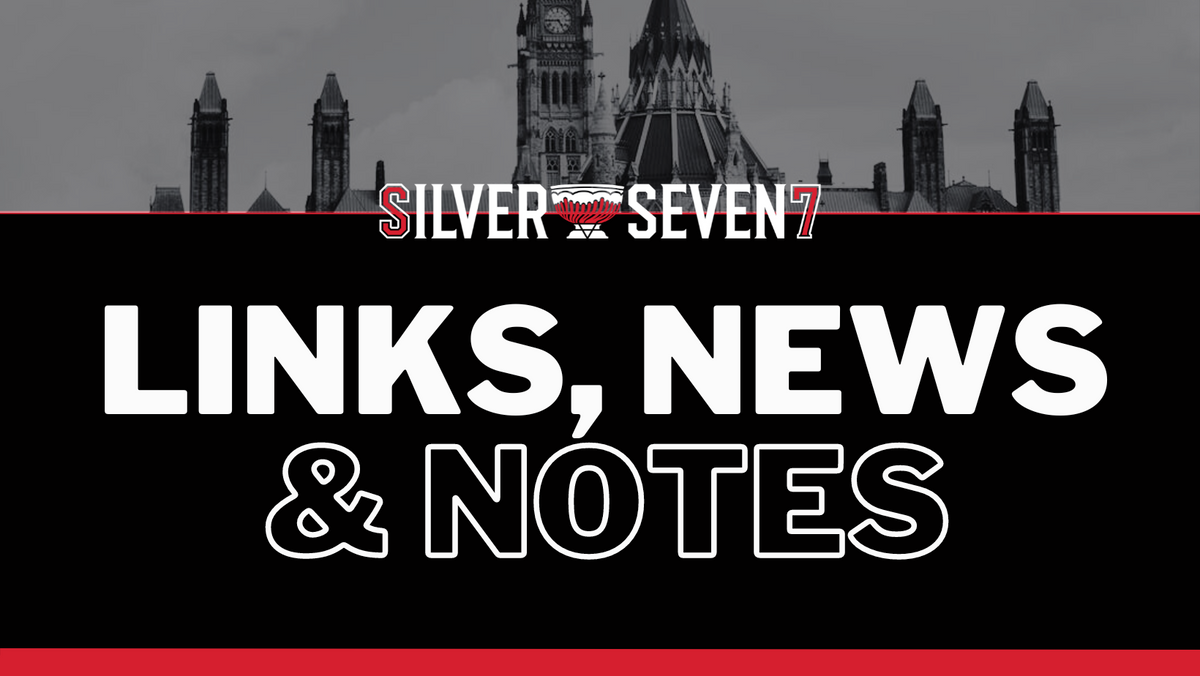 Between the Senators being today's NHL's 32-in-32 team and The Hockey News setting their focus on Ottawa, the Sens get some rare league-wide love in today's LNN.
Our first agenda item is an announcement concerning the Tuesday Trivia competitions. In last week's edition, our winner was Jack – whom we unfortunately could not match to a Silver Seven user name. If you are "Jack", please comment below! If we do not have a winner by the end of this week, we'll give away the shirt to an account chosen at random from all of the accounts that tied on 3/10.
I always have to start the links section of Monday edition of Links, News, and Notes off with a new Ian Mendes article. Today, he does Part 1, including addressing what impact Josh Norris will have in his return and why we still don't know when Shan Pinto will be re-signed
NHL.com got to the Sens in their annual 32-in-32 series today, which means lots of Ottawa-centric concent. Their first piece asks three questions facing the Sens, including how secure Dorion and Smith's jobs are. In my opinion? Not very! The new owner has ideas of who he wants to run his team, so the current guys won't get much (if any) leash.
Next, they review Ottawa's top-five prospects. Not surprised that guys who ended the year in the NHL in Greig and Sokolov get top billing, but Ostapchuk ahead of Kleven seems like a potentially bold choice to me.
They also review the new players in Ottawa, the biggest of whom is Korpisalo. The topic should be near and dear to Sens fans who are intimiately familiar with the perils of poor goaltending.
Lastly, they do fantasy projections. Brady at #13 in the entire NHL makes sense when you consider they see him as a 90-point guy, plus likely to lead the NHL in hits again and put up solid numbers of PIMs. The consensus is that Tarasenko has the inside track to playing with Tkachuk–Stützle, but I'm pretty sure that's Giroux's spot to lose.
Steve Warne, writing for the Hockey News, asks if this is the best Sens blue-line ever. I'm not totally sure it beats a top four of Redden–Chara–Phillips–Volchenkov yet, but Sanderson's progression alone could push it over the edge.
Adam Proteau argues that the hottest seat in Ottawa is a tie between DJ Smith and Pierre Dorion, and in both cases they are scorching
Warne also revisits a few almost-were Sens trades of yesteryear. I'd never heard the Darcy Tucker one before, which, since Tucker is probably my most-hated player of all time (though I have enjoyed him as a journalist), that trade would've forced me to change a lot of the jokes I'd made about him and a certain word that rhymes with his name
Steve Staios has left the Oilers' front office after just one year, which very possibly points to him joining his buddy Michael Andlauer in Ottawa
Marian Hossa's goodbye game happened over the weekend, and my goodness, what an all-time roster there: Chara, Lidstrom, Alfie, Bondra... hard to argue Hossa wasn't likable if he could bring all these guys out for a game together
Pronman's team prospect rankings entering 2023-24. Unsurprisingly, the Sens aren't as high as they have been in past years, given most of the prospects have made the NHL now.
Could Devon Toews be on the trade block? He's 29, a UFA at the end of the year, and the Avs haven't liked giving contract to players over 30 years old. I assume the Avs use him as an own-rental in another potential Cup-winning season.
The Score looks at the top move made by each NHL team in the offseason in their pre-season Power Rankings. For Ottawa, it's Tarasenko, who they point out was point-per-game in 2021–22. Sadly, they have the Sens 17th, meaning they're predicting Ottawa to finish just outside the playoff picture again.
Anthony Mantha is likely on the trading block for what feels like the 15th time even though he's only played 9 years in the NHL
The Sabres acquired Ilya Lyubushkin from the Ducks over the weekend. Good for them, I guess?
Not everyone can afford to pay for sports coverage right now, and that is why we will keep as much of the site's content free for as long as we can.
But if you are able to, please consider subscribing to help keep our articles free (and get a few extra perks).
Erik Condra
Ability to comment and participate in our community
Twice monthly newsletter available only to subscribers
Ad-free reading
Our undying love and appreciation
Brady Tkachuk
Everything from the Erik Condra tier
10% discount on all merch
Access to any future paywalled content
A personal thank-you from the Silver Seven staff
Daniel Alfredsson
Everything from the Brady Tkachuk tier
Inner peace knowing you are supporting quality, independent coverage of your favourite sports team