With its Decision to Abandon Pride Jerseys, the NHL Left Marginalized Fans Behind
Bettman's decision to do away with themed warmup jerseys needs to be understood in the context of the recent rise in transphobia around the world.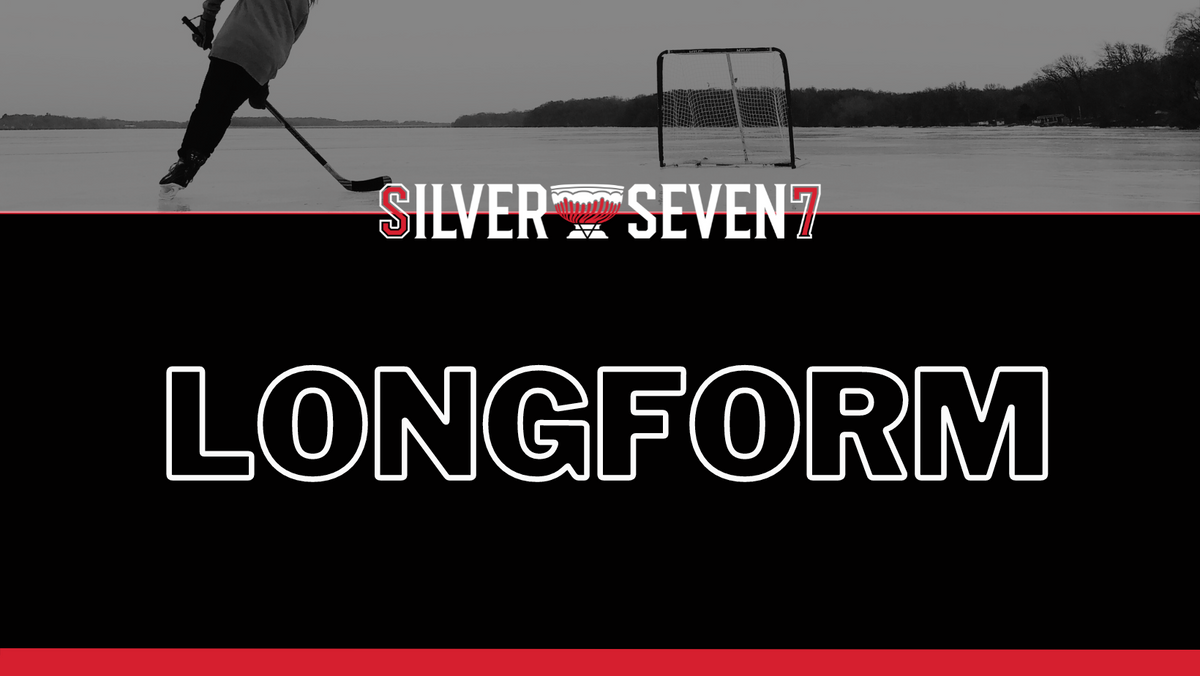 On Thursday, Elliotte Friedman reported that the NHL would be doing away with themed warmup jerseys for the upcoming season. Commissioner Gary Bettman explained that the themed warmup jerseys had become a distraction - likely referring to the media storm that surrounded Pride nights last season when multiple players chose not to partake in warmups because they did not want to wear team-issued Pride jersey. In response several teams opted out of Pride jerseys entirely. Bettman clarified that teams will still be able to host theme nights and auction off jerseys.
In the grand scheme of things, special warmup jerseys were not particularly impactful or meaningful beyond being a fun thing teams did every once in a while. Nobody was watching their favourite players skate around in military appreciation jerseys and saying "you know what? Maybe I should support the troops," and a few teams wearing pride jerseys didn't end homophobia or transphobia in the NHL.
Rather, the main appeal of warmup jerseys was always as a fun,  nice, simple gesture. The fact that the jerseys were worn in warmups and had players' names on them gave them a bit more value in the charity auctions. Some teams like the Canucks and Panthers even went the extra mile of hiring artists to create original - and absolutely spectacular - designs. Those jobs meant a lot to the artists who got to take them, and seeing their designs actually being worn by players was part of the fun of the whole process. Those kinds of initiatives also allowed the teams to connect a bit more with their fans and their local communities. The world wasn't changing by virtue of NHLers wearing Pride jerseys, but it was a nice gesture towards a group of people who have historically been marginalized in hockey.
The loss of the jerseys themselves is not the central problem; the crux of the issue is why the league decided to stop wearing warmup jerseys, and what that surrender means for fans belonging to marginalized groups.
Transphobia as a driving force
The recent trend of players opting out of wearing pride jerseys is taking place (not coincidentally) at the same time as we are witnessing  a surge in transphobia around the world. In 2023 alone, 558 anti-trans bills have been introduced in 49 US States, and 83 of them have passed. Many of these bills deny trans people essential health care and massively restrict their bodily autonomy. Just this month, New Brunswick released a version of their policy on sexual orientation and gender identity that would force teachers to out trans students to their parents (note that the bill was later amended under tremendous pressure to allow for situations where it would be dangerous to do so, but the updated version remains vague and concerning), while cities all over Canada - including Ottawa - saw their schools become targets of anti-trans protesters. Women's sports have become an unwilling battlefield, as fear mongering about the supposed danger posed by trans athletes dominates conversation about women's sports, often distracting from far bigger and more pressing issues.
All of this is being spurred on by a moral panic reminiscent of both the satanic panic of the '80s and the anti-gay rhetoric of the '90s and '00s. Trans people are one of the favourite topics of our current culture wars, and, as a result, dangerous misinformation - such as the idea that puberty blockers are dangerous, that gender affirming surgeries are being performed on children, or that 2SLGBTQ+ people are sexualizing children - has become mainstream.  The entire 2SLGBTQ+ community has felt the impact of this backlash, but the trans community has been hit the hardest.
I simply don't believe that a bunch of players who had previously worn pride jerseys without issue woke up one day and decided that they hate gay people. I also don't believe the narrative that this is all being caused by foreign influence, given that transphobia and homophobia are certainly alive and well in North America, and many of the players who publicly opted out of wearing pride jerseys were North American. It seems far more likely that, in a year where transphobic fear mongering has taken over a sizable portion of our discourse, professional athletes who had previously not had much of a problem with queer people changed their minds.
What bothers me especially is that the NHL knows this is happening. Ever since Ivan Provorov publicly decided not to take warmups during the Flyers' pride night, the comments on every NHL social media post have been an absolute cesspool of transphobia and homophobia. The NHL has been targeted as a brand that is "going woke," and thus they have faced a deluge of hate. This type of harassment is all too similar to what many trans people experience daily just for existing online -- and what cis people experience when we stick up for trans people.
One would hope that exposure to the vitriol directed towards a marginalized group of their fans would embolden the league to redouble their efforts to show solidarity. This is not just wisfhul thinking: the league's own Declaration of Principles states:  
All hockey programs should provide a safe, positive and inclusive environment for players and families regardless of race, color, religion, national origin, gender, age, disability, sexual orientation and socio-economic status. Simply put, hockey is for everyone.
Instead, the league caved to the vitriol almost immediately. The symbolic failure to support their LGBT+ fans is much more damaging than the actual loss of the pride jerseys themselves.
What is the purpose of pride jerseys, exactly?
It's important that we place all this drama around pride jerseys within its proper context because it's necessary to understand what, exactly, the NHL is enabling by refusing to make any kind of stand for the 2SLGBTQ+ community. Trans rights, and the LGBT+ community more broadly, are under attack right now, and the NHL is allowing itself to be a safe space for transphobia and a variety of other bigoted views.
Queer issues aren't completely separate from the NHL or the sport of men's hockey, either. There is already an openly gay player signed to an NHL contract, and, statistically, there are almost certainly plenty more queer players at every level of men's hockey. Transphobic and homophobic rhetoric is especially vicious toward people assigned male at birth who are viewed as gender non-conforming, and there are probably young closeted or questioning hockey players who are being affected by it.
There's been a lot of talk recently about the need to avoid unpleasant distractions in the NHL. Many fans want hockey to be an escape, where they don't have to think about things like issues facing the 2SLGBTQ+ community or which of their favourite players is going to publicly declare themselves a bigot and spark a week's worth of discourse. Fans have every right to feel that way. However, I also think it's important that we think about who gets to use hockey as an escape. For queer fans, hockey is not always an escape, and it won't be an escape until it is no longer acceptable to express bigoted views at hockey games. Even the small, token gestures like Pride jerseys in warm-up are being taken away.
Earlier this year, I used the Sens' Pride Night as an excuse to meet up with  friends, and a few of us arrived early to watch the warmups. The Sens didn't wear Pride jerseys that day, and I still remember every player on the team that didn't wear Pride tape. For myself and many other people in attendance that day, the joy of being among friends and community members and in a welcoming environment clashed with a sense of unease as we noted the absence of special jerseys, and wondered how many of the people around us were not safe for us to be around.
I've wondered, in the months since that game, whether I would have been happier if the Sens organization had decided to wear Pride jerseys, and a few players had taken a stand against it. I think I would have preferred that. At least then I would have known for sure. Instead, I'm left wondering.
Transphobia and homophobia shouldn't be acceptable in the NHL. I don't expect the NHL to lead the way in championing social justice issues, but I hope they'd at least prioritize the comfort of queer fans over the comfort of those who harbour bigoted views. The NHL doesn't need to, nor can it, change the world; but it can control the space it is providing for its fans. Bowing to the pressure to drop the Pride jerseys makes it hard to believe that that space is as safe as they'd like us to believe.
Not everyone can afford to pay for sports coverage right now, and that is why we will keep as much of the site's content free for as long as we can.
But if you are able to, please consider subscribing to help keep our articles free (and get a few extra perks).
Erik Condra
Ability to comment and participate in our community
Twice monthly newsletter available only to subscribers
Ad-free reading
Our undying love and appreciation
Brady Tkachuk
Everything from the Erik Condra tier
10% discount on all merch
Access to any future paywalled content
A personal thank-you from the Silver Seven staff
Daniel Alfredsson
Everything from the Brady Tkachuk tier
Inner peace knowing you are supporting quality, independent coverage of your favourite sports team