How do you solve a problem like the goaltending?
Maybe the biggest question facing the Ottawa Senators this off-season: what to do about the goaltending?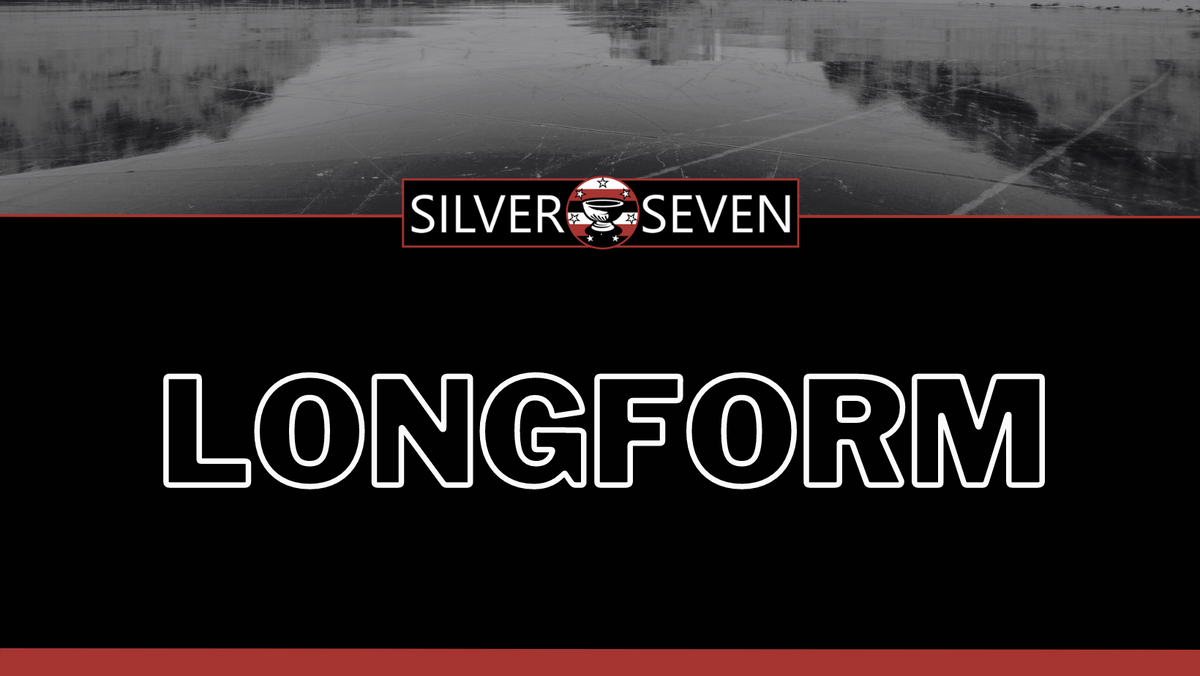 Looking back, we were spoiled with nine seasons of Craig Anderson as the Ottawa Senators' number-one. This upcoming season, 2023-24, will be the fourth consecutive season with what can best be described as a murky situation in net.
The Sens decided to move on from Andy after his contract expired in 2020. (It's kind of funny in retrospect, considering his .908 this year for the Sabres was better than any of Ottawa's goalies. Who would've guessed three years later, he'd still be NHL-calibre?) The plan was obvious: they traded for two-time Cup-winner Matt Murray (and gave him an extension that was absurd the moment it was signed), with the goal of platooning an experienced goalie with up-and-coming Marcus Högberg. After all, Högberg was a career .915 goalie over 179 games in the SHL before age 22, who'd looked good in the AHL, and had put up a .904 over 24 games when called upon in the NHL the year before. If neither of them worked out, the Sens were running Filip Gustavsson and Joey Daccord in the minors. Now, 2020-21 was a gongshow of a year for the Sens, and between injuries and poor play, all four of those goalies got NHL time, along with waiver-claim Anton Forsberg. Högberg flamed out of the NHL that year, Daccord got claimed by the Kraken in the expansion draft, Murray demonstrated the next year that his fragility and lacklustre play were more the new normal than a fluke, Gustavsson saw his NHL save percentage drop from .933 to .892 as his workload increased, and suddenly the whole plan was reduced to rubble.
A lot was made of the Summer of Pierre™ in 2022, but a move that was heralded by most (not me!) that did not work out at all was the swap of Cam Talbot for Filip Gustavsson. Most would agree Talbot's time with the Sens was abysmal. What most probably forget is that Forsberg had almost the same season as Talbot. Let's play a little game, where I show you the stats of three goalies from this season, and you guess which is Talbot, which is Forsberg, and which is Mads Søgaard: (1) 36 GP, .898 Sv%, 2.93 GAA; (2) 28 GP, .902, 3.26; (3) 19 GP, .889, 3.32. Find the answers by pressing the arrow below:
Answers

(1) Talbot; (2) Forsberg; (3) Søgaard
The point is, despite popular opinion, the Sens' two presumed starters finished 33rd and 42nd in save pct. among goalies to play at least 20 games, and Talbot only allowed goals at a rate that was 4% higher.
All this leads me to my question: what do the Sens do about this? We know Cam Talbot isn't coming back. The Sens will have Forsberg and Søgaard for next season, but Søgaard doesn't need waivers for likely two more seasons, so they do have options. This article below isn't a highly-analytical look, it's more a review of what happened across the NHL this past season, and how these could work out for the Sens looking forward.
Stand Pat
The easiest option is for the Sens not to do anything, and enter the season with Forsberg backed up by Søgaard. Forsberg's surgery has gone well, so this is possible. The problem, of course, is that neither goalie looked stellar last year. This coming season, Søgaard should progress, considering he doesn't turn 23 until December, and Forsberg should bounce back slightly to his career average around .908. A somewhat comparable best-case example is the Dallas Stars, who carried their young goalie, Jake Oettinger, and an older journeyman goalie under contract, Scott Wedgewood. The difference obviously was that both Oettinger and Wedgewood had very good seasons in 2021-22, and carried that stellar play into 2022-23. The Sabres did something similar, bringing 40-year-old Craig Anderson and 22-year-old Ukko-Pekka Luukkonen along for another year, though they added Eric Comrie, and eventually called up Devon Levi. That might be a more realistic scenario for the Sens this coming year, where Anderson saw his numbers improve, but Luukkonen regressed.
This is definitely a safe option. We'd probably see something like the Sabres, where the goalies are fine but don't steal very many games. And if it doesn't work out, the team can always look to make a trade to give Søgaard some more time in the minors. The big issue here is probably the question of injuries to Forsberg or Søgaard, given that then the Sens are looking at some combination of Kevin Mandolese or Leevi Meriläinen (or Dylan Ferguson if he's qualified) to call up.
Make a Trade
The Sens could go looking for a goalie that a team is looking to trade. The worst-case scenario from last year isn't hard to find—it's the Talbot/Gus trade. The Sens acquired a goalie who looked washed-up, and Minnesota acquired a Vezina finalist. However, the are options where this actually worked out. The Avalanche acquired Alexander Georgiev, who was always going to be stuck behind Shesterkin with the Rangers, and he posted a .919 over 62 games this season. The Devils similarly got Vitek Vanecek, with the Capitals resetting their team, and he put up a .911 in 52 games. Other examples include Adin Hill to Vegas (27 GP, 2.50 GAA, .915 Sv%), Ilya Samsonov to Toronto (42, 2.33, .919), Matt Murray (haha) to Toronto (26, 3.01, .903), Petr Mrazek to Chicago (39, 3.66, .894), and Ville Husso to Detroit (56, 3.11, .896).
It seems that most trades worked out decently. Keep in mind, Mrazek was hardly acquired to win, and Husso joined a still-learning Red Wings team. So who could the Sens go after this year? There were rumours that the Predators almost traded Juuse Saros to the Kings, and he would be a huge acquisition. He's just 28, carries a $5M cap hit for two more years, and is a career .919 goalie over 286 games. Obviously, Nashville wouldn't let him go for less than a huge offer, which means we're probably looking at a 1st-rounder and a prospect you love—think Ridly Greig—as the starting point. Another option, more like the Georgiev experiment, would be the acquisition of Jeremy Swayman from Boston. He's 24, a pending RFA, coming off an incredible season, and clearly stuck behind Linus Ullmark in Boston. The Bruins have just $10M in cap space for next season with only 14 players signed. I'm not sure they can afford to bring Swayman back at more than $2M, and may have to trade him. If they'd be willing to trade him within the division, he could be a real option for the Sens. I think the ship has sailed on acquiring Thatcher Demko on the cheap, and I'd pass on getting a guy like Jakob Markstrom or Elvis Merzlikins with retained salary. After that, you're mostly looking at untested RFAs, who don't appear any better than the options the Sens already have in the AHL. If the Sens can get one of those top two guys, I'd say it's actually worth it. It may just be possible, too, because there aren't too many teams looking for a new potential #1 goalie. Carolina's tandem are both UFAs, Montreal or San Jose might want someone else, and St. Louis may be looking for an upgrade, and that's about it. The Sens likely won't get caught in a huge bidding war here.
Sign a UFA
The other option is signing a UFA. This isn't usually a great option for the Sens, but given the lavish success of the Claude Giroux signing and the burgeoning young team here, useful UFAs may actually want to join this team. We saw this past year the Darcy Kuemper signing go pretty well for Washington (.909 in 57 games, 5 years × $5.25M), and the Jack Campbell signing go terribly for Edmonton (.888 in 36 games, 5 years × $5M). Other than that, you're mostly looking at backups (Martin Jones in Seattle, Kevin Lankinen in Nashville, Thomas Greiss in St. Louis, Jaroslav Halak with the Rangers, David Rittich in Winnipeg), or else even deeper depth that ended up coming in handy (Alex Lyon in Florida, Magnus Hellberg in Seattle, Pheonix Copley in LA). The truth is that every season, there's usually one or two actually good players who become UFAs, and then most guys are either aged guys you're hoping haven't regressed yet, or unproven guys you hope can suddenly figure it out.
So, who's available on the list this year? On the old-but-maybe-not-too-old end, you have Carolina's pair of Antti Raanta (34 years old) and Frederik Andersen (33). Both could be good options to potentially hold down the fort with Forsberg for a year or two. An older goalie like Jonathan Quick or Semyon Varlamov might be interested in a short-term final contract, but could also be washed at any moment. You could also take a chance on a guy like Laurent Brossoit, Alex Nedeljkovic, or Adin Hill, or even a guy like Joonas Korpisalo or Tristan Jarry, who will likely both re-sign with their current teams, but if they don't would garner interest when they hit the open market. Or hey, Magnus Hellberg is available again. In all, it seems impossible that this is the long-term option for the Sens—there isn't a Kuemper hitting the market this year—and it's unlikely even in the short-term. If anything, free agency might be where the Sens get a third-string goalie who could push Søgaard, forcing him to work for his NHL spot.
The Verdict
It looks like the Sens can try to sign Raanta or Andersen for at most two years, try to put together a package for Saros or Swayman, or else head into the season with the guys currently under contract. The defence should be better next season, so maybe the Sens don't need to massively upgrade in net. I think that if you can't get one of those four, that's probably the smartest option. There's always the possibility that if you struggle out of the gate, another goalie becomes available in November, and you pull the trigger then, when prices are likely to come down.