Five Thoughts for Friday: Play-off Musings
The Ottawa Senators have long been on their summer break, but the play-offs have brought with them their fair share of intrigue.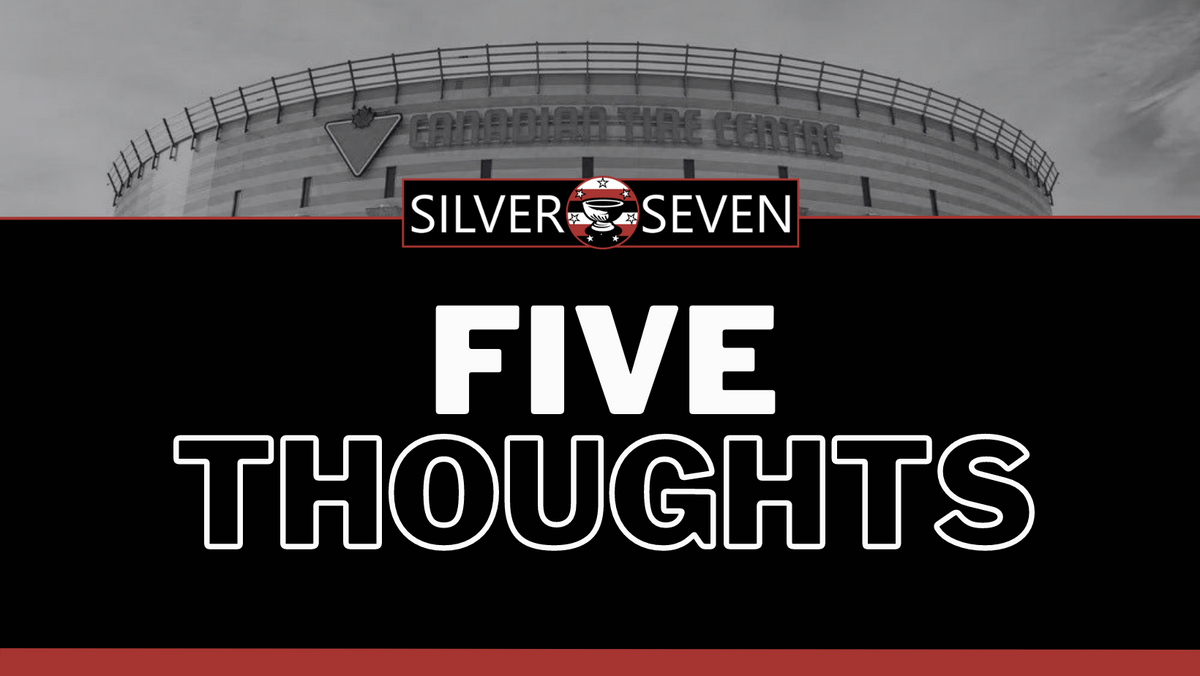 While I long for the day that the Ottawa Senators return to post-season play, I've actually found myself quite excited for these Conference Finals: all of the Sens' obvious rivals have been eliminated, and the four remaining teams are each varying degrees of good, and, importantly, good in their own, unique way. The hockey's been fast, intense, and just generally worth watching. For a neutral fan, this is about as good as it gets.
For today's edition of Five Thoughts, I thought I'd share some stray thoughts I've had while watching the post-season so far:
Aggressive Pinching
The Florida Panthers are probably the best story among the teams remaining in the post-season tournament. Much ink has been spilled about Matthew Tkachuk, but for my money the most interesting thing about the Panthers' play has been their teamwide commitment to an absurdly aggressive pinching scheme. The Panthers generate a good chunk of their offense by creating turnovers after disrupting the opposition's attempted breakout. First the Boston Bruins, then the Toronto Maple Leafs, seemed genuinely shocked by how little time their wingers had to move the puck to the middle of the ice; even after a clean first pass from their defense. The strategy only really works, though, because Florida has three stellar defensive centres in Aleksander Barkov, Anton Lundell, and Sam Bennett. If your centreman is not adequately covering your pinching defensemen, the strategy can just result in giving up a lot of odd-man rushes. There's a big risk/reward trade-off, but so far the Panthers are getting the balance right.
The end result is a lot of failed breakouts for the opposition, and sustained zone time for Florida. I'm not sure I'd go so far as to call Paul Maurice a tactical savant, but there's no denying that he's stumbled upon a style of play that's working to great effect with this group. Whether the Hurricanes can  figure out a way past the pressure will go a long way to determining the winner of the series.
Roope Hintz is a lot of Fun
Roope Hintz isn't the Dallas Stars best player, that would be Jason Robertson, but he's been having the best play-offs, and it's been an absolute joy to watch him just rip around the ice and then wire shots past helpless goalies. The concept of a player being "criminally underrated" is a bit silly in 2023, but if I had to nominate a guy that casual fans are probably sleeping on it would be Hintz.
I mean, just look at all these great plays from the second round alone:
Quick: without looking, how many goals would you say Hintz scored this year? How many of you got 37? He scored 37 last year, too – and if you look at his goal-scoring rate for the last three seasons, he ranks 14th in the entire NHL for G/60 across all situations. He's really, really good. One of the fun things about the play-offs is under-appreciated players get their time in the spotlight. Hintz more than deserves his moment.
Goaltending is unpredictable
While it's generally accepted that goalie performance is one of the hardest things to predict, there are few goaltenders whose play can swing more violently than Sergei Bobrovsky. Pick any measure you'd like to use to evaluate the difference between his play in the post-season versus the regular season, but, for my money, transforming his 70th ranked -4.27 GSAA (goals saved above average) from the regular season to a league-leading (by a mile) +8.5 (!!) GSAA across just 11 games paints a pretty vivid picture. Basically, Bobrovsky's gone from being a liability to an all-world difference-maker. I haven't read anything about his recovering from injury, or really any explanation of what could be making the difference. So I'm left to once again throw up my hands and declare that I'm done with trying to figure out goalies. They just do not make sense.
Penalties should still be penalties....even in the fourth overtime Period
One of the major storylines throughout the play-offs has been the officiating – particularly the referees' tendency to swallow the whistles at crucial junctures. While at some level I can understand the desire to not have the referees "decide the game", a refusal to call infractions is also deciding the game: the absence of a call is just as much of a refereeing choice as making a call. In the fourth overtime period of last night's game between the Hurricanes and Panthers, Carter Verhaeghe was called for a hooking penalty. The general reaction from the Florida contingent was: "You're calling a penalty in the Fourth Overtime?!" Yes! You're damn right! It was a clear as day hook!
In this instance the Panthers ended up killing the penalty, and eventually went on to win the game, so we weren't subjected to a litany of discourse about whether the punishment was earned – and thank God, because I would greatly enjoy it if the refs felt empowered to continue making the necessary calls. More penalties in overtime when warranted, please!
There's nothing like an OT Game that just keeps going, and going, and going...
Speaking of the fourth overtime: a common refrain from hockey fans is that play-off hockey is the most exciting sports viewing experience – and that is only made even more nerve-wracking by overtime play-off hockey. While I generally agree that there isn't really another feeling like cheering on your favourite team in extra time, there's also a stage at which a sporting event lasts so long that it starts to feel a bit surreal. Last night's game crossed over into that Twilight Zone – fans were falling asleep in the stands, the crew calling the game for Sportsnet was getting a little bit punchy, and the players themselves looked increasingly exhausted. The only thing that we all knew for certain was that Bobrovsky and Frederik Andersen were not going to be beaten.
For reasons that are unclear to me, I stayed up for the full duration, watching a game involving two teams that I could care less about; the spectacle of the thing demanded it. The option to turn it off and just go to bed was never even considered. There's play-off hockey, and there's whatever last night's group hypnosis session was. There's nothing like it.
Not everyone can afford to pay for sports coverage right now, and that is why we will keep as much of the site's content free for as long as we can.
But if you are able to, please consider subscribing to help keep our articles free (and get a few extra perks).
Erik Condra
Ability to comment and participate in our community
Twice monthly newsletter available only to subscribers
Ad-free reading
Our undying love and appreciation
Brady Tkachuk
Everything from the Erik Condra tier
10% discount on all merch
Access to any future paywalled content
A personal thank-you from the Silver Seven staff
Daniel Alfredsson
Everything from the Brady Tkachuk tier
Inner peace knowing you are supporting quality, independent coverage of your favourite sports team