Five Thoughts For Friday
The thoughts are all over the place this week.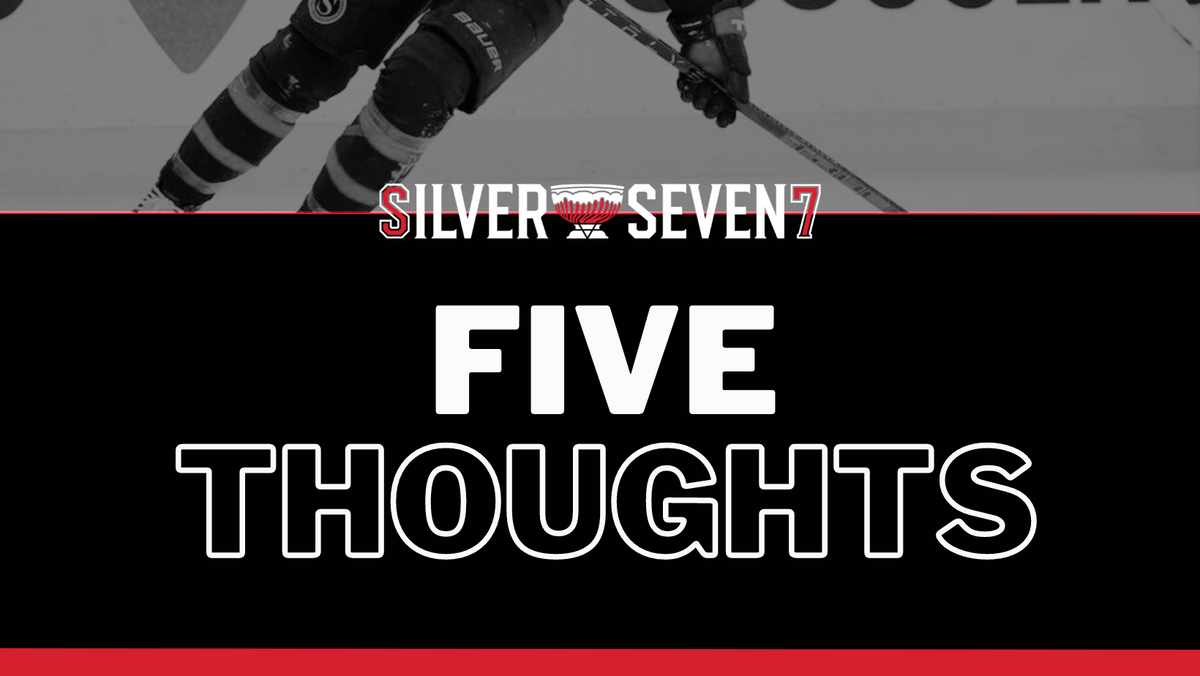 The Ottawa Senators fired Assistant GM Trent Mann and signed Kevin Mandolese to a one-year deal. Nothing else happened, and you want FIVE thoughts for Friday??? Well, here you go. Don't say I didn't warn you.
On being Trent's Hype Mann
Although his tenure with the Senators began back in 2015, it wasn't until the 2018-19 season that Trent Mann began to gain something of a cult following in the nation's capital. I was a proud member myself around the time the 2020 draft rolled up. The catalyst was the maligned draft picks of Brady Tkachuk (4th overall in 2018) and Shane Pinto (32nd overall in 2019) turning out far better than expected. And while he also had a strong 2020 draft, the following year's class leaves a lot to be desired, while some previous first-round picks didn't pan out as we'd hoped. It's quite a common phenomenon in which a player or executive goes from underrated to overrated in a short amount of time. Whether or not you were a fan of Trent Mann, he probably had you fooled at one point or another. He was never as good, or as bad, as either side of the argument made him out to be.
On the lack of top prospects, and while it ultimately doesn't matter
On the subject of amateur scouting, we're all aware that the number of top prospects in Ottawa has dwindled over the last couple of years, with Ridly Greig and perhaps Roby Jarventie being the only two forwards with top-six upside, with neither being a lock. It's certainly ideal for teams to have more options than this when it comes to filling holes in your roster for cheap but in Ottawa's case, they won't be affected all that much, considering so many core players are already locked up long-term. With Tim Stützle, Brady Tkachuk, Josh Norris, and Drake Batherson in their prime, that leaves two spots to fill, assuming Claude Giroux signs another deal and transitions into more of a third-line role as Father Time catches up with him.
From there, free agency is always an option. With Jake Sanderson being the only big name needing a new deal next offseason, the Senators will have over $20M in cap space to work with, with the increase of the upper limit, Bobby Ryan's buyout, and other dead money coming off the books, and Colin White's buyout somehow having a negative cap hit (???). More than enough to give Stützle a decent line-mate – options in the 2024 offseason include Tyler Bertuzzi, Teuvo Teräväinen, Jakub Vrána, Viktor Olofsson, and Jake DeBrusk.
On adding another forward
With roughly $5M remaining in cap space for the upcoming season, the opportunity to add another middle-six forward still exists, on top of re-signing Shane Pinto. Vladimir Tarasenko has been rumored to be an option, but I don't see his ideal contract fitting under the cap this year.
Instead, I've turned my attention to 32-year-old winger Tomas Tatar, who's coming off scoring 20 goals and 28 assists in 82 games with the New Jersey Devils. I suspect his poor playoff numbers are the main reason he hasn't been signed, as 1 goal in 12 games isn't the best incentive for proven Cup contenders like New Jersey and Carolina. For a team like Ottawa, however, it could be the perfect fit. If their goal is to get to the playoffs, having a player like Tatar in your middle six is a step in the right direction, and the lack of interest from other clubs would mean the Sens could sign him for a lower amount, potentially under $3M.
And if you're worried about how the Sens will fare in the playoffs with him on the roster, that's not exactly the worst thing to worry about when the alternative is missing the playoffs for a seventh straight season.
On "meaningful games"
That's right. A seventh-straight season. Methinks it's about time Pierre Dorion places some serious expectations on this team to, at the bare minimum, make the playoffs in 2024. While I appreciate his reining in expectations last season, citing "meaningful games" down the stretch as the goal, making bold statements at a time like this (instead of waiting until training camp) is fine in my opinion. Doing so in 2021-22 when the second defense pair consisted of Michael Del Zotto and Nikita Zaitsev, well he's got nobody to blame but himself for getting absolutely clowned on for that "the rebuild is over" quote. You've got Jake Sanderson and Jakob Chychrun in the mix now. You know you won't be back next year if the team misses again. Hype up the boys a bit, Pierre.
On whatever this is
I always appreciate it when the local media calls the Senators out for their BS, but what exactly happened here?
The Ottawa Senators, like most NHL teams, are a pond rife with embarrassing stories and valid criticisms, but we're just mailing in it at this point, aren't we?
I don't have much to say about this one, other than that for a team that's missed the playoffs for six straight seasons, there's plenty of ammo for folks to be critical, without any need for the folding of tin foil.
Not everyone can afford to pay for sports coverage right now, and that is why we will keep as much of the site's content free for as long as we can.
But if you are able to, please consider subscribing to help keep our articles free (and get a few extra perks).
Erik Condra
Ability to comment and participate in our community
Twice monthly newsletter available only to subscribers
Ad-free reading
Our undying love and appreciation
Brady Tkachuk
Everything from the Erik Condra tier
10% discount on all merch
Access to any future paywalled content
A personal thank-you from the Silver Seven staff
Daniel Alfredsson
Everything from the Brady Tkachuk tier
Inner peace knowing you are supporting quality, independent coverage of your favourite sports team