Five Thoughts for Friday: Silver Linings, The Spineless NHL, Status Quo GM, and more!
Thoughts on silver linings for trading DeBrincat, the NHL being spineless, Dorion staying for now, and more!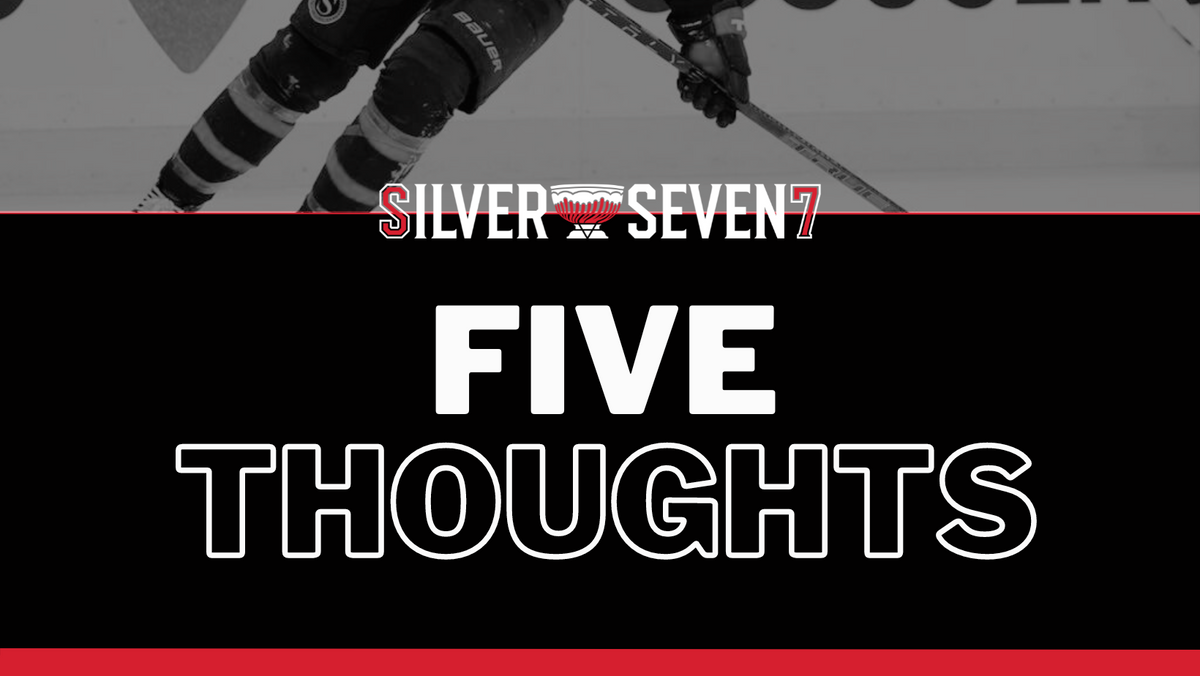 Thoughts on a Friday with lots of rumours swirling around, just five days before the NHL Draft and eight days before free agency begins:
Silver Linings of Trading DeBrincat
If you've read anything I've written this year at Silver Seven or on Twitter, you'd know that I'm a big fan of Alex DeBrincat and I think he's worth keeping around. He's an elite goalscorer, and his probable absence in 2023-24 will absolutely make the team worse. I don't think he's worth $9M right now, but that's a different story. It's undeniable that it was always going to be very difficult budget-wise to keep him, especially considering Ottawa needs to bolster their forward depth and get another goaltender.
I'm not happy about a DeBrincat trade, but a silver lining from it would be that they would be able to find a few more pieces and spread the wealth a little bit. After re-signing Shane Pinto and Erik Brännström, the Senators should have around $12-13M to spend on the rest of their roster. That needs to go to signing or trading for a second-line replacement, at least 2-3 depth forwards (or re-signing Julien Gauthier, Dylan Gambrell, Patrick Brown, and Derick Brassard), potentially a 6/7 defenseman like Travis Hamonic, and a backup goaltender to Anton Forsberg.
That doesn't give them a ton to play with, but if their DeBrincat "replacement" is making $4M and their new goalie is making $3M, that gives them enough room to sign a few solid depth forwards as well. Who those names are is a mystery, but they could still plug some holes this off-season with some shrewd bargain-hunting. Losing DeBrincat will hurt, but it's possible to come back from it.
Pillaging in Calgary
Speaking of DeBrincat replacements, the Calgary Flames look like they could be headed for a firesale:
One name that sticks out as an intriguing option for Ottawa is Tyler Toffoli. The 31-year-old right winger has a small cap hit of just $4.25M and is a UFA next summer. He's coming off his best season with 73 points in 82 games, but even his career average of 52 points per season is still very good. Obviously the Flames wouldn't want to trade for DeBrincat, but if the Senators get futures for him, they could then deal a piece or two from that to Calgary for Toffoli.
This is just a shot in the dark that Ian Mendes also talked about, so it's not as if it's a real rumour. But he's an interesting name nonetheless.
Spineless NHL
The NHL has submitted to the bigots and made the decision to not do any sort of themed warmup jerseys next season. We all know why this decision was made: the NHL didn't want to be in the awkward position of having to say why certain players like the Staal brothers, Ivan Provorov, James Reimer, etc. were not wearing Pride jerseys. And it's utterly spineless.
99% of NHL players were willing to put the jersey on, and most of those that wore it were happy to do so because they support the LBGTQ+ community. Yet a few players who voiced their opinions get to run the show in the name of...something. What's ridiculous about this decision is that now they can't even do warmup jerseys like these, which sucks the life out of those events:
It's not as if these themed nights will fully go away, but it just shows that the NHL doesn't actually care about any of these initiatives and that they can be bullied into a decision despite it actively hurting millions of its own fans and allies. We should have already known that the NHL isn't a progressive league, but it's disappointing to see it in action regardless. Despite this bad news, I hope those who are in marginalized and under-represented hockey communities continue to show up because you deserve to be here.
Status Quo for Now
According to Bruce Garrioch, the Michael Andlauer sale might not be officially official until September, meaning that things will essentially be status quo within the Senators organization until then:
Nothing is written in stone until Andlauer meets with the media, but the expectation is that Dorion and coach D.J. Smith will lead this club into next season. Dorion has been steadfast in his support of Smith and both are confident this club can get to the playoffs next spring.
So many things can change between now and the fall, as well as now and the end of next season. Perhaps Andlauer truthfully does want to keep Pierre Dorion and DJ Smith, although considering he didn't hire them, I can't imagine they're his top choice for both—especially with all the smoke around Steve Staios. So with the luck of timing, the two of them might keep their jobs for a little bit longer, although I can't imagine both of them are here in 2024 unless the Senators vastly overperform.
World Juniors Back in Ottawa
It was announced yesterday that Ottawa will be hosting the 2025 World Junior Championships, which is just a year and a half from now. It's the first time the city has hosted the tournament since the magical run for Team Canada in 2009 with the famous Jordan Eberle comeback goal:
17 games will be played at the CTC, with the other 14 played at TD Place. I was fortunate enough to be in the Press Box when the WJC was hosted in Vancouver in 2019, and it was such an amazing experience to see the best young players from all over the world. If you haven't seen a WJC game before, I highly recommend it if you are able to go. Although I don't care about the outcomes nearly as much as I would for true best-on-best, the games are still incredibly fun and the players care so much about every single game.
It will be a great time to be an Ottawa hockey fan after Christmas in 2024!
Not everyone can afford to pay for sports coverage right now, and that is why we will keep as much of the site's content free for as long as we can.
But if you are able to, please consider subscribing to help keep our articles free (and get a few extra perks).
Erik Condra
Ability to comment and participate in our community
Twice monthly newsletter available only to subscribers
Ad-free reading
Our undying love and appreciation
Brady Tkachuk
Everything from the Erik Condra tier
10% discount on all merch
Access to any future paywalled content
A personal thank-you from the Silver Seven staff
Daniel Alfredsson
Everything from the Brady Tkachuk tier
Inner peace knowing you are supporting quality, independent coverage of your favourite sports team