Five Thoughts for Friday: The Sale Process Drags On
To say it's been a slow news week for the Sens would be an understatement. As we wait for any significant news about this team, let's overanalyze the crumbs of content we did get.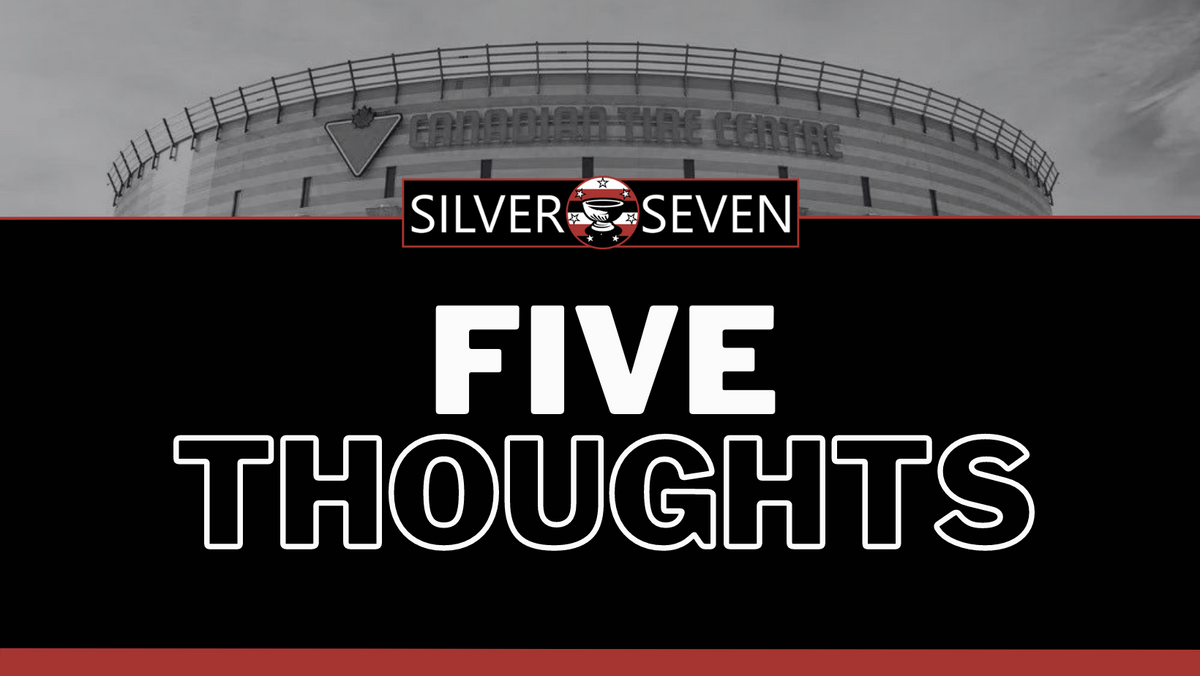 On having fun
When Brady Tkachuk was first pictured at FLA Live arena for this year's Stanley Cup playoffs, calmly sipping wine from a private box, many around the hockey world wondered what had gotten into him. He looked nothing like the boisterous younger brother who had shown up to the Saddledome a year previously with beers in each back pocket, hooting and hollering throughout Matthew's games and celebrating wins by picking up small children and putting them on his shoulders. Was he maturing? More serious about his role as captain of a divisional rival? Had engagement mellowed him out?
Pierre Dorion's comments on the Cam and Strick podcast hint at a different reason. The GM - who is himself fairly well known at this point for being a bit of a goofy guy, prone to getting a bit too excited about the game and speaking his mind more than he should - admitted that he didn't approve of Tkachuk's antics last year, or of his tendency to sing karaoke at bars in Ottawa. Dorion essentially said that this is a point on which he and DJ Smith disagree, as the coach tends to lean toward letting the kids have fun. That aligns with pretty much everything we know about DJ, which is that he lets the players be themselves and enjoy playing hockey.
Dorion comes across as a bit strict in the whole interview, as he also mentions that certain veteran players don't agree with his dress code. Apparently Claude Giroux told him that the team would have made the playoffs if they hadn't been forced to wear ties.
That last part is a bit silly, but the whole interview made me think of how so many Sens fans seem to agree that DJ was the right coach for the rebuild, but has overstayed his welcome. I wonder how much this rhetoric is informed by the idea that players can have fun when they're new to the league but need to calm down once they get more serious about the sport - something we tend to hear a lot in the NHL. It sucks, because hockey is a form of entertainment and it's more entertaining when the players are having fun. It also feels especially important for a team like Ottawa to foster a culture where players are enjoying themselves. Just look at what happened to Calgary under Darryl Sutter - a year of success, yes, followed by multiple players leaving or threatening to leave because of the coach. I like that the Sens have fun playing hockey, and I'd hate to see these players stop singing karaoke at random bars. That's already a sacred Ottawa Senators tradition.
I'm not saying that I think DJ needs to stay, but I do hope that when the time comes to find a replacement, the team doesn't swing too hard in the other direction. It's not all working, but some of it is.
The Battle of the Tkachuks
Brady's more subdued attitude toward the playoffs does make a lot of sense this year, however, because it just feels different this time around. Even last year I didn't want Matthew to win the Cup, but that was because I thought it would be funny if Brady won the Cup before his older brother did; this time around, it feels more real. In 2022, of course it made sense that Matthew Tkachuk would have more success than his brother, because the Sens weren't supposed to be good. In 2023, things are different. Brady's team might have made the playoffs in place of Matthew's if a few more things had gone right for them. It feels wrong that Brady is in the stands instead of on the ice, and it feels like this is the last year it will happen.
Matthew can't lead his team of underdogs to a surprising Cup win. That's supposed to be the Sens' thing.
I miss Mark Stone
This year's Cup Final is full of former Senators, with Florida having two guys the Sens gave up on in Colin White and Anthony Duclair, and, perhaps most importantly, Mark Stone being the captain of the Vegas Golden Knights. This means that the Cup presentation will carry some intrigue for Sens fans no matter what happens, but I have to admit that I'm more upset about the prospect of Mark Stone being handed the Cup than I should be this long after the trade.
Maybe it's because one of the things Pierre Dorion said on the Cam & Strick podcast was that he never wanted to trade Mark Stone and had been forced into it by Eugene Melnyk. It really feels like Stone would have fit in so well in this Sens group. He never should have left.
It's also sad because Mark Stone has such a fun personality. During that 2017 run, I spent so much time thinking about what it would be like to watch him lift the Cup. It was a level of joy I could only imagine. If he wins it all this year, I have no doubt that it will be an iconic moment for the hockey world, but it should have been an iconic Sens moment.
Clearly, this year's Cup presentation is going to hurt no matter which team wins.
The ownership saga drags on
Ah, remember the good old days when we thought a sale was imminent?
The more we hear about the sale, the more it looks like this process is going to drag out for a lot longer than any of us anticipated, potentially leading to an excruciatingly boring summer, with the team unable to make any big decisions until the sale is finalized. Kyle Dubas going to Pittsburgh felt like a warning sign, as rumour has it the former Leafs GM had been holding out for a job with the team he loved as a kid. Maybe the Sens just didn't foresee any openings in their front office - they haven't fired anyone yet - but it seems even more likely that they simply cannot make any big decisions until the deal is done.
I really hope the team doesn't stay in this limbo for much longer. The Sens need to be better next year than they were in 2022-23. Maybe they can do that without any significant changes in the front office or on the ice, but if they go that route, I'd like to know they're doing it because they think they can win that way, and not because they weren't allowed to make any changes. The clock is ticking, and as important as the sale is, it would suck if it delayed the team's success even further.
French training??
The one ownership update we got this week was prospective owner Neko Sparks tweeting that he's going through a rite of passage oh so familiar to people who live and work in Ottawa: trying to learn French for his job.
I don't know what if anything this means for the ownership bid, but I love it, because even if it's just a PR move, it does indicate a will to learn about the city and engage with the fans. It also makes a lot of sense for a group that has explicitly talked about trying to grow the game of hockey within Black communities to try to learn French, as there is significant crossover between Ottawa's Black and francophone communities.
Do I think Neko Sparks is going to become fluent in the time it takes him to buy the team? Of course not, but it's still nice to see him make the effort.
Not everyone can afford to pay for sports coverage right now, and that is why we will keep as much of the site's content free for as long as we can.
But if you are able to, please consider subscribing to help keep our articles free (and get a few extra perks).
Erik Condra
Ability to comment and participate in our community
Twice monthly newsletter available only to subscribers
Ad-free reading
Our undying love and appreciation
Brady Tkachuk
Everything from the Erik Condra tier
10% discount on all merch
Access to any future paywalled content
A personal thank-you from the Silver Seven staff
Daniel Alfredsson
Everything from the Brady Tkachuk tier
Inner peace knowing you are supporting quality, independent coverage of your favourite sports team