Five Thoughts For Friday: DeBrincat drama, free agency and more!
So many things happened in the last week, and yet the the Sens did so little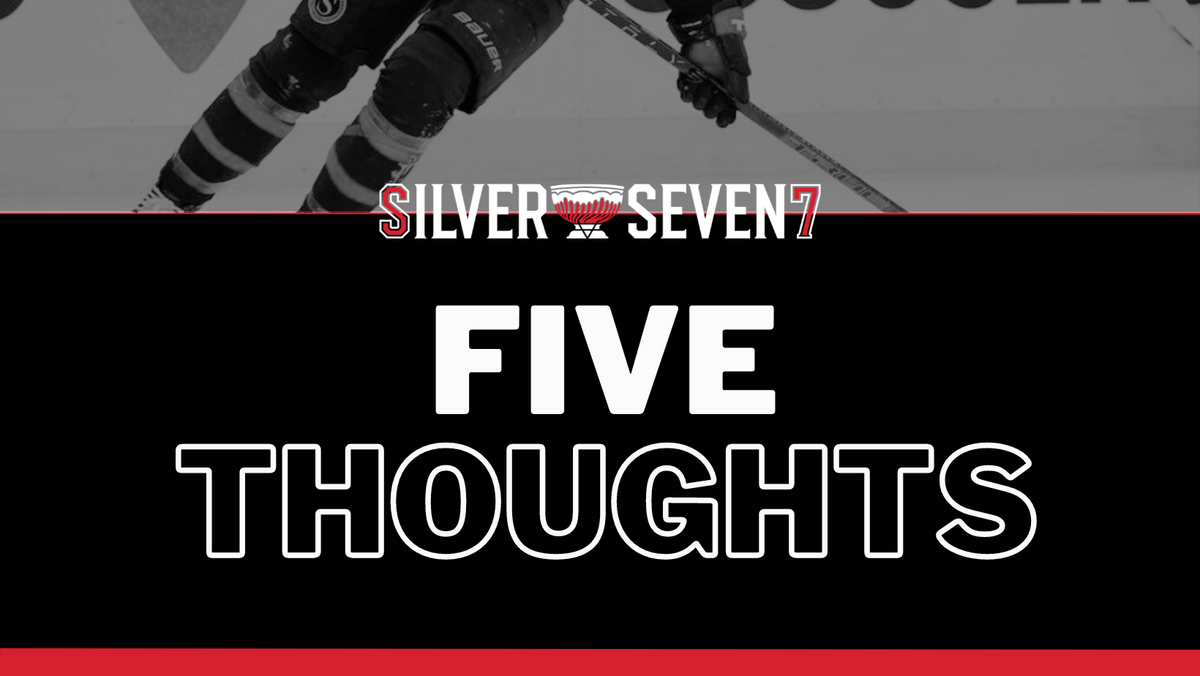 Negotiation through the media
The DeBrincat situation just will not end, and so we're still overanalyzing every crumb of information we get.
The past week saw a bit of old fashioned negotiation through the media, as Bruce Garrioch criticized DeBrincat for holding up a trade and putting the Sens in a bad spot, reporting that no potential trade partners are willing to give DeBrincat a contract extension under the terms he's asking for. DeBrincat's team denied the reports.
Who even knows what's true anymore, but at this point it sounds like what's probably happening is that DeBrincat wants to test free agency next year, and if he's going to sign a long-term contract, he wants it to be something comparable to what he expects he'll get in free agency - both in terms of the team and the contract itself.
It's fair for the team and its fans to be annoyed at DeBrincat about this, but you can't fault the guy. DeBrincat is coming off a down year and the cap is supposed to go up next offseason. He's not required to stick around with the team that traded for him, or make things easier for them. It feels like the best thing the Sens can do to stay as competitive as possible is to keep him for a year and reassess next summer, but that option has essentially been ruled out since they signed Korpisalo. Now, to sign DeBrincat even at his arbitration rate would require getting rid of roster players in order to clear up cap space, something you don't want to do for someone who might be off the books in a year. It's a tricky situation, but DeBrincat is just doing what he's allowed to do uner the CBA.
The Cap Crunch (for real this time)
As the Sens enter their new era of spending money and hopefully competing for the playoffs, they now find themselves in a position that seemed completely unrealistic for years: they actually need to clear up cap space.
With the stakes getting higher, the pressure on Pierre Dorion has ramped up, and so far his big moves have been… underwhelming, to say the least.
It's hard to get a clear picture of the Sens' cap situation before the DeBrincat saga is over, but as I said in the last section, they literally cannot sign all their RFAs and stay under the cap right now. They have about $7.5M in cap space, and Shane Pinto needs a new contract, as do Egor Sokolov and Kevin Mandolese, and they'll need to fill out a few other roster spots. If DeBrincat does get traded then they'll have plenty of room to work with, but they're certainly in "we need to be careful about the contracts we're handing out" mode.
The Sens certainly needed an upgrade in net, but you don't give a goaltender $4M over 5 years unless you're really sure he's good, and I'm not sure Korpisalo's track record is good enough to warrant that kind of confidence. $1.1M over 2 years for your seventh defenseman isn't going to put you over the cap, and neither will signing a borderline NHL'er to a league minimum contract, but those are two moves that Dorion did not need to make, especially considering that in both cases they have better options in the AHL. When you're as close to the cap as the Sens are about to be, that stuff makes a difference - think about all the hand-wringing we did about giving Josh Norris $8M per year instead of $7M, or how differently we'd all feel about Alex DeBrincat's contract demands if this whole time he had been asking for something closer to $8M instead of $9M. The Sens are back in penny-pinching mode, albeit for a different reason now than before, and there's no need for them to overpay depth players when they have NHL-ready prospects in the pipeline.
Tarasenko???
As expected, now that DeBrincat is apparently on his way out, the big question surrounding the Sens is how they're going to replace Alex DeBrincat. Lovely.
31-year-old Vladimir Tarasenko has been talked about as the most obvious solution. Tarasenko was one of the most prolific goalscorers in the league a few years ago, and has been up and down ever since. He was left unprotected *and* passed over in the Seattle expansion draft, and followed that up with a bounceback season, scoring 34 goals in 2021-22. He finished last season with 18 goals and 50 points in 69 (nice) games. He's far from the superstar he was in his prime, but there's a reason he was one of the most coveted deadline pickups a few months ago. Rumour has it that Ottawa is one of the teams he's talking to.
Although I can see the logic behind the Sens talking to Tarasenko, I would be very cautious about giving him too much money or term. His defensive numbers are straight up awful, and he isn't good enough at creating offense to make up for it. The Sens have plenty of players who can get him the puck, so it's not like he'd be completely ineffective, but I'm not convinced he's even a sure-thing on the second line, and he's only going to decline with age. It would all depend on the cost, but let's not set our hearts on him as a DeBrincat replacement.
A new era in women's hockey
It's been a week of intense turmoil in the world of women's hockey, after last Thursday's sudden announcement that the owners of the Professional Women's Hockey Players' Association (PWHPA) have bought the Premier Hockey Federation (PHF) and will be forming a new, unified league for women's hockey.
It's been an emotional week for those close to the sport and it'll be a while before we know all the details about the new league, but I am excited to see what it ends up looking like.
I've always seen the PWHPA and the PHF as representing two different visions for how women's hockey should grow. The PHF prioritized playing hockey that people could get excited about - putting effort into creating identities for their teams and expanding as quickly as possible - but it came at the expense of player wellbeing. Members of the PWHPA believed that they should not have to put up with such a bad work environment just to play hockey, and that there should be funding available for a more sustainable women's hockey league. I'm glad that the PWHPA seems to be working toward their vision for a league that actually treats its players well, but I also hope they don't completely disregard the good work that was done by the PHF to make women's hockey marketable and build fanbases for their league.
I said a lot of this on the podcast earlier this week, but at the end of the day I just like watching women's hockey and I hope I can do more of that in January.
The power of friendship
Finally, I appreciated the Sens staying on brand with their AHL free agent signings this year. Both Matthew Highmore and Boko Imama played with Thomas Chabot and Mathieu Joseph on the Saint John Sea Dogs. That era notably gave the world this picture, which I am absolutely begging them to recreate this year.
This is why the Sens are winning the Cup.
Not everyone can afford to pay for sports coverage right now, and that is why we will keep as much of the site's content free for as long as we can.
But if you are able to, please consider subscribing to help keep our articles free (and get a few extra perks).
Erik Condra
Ability to comment and participate in our community
Twice monthly newsletter available only to subscribers
Ad-free reading
Our undying love and appreciation
Brady Tkachuk
Everything from the Erik Condra tier
10% discount on all merch
Access to any future paywalled content
A personal thank-you from the Silver Seven staff
Daniel Alfredsson
Everything from the Brady Tkachuk tier
Inner peace knowing you are supporting quality, independent coverage of your favourite sports team