Five Thoughts for Friday: Cautious Optimism, Contract Efficiency, and more!
Thoughts on cautious optimism, line combinations, contract efficiency, and more!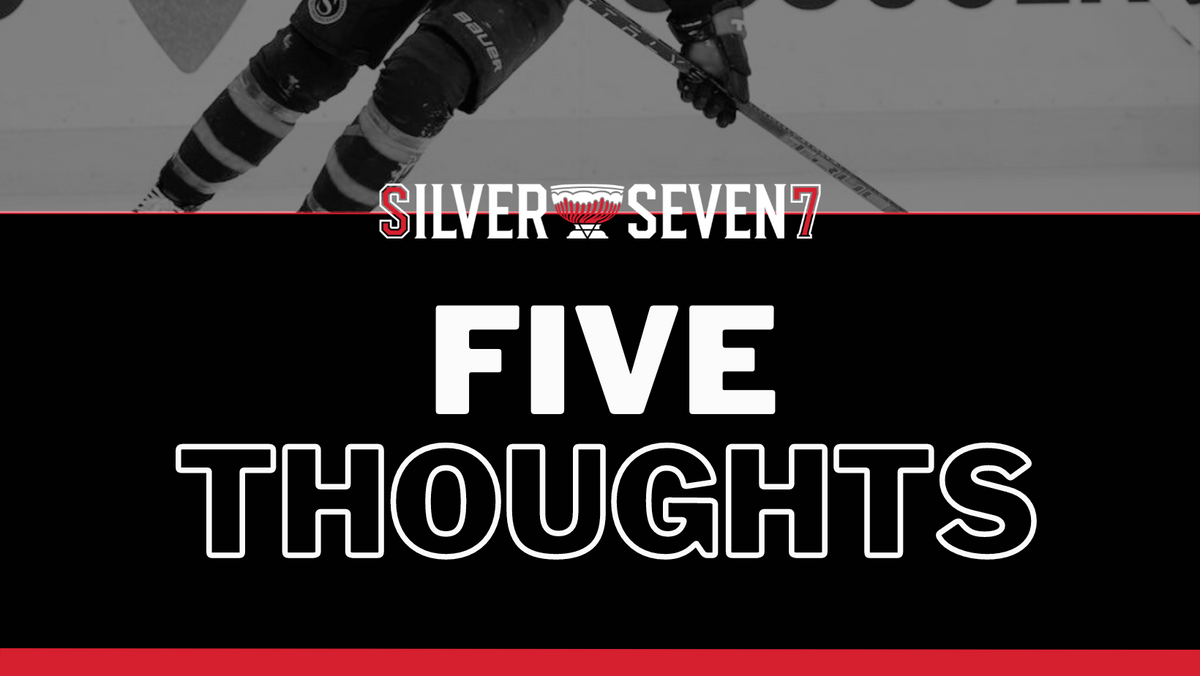 Five Thoughts that came to me during the dulles part of the off-season: early August.
Shrugs Heading into this Season
During the rebuild, I went into each season knowing that the Ottawa Senators weren't going to make the playoffs, but I was always excited to see what young players would emerge and establish themselves. In 2021-22, I didn't view the play-offs as a likelihood, but I believed that maybe, if everything went perfectly, it was a possibility. Then last season, their big additions had me believing they were ready for the post-season.
I still believe that with better luck,  maybe some better coaching choices, as well as some more timely saves, that the goal was achievable. The Sens missed by six points so it's not as if the margin was massive. Heading into 2023-24, I find myself not nearly as boisterous about their playoff chances. Do I think they could make it in? Absolutely, they have a lot of star talent. But could they end up getting submarined by bad goaltending again or have injuries that reveal some less than ideal depth? Absolutely. Call me a bit gun-shy, perhaps.
I don't feel confident saying where they will end up in either direction, so I'm simply going into the season by shrugging my shoulders and hoping for the best. I'm cautiously optimistic that Vladimir Tarasenko and Dominik Kubalik can replace Alex DeBrincat, that Josh Norris will be healthy and productive, that Joonas Korpisalo can repeat this past season, that Ridly Greig can be a full-time player, and that Jakob Chychrun will make a big difference in the top-four. Right now I'm hoping that something will give me more definitive hope heading into the season, because maybe it's just August, but my optimism feels a bit too cautious right now.
Spread the Wealth?
Line combination discourse can be a fun, if futile, exercise – even moreso in the off-season. We are so far away from games that mean anything that we're really just throwing stuff at the wall. However, I do think it's at least interesting to look at, especially at this stage in the summer. One thing that we need to mention is that the Sens don't have enough cap space to re-sign Shane Pinto and Egor Sokolov. A possible scenario would be off-loading Mathieu Joseph, or the darker possibility of a potential Drake Batherson suspension as rumblings of player discipline continue. Without belaboring the point, there will be some sort of non-trivial change to the player arrangements.
Let's say that all the Sens have to do is move Joseph. Here's what a top-heavy approach that features Tarasenko on his off-wing:
Tkachuk-Stützle-Giroux
Tarasenko-Norris-Batherson
Greig-Pinto-Kubalik
Kelly-Kastelic-Sokolov
MacEwan
But they could also opt for a slightly more balanced approach, which I actually like, considering how ineffective their bottom-6 usually is:
Kubalik-Stützle-Giroux
Tkachuk-Norris-Batherson
Greig-Pinto-Tarasenko
Kelly-Kastelic-Sokolov
MacEwan
The issue I ran into was it seems like they have a lot of shooters, as Kubalik and Tarasenko are both great at that but not necessarily play driving. There are lots of combinations that could work, and it'll be fun to see it play out.
Contract Efficiency
Dom Luszczyszyn of The Athletic had an interesting article on Monday ($) that ranked all NHL teams in terms of how efficient they are at giving out contracts (excluding goalies). The Senators ranked 10th, which I think is pretty fair. They got an overall B grade and $2.7M in surplus value -- thanks in large part due to Stützle ($32.4M surplus) and Tkachuk ($13.3M surplus). Batherson, Giroux, Tarasenko, Chychrun, and Brännström were the others to rank in the positive direction.
People might be surprised to see Norris ranked so low at -$8.2M surplus, but that's simply because the model sees him as more of a ~$7M player—which is still excellent but not quite $8M, and that adds up over the course of seven seasons. Joseph was also at -$3M, Chabot at -$4.4M, Zub at -$2.8M, and Hamonic at -$1.1M. We need to keep in mind that longer deals will have larger numbers in either direction, so Chabot is another player who has real "value" but probably more around $7M.
Having $7M in dead cap space certainly doesn't help their grade, and it would be interesting to see how things would change with Anton Forsberg and Joonas Korpisalo incorporated. For the most part, Pierre Dorion has done a good job at re-signing his key players to good contracts, although having an extra $7M sure could help right now. The rest of the article is worth checking out, with the Florida Panthers ranking first (thanks to Bobrovsky's exclusion) and Chicago Blackhawks last (owing to everything they're doing).
DeBrincat's Agent to Edmonton
If you don't know who Jeff Jackson is, you might have been living under a rock for the past two months. He was Alex DeBrincat's agent, who apparently wasn't a lot of people's best friend in Ottawa. He was just hired as the CEO of Hockey Operations of the Edmonton Oilers, a position that is even above GM Ken Holland. Bruce Garrioch alleges that Jackson didn't exactly handle things professionally during the DeBrincat trade saga:
I have no idea what's true here, although I would take that with a grain of salt considering that is the team's narrative of how things went down, and not Jackson's. I'm not here to re-litigate the DeBrincat trade return or his contract negotiations, I just find it fascinating how much animosity there is towards Jackson. It's unclear if it's justified or not, but I would love to get the full story on that someday. Sidenote: Jackson was also Connor McDavid's agent until now, so that has the potential to make things a bit...unusual.
Dog Days of Summer
It's August 4th, and the Senators don't play a regular season game for another 2+ months on October 11th. Even pre-season doesn't begin until September 24th, so we've got a long way to go until there will be anything interesting going on. With that in mind, I want to ask the readers: how do you pass the time in the summer? Do you follow another sport like baseball or tennis? Travel as much as you can? I'd love to hear in the comments what people's summers are looking like.
Personally, I just got back from Greece and Albania, which was wonderful! Out here in Vancouver, it's great getting outdoors for some hikes, going to lakes, and visiting any local festivals/shows. As dull as the off-season is for hockey fans, summer is still easily my favourite season because of how many things you can do outside. So what are the next 7 weeks looking like for you folks?
Not everyone can afford to pay for sports coverage right now, and that is why we will keep as much of the site's content free for as long as we can.
But if you are able to, please consider subscribing to help keep our articles free (and get a few extra perks).
Erik Condra
Ability to comment and participate in our community
Twice monthly newsletter available only to subscribers
Ad-free reading
Our undying love and appreciation
Brady Tkachuk
Everything from the Erik Condra tier
10% discount on all merch
Access to any future paywalled content
A personal thank-you from the Silver Seven staff
Daniel Alfredsson
Everything from the Brady Tkachuk tier
Inner peace knowing you are supporting quality, independent coverage of your favourite sports team