Five Thoughts for Friday: Things I Was Wrong About Edition
It's good to admit when you're wrong, and here are five times I was wrong about things with the Senators.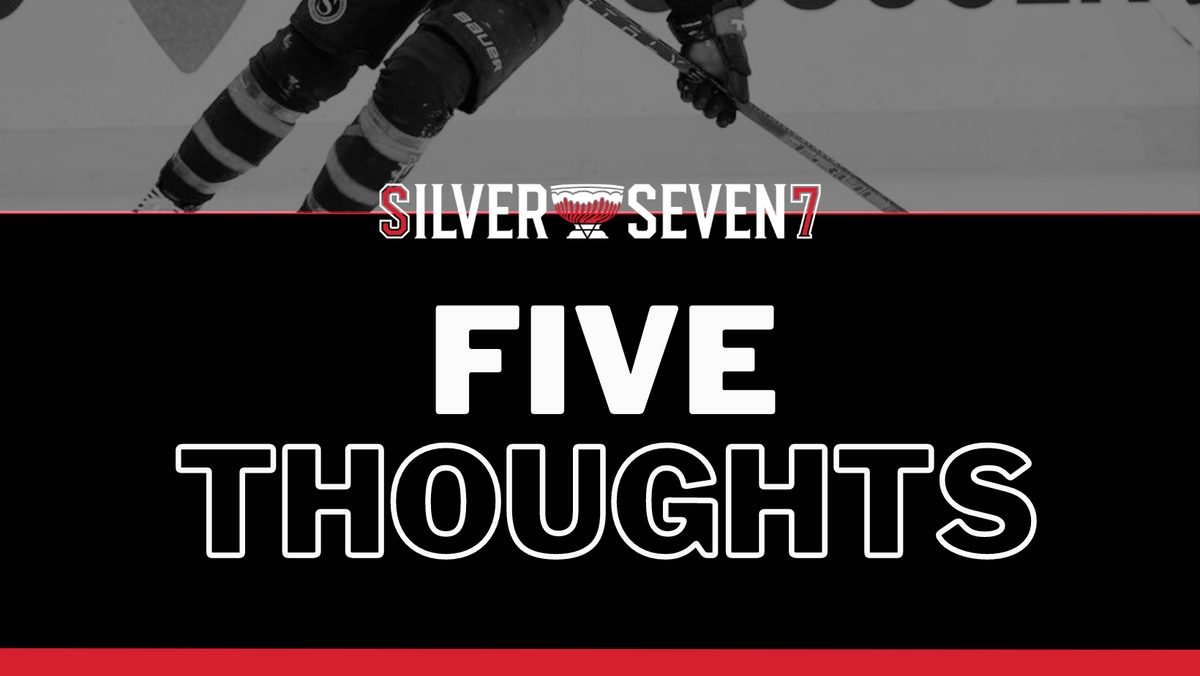 For this edition of Five Thoughts, I wanted to do something a little bit different. As fans, we always like to believe that we have the correct opinions and beliefs, but it's impossible to be right all the time. I'm no different, and it's good to admit when you're wrong. Today, I wanted to talk about five times that I was wrong about something related to the Ottawa Senators. I did a version of this back in 2018, which is still funny to look at.
Here are five new things I was wrong about:
Thomas Chabot should be the captain
Do I think Chabot could comfortably be the captain of the Senators right now? Yes. But do I think he's the best choice given the presence of Brady Tkachuk? No. Three years ago when they were captain-less though, I thought the opposite:
I still don't believe my thinking was totally misguided, because I typically like players who lead by example, but you can tell that Brady is the one who controls the room, and he's still able to lead by example as well. I like Chabot as a leader too, but there's no denying that this is Tkachuk's team. He's the one to get the team going, and he has the potential to be a legend in the city if he brings some success. Even if Chabot remains a strong leader, I got this one wrong.
Tyler Kleven was drafted way too early
Kleven was taken 44th overall in the 2020 draft, and Ottawa even traded a 2nd and 3rd rounder to move up. He was ranked as high as 21st by ISS Hockey and as low as 123rd by Elite Prospects, although he was still expected to go in the second round. It's not that I thought he wasn't going to be an NHLer, but I was questioning moving a pick to take him so high while it seemed like his ceiling was limited:
He's not an established NHLer just yet, but I will say that he really impressed me during his eight NHL games this past season; he was first on the team with a 62.77 CF%, and did not look out of place. Kleven will almost certainly begin the year in Belleville, but he has a great chance to play games in Ottawa due to injuries, and I think he can carve a role for himself due to his strength, hitting, penalty killing, shot blocking, and even his shot. It seems very unlikely that he will be onthe same tier as his UND teammate Jake Sanderson, but I'm now quite confident in him being an NHL regular. Perhaps one day even as high as a 2nd-pairing player.
He's impressed me enough that see him fitting in perfectly as a big tough defenseman who can skate that they'll need in the playoffs. This one's not 100% decided just yet, but it sure looks like I was wrong about Kleven.
Matt Duchene should be re-signed
Woof, we dodged a bullet there. Duchene was quietly fantastic with the Senators, putting up 107 points in 118 games, which was tied for 48th in the league in points over that span. He was especially great in 2018-19 as he had 58 points in 50 games, and I definitely wanted Ottawa to keep him around:
That sentiment was fair at the time, especially because they had just dealt Erik Karlsson, and it was unclear if they were going to keep Mark Stone, so losing another star player would have felt awful. Obviously, Duchene ended up getting dealt to Columbus and then signed with Nashville in the off-season for 7 years and $8M per season. He was fine this past season with 56 points in 71 games and was even better in 2021-22 with 86 points in 78 games. But he was dreadful in his first two seasons with 55 points in 100 games.
When you combine all of that, he hasn't nearly been worth $8M, even if he's still a good player. The Predators agreed as he was bought out of the final three years of his contract in July. If Duchene was on the roster now, the Sens would be in even more of a cap crunch, so even though they only ended up with Lassi Thomson in the end, the decision not to throw a lot of money at Duchene has proven to be the right one.
Alex DeBrincat fits the team perfectly
Everyone's favourite Summer 2023 talking point: Alex DeBrincat! I don't know if I had ever been more excited for a Senators trade, as they almost never trade for someone of his caliber--a two-time 40-goal scorer at the age of 24. Ottawa desperately needed another top scorer, and he seemed like a perfect fit:
I still don't think it was a bad idea to take the risk by trading for a top goal scorer in the NHL, especially at his age and that cheap price of the 7th overall pick, 39th overall, and a 3rd. However, I was wrong about his fit with the team. For starters, he never seemed to fit well with DJ Smith's system – both coach and player said as much at various points during the season. Furthermore, it was always going to be very hard to keep him long-term to a big contract if they also wanted to add others to the roster and extend RFAs like Shane Pinto and Jake Sanderson (2024).
Most importantly, I underestimated how badly he wanted to play in Michigan, which is what his departure seemingly boiled down to. He never said he didn't want to play in Ottawa or that he didn't like his time here, but it was more about wanting to be in Detroit. I wanted DeBrincat to be a long-term fit here, especially because his 67-point season was unlucky and should easily be improved upon. The fit wasn't there, which is just too bad.
Rossi/Perfetti/Holtz should have been taken 5th overall
The 2020 draft will quite possibly go down in history for the Senators as their best of all time, and it has the potential to be one of the best for any team in recent memory. Tim Stützle has been the best player from the draft, and Jake Sanderson has an outside chance to be the second-best. Hell, besides them, Ridly Greig, Tyler Kleven, Egor Sokolov, Roby Järventie, Leevi Meriläinen, Philippe Daoust, and Cole Reinhardt could all have some sort of NHL impact.
With Sanderson though, it wasn't always obvious that he was the right pick at 5th overall. Jamie Drysdale was ranked ahead of him amongst defensemen, plus many fans (myself included) were hoping the Senators would draft two top forwards because they were really lacking in impact offensive players. It's not that I didn't value Sanderson as a top prospect, but I really wanted one of Marco Rossi, Cole Perfetti, or even Alexander Holtz:
Rossi has battled some long-COVID symptoms, dominated the AHL, but hasn't performed in the NHL yet. He could still turn into a good player, but there's some risk with him. Holtz is very similar minus the COVID impact. Perfetti had a solid season with 30 points in 51 games for Winnipeg, but I'm not sure if he'll turn into a star or not. I'd love to have any of them in the Senators organization, but it's very clear how much of a better fit Sanderson is. They need a stable two-way player like him, meanwhile, they have great offensive players in the top six.
Not only that, Sanderson has out-performed all expectations so far after one season, and he's outplaying his fifth overall draft position. They couldn't have hit a bigger homerun at 3rd and 5th overall.
What else have you been wrong about over the past several years?
Not everyone can afford to pay for sports coverage right now, and that is why we will keep as much of the site's content free for as long as we can.
But if you are able to, please consider subscribing to help keep our articles free (and get a few extra perks).
Erik Condra
Ability to comment and participate in our community
Twice monthly newsletter available only to subscribers
Ad-free reading
Our undying love and appreciation
Brady Tkachuk
Everything from the Erik Condra tier
10% discount on all merch
Access to any future paywalled content
A personal thank-you from the Silver Seven staff
Daniel Alfredsson
Everything from the Brady Tkachuk tier
Inner peace knowing you are supporting quality, independent coverage of your favourite sports team