Five Thoughts
Five Thoughts for a Friday: The Sunbelt Problem
Can we try to debunk this myth?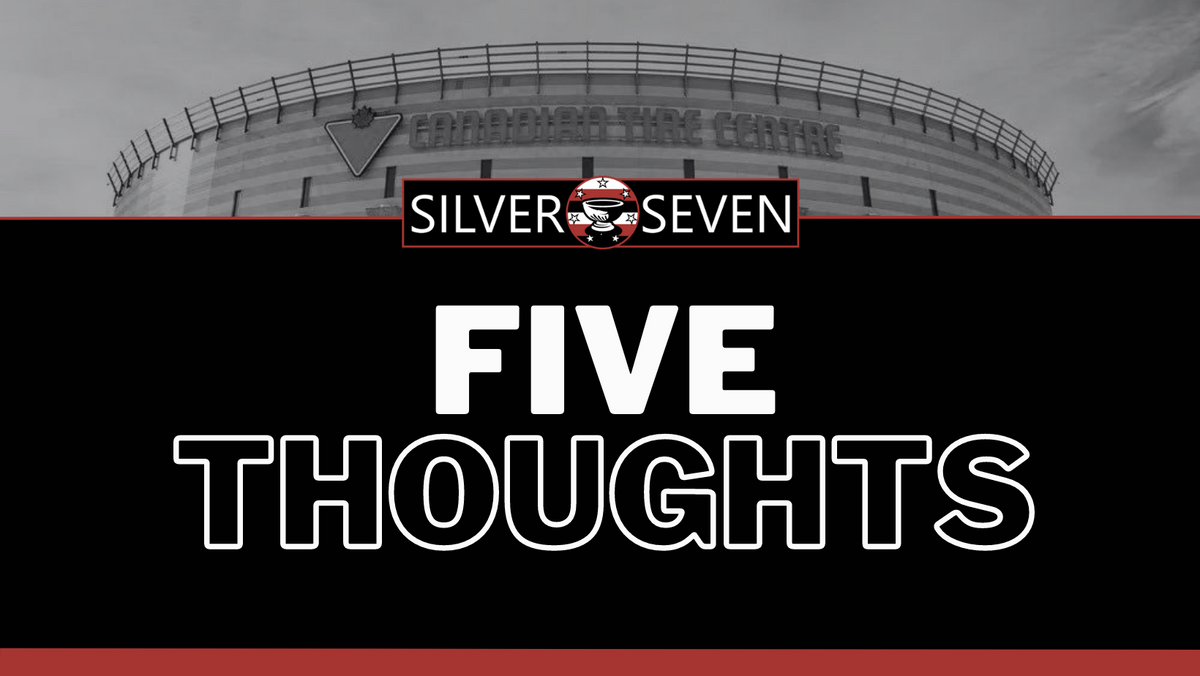 While some of us blissfully revel in the absurdity of seeing a team like the Florida Panthers head to the Stanley Cup Finals, dads and uncles near and far will invariably express their consternation with such an affront to an institution as hallowed as the NHL. Chalk it up to boredom. (Seriously, go golf or something). "But how can these sunbelt teams keep getting away with it?!" "Why can't a good, clean Canadian team win the goddamn cup?!" Someone must have rigged the whole thing, right?
Before going any further, I want to give a shoutout to Nada who delved into a similar discussion on Wednesday (I tend to lean more towards incompetency than conspiracy but we'll leave that aside for now.) Fans of losing teams have a tendency to blame everything but organizational incompetency when it comes to the failures of their favourite franchises. Thus the southern teams hoard all the good players, the referees fix the games (under the instruction of the league), or the league rigs the draft lottery. Seriously, can we just get rid of the draft lottery already? We still have to hear about Patrick Ewing almost fourty years later and now we also have to hear about Connor Bedard too. (And if the lottery discourages teams from tanking then I better get some new glasses.)
Anyway, Nada already discussed the officiating and I don't have the patience to talk about the draft lottery so let's talk about The Sunbelt Theory. This theory has floated around in various forms since the early nineties when the NHL expanded into the Southern states (and coincidentally a Canadian team last won a cup). Now that I've made a short story long, let's get to it. Do Southern teams have an unfair advantage over Canadian teams (and Buffalo just because)?
Salary Cap
When it comes to successful sunbelt teams, rival fans love to point to salary cup funny business as an unfair advantage leveraged by teams like Tampa and Vegas. After all, the salary cap should have levelled the playing field so that even inhabitants of cities like Ottawa and Winnipeg could enjoy NHL hockey. And while I find it extremely funny that the NHL hasn't found a solution to teams using LTIR to circumvent the cap, it clearly doesn't matter enough to garner any sort of consequence. And besides, Canadian teams love exploiting the LTIR.  Of the ten teams who used the most LTIR relief this season, three went to the conference finals. Okay, fair enough. But four Canadian teams ranked in the top seven in terms of LTIR usage. Dallas didn't need any LTIR relief to stay under the cap this year and they've made it this far. Montreal and Vancouver had a combined $20M tied up in LTIR savings and neither team even made the playoffs. Washington and Philadelphia also combined for over $10M and missed the dance. Edmonton, Montreal, Toronto, and Vancouver have often ranked in the top ten in total cap spending in the past five-plus years with little to show for it. Most years, these Canadian teams outspend the likes of Carolina, Dallas, Florida, and Tampa so I don't buy the argument that sunbelt teams can buy success while Canadian teams uphold some more ethical, fiscal high ground.
Free Agency
Spoiler alert: Free agency doesn't really mean that much any more. The days of teams spending big on UFAs have gone the way of the dodo as it turns out. For the most part, NHL teams have figured out that you should probably just keep your own players from getting away. When we look at the handful of big contracts signed last summer (UFAs signing at over $5M for three or more years) Canadian teams outspent sunbelt teams with Nazem Kadri and Claude Giroux signing north of the border. Johnny Gaudreau and Andre Burakovsky signed in Columbus and Seattle respectively (hardly the sexy southern destinations we always hear griping about). You get a little closer I guess with Ondrej Palat and Vincent Trochek signing in New York and New Jersey. Those two teams also landed a couple of the biggest fish in recent memory in Dougie Hamilton and Artemi Panarin but neither signing has yielded immediate dividends in terms of postseason success. And again, New York and New Jersey don't qualify as sunbelt teams.
Dallas and Los Angeles, actual sunbelt teams, have signed the likes of Joe Pavelski, Ilya Kovalchuk, and Philip Danault but those contracts pale in comparison to the $77M Toronto gave to John Tavares or even the $38M that Edmonton gave Zach Hyman. I would argue that the expansion teams have had more sway than the established sunbelt teams with Alex Pietrangelo, Jaden Schwartz, and Philipp Grubauer notably signing with Vegas and Seattle. Besides, spending big in free agency tends to lead to regret as much as success. Keep in mind that up until a couple weeks ago, most folks agreed that Sergei Bobrovsky had one of the worst contracts in hockey! I don't buy the argument that unrestricted free agency has become an unfair advantage for teams in the south over Canadian teams in colder climates. Ottawa, by virtue of signing Giroux and Evgeni Dadonov has made more of a splash in free agency than Carolina or Tampa in recent years. I don't see the correlation between free agency spending and postseason success.
No Trade Clauses/No Movement Clauses
Most of us have heard the anecdote that every 10-team no-trade list includes the seven Canadian teams (and probably Buffalo, Detroit, and Columbus). But without access to those lists I can't give you any meaningful numbers on whether they do or don't give southern teams an unfair advantage over Canadian teams. I can tell you, however, that Canadian teams also sign a lot of contracts with NTCs and NMCs. In fact, Toronto has a whopping ten NTC/NMCs on the books right now. It turns out Canadian teams sign a lot of these. Calgary (9), Winnipeg (8), Montreal (7) and Edmonton (7) also hand them out like candy. So while theoretically these clauses keep good players in the southern states and away from Canada, they also serve to keep a lot of players in Canada. Even Buffalo and Ottawa each have a couple on the books. Tampa (9), Dallas (7), and Los Angeles (6) lead the way among sunbelt teams in terms of NTC/NMCs but the eight southernmost teams account for 46 contracts with said clauses while I count 53 among the Canadian teams and Buffalo.
Like signing big free agent contracts and spending to the cap in general, these clauses also tend to backfire as much as they lead to on-ice success. Need I remind you of the Dadonov no-trade saga? As if that guy would play in Ottawa and Montreal but not California! What a character.
Drafting
The talk about the Bedard draft forthcoming and the lottery also got me wondering to what extent drafting has actually shaped all of our discourse around lottery rigging and anti-Canadian bias because last time I checked the Oilers just had like seven first-overall picks last decade and have almost nothing to show for it. Montreal had the first overall pick last year. Buffalo (almost Canadian) had the first overall pick in 2021 and 2018. Toronto had the first overall pick in 2016. And yeah, Edmonton got McDavid in 2015 so explain to me again how the league has this thing rigged in favour of southern teams.
It also bears mentioning that in 2020 and 2018 Ottawa got arguably the best players from their draft classes without the first overall pick. The same applies for Vancouver in 2017 and Edmonton in 2014. Tampa, Carolina, and Dallas have made names for themselves by drafting wisely (Brayden Point, Sebastian Aho, and Jason Robertson come to mind) to complement top-five selections like Andrei Svechnikov and Mire Heiskanen while some southern teams like Anaheim and Arizona have little to show for their years of mediocrity. All that to say, drafting well means a lot more than just winning the lottery (how like life!).
Everything is Bad
We should probably also talk about how sunbelt teams also largely kinda stink when you look at the big picture. I think we have a bit of a bias given all of Tampa's recent success and the fact that the Panthers have finally broken through to the finals almost 20 years after their original miracle rat run. For some perspective, Toronto has made the playoffs six times since 2016 ("the McDavid era" why not) while Tampa has eight times. Winnipeg has made the postseason five times. Edmonton and Calgary have each made four appearances over that span. Four also seems like the benchmark for sunbelt teams with Anaheim, San Jose, Dallas, Florida, and Carolina having made four appearances each since 2016.
Canadian teams, in fairness, have not had a lot of luck in the postseason with Montreal most recently going to the cup finals (I had blissfully forgotten about that) and Edmonton joining Ottawa and Winnipeg among Canadian teams to have gone to the conference finals since 2016 (how many of those series do you actually remember?). Sunbelt teams haven't fared much better though, if you can overlook Tampa's isolated achievements. Florida joins just San Jose among recent cup finalists (again, forgot that happened). By virtue of making the conference finals this season, Carolina and Dallas join the likes of Anaheim(!?) among sunbelt teams to have made it past the second round in the McDavid era of the NHL.
Looking at the fleeting successes southern teams have enjoyed in recent memory (and the misery of a team like Arizona whom the league keeps on life support (a storyline we should actually talk about)) would you really trade the fate of your favourite Canadian team for this supposed sunbelt-oriented preferential treatment? Maybe if Canadian teams drafted more effectively and got some occasional goaltending in the postseason then we wouldn't need to have this conversation. The draft lottery annoys me. Officiating confounds me. General managers in their infinite incompetence amuse me. But when I look at the success of a team like Tampa and appreciate it in and of itself while cutting out all the background noise, the difference between north and south doesn't concern me.