Five Thoughts for a Friday: The Brian Elliott All-Stars
Let's remember some guys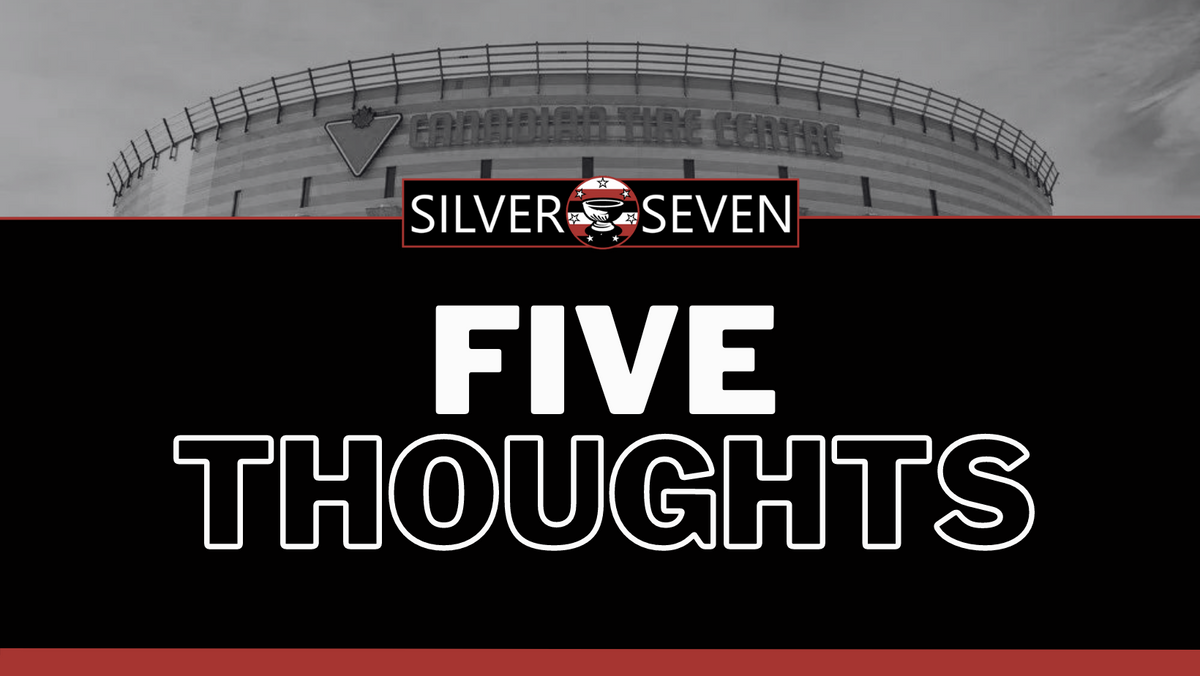 As some folks around the Sensphere, including our own Trevor Shackles have suggested, we may have watched Brian Elliott for the last time at the CTC when Ottawa defeated Tampa Bay last weekend. We have no official statement to this effect, but at age-38 and without a contract next season, Elliott's agent will have his work cut out for him in the offseason. And if Elliott does decide to hang up the skates after this season then I just kinda have to quietly root for the Lightning to win the cup this year (and most importantly eliminate Toronto in the process). Elliott has a unique place in the history of the Ottawa Senators that I had honestly forgotten about.
First of all, Elliott has most games played by a goaltender drafted by the modern day Senators (542). He also leads the pack with 278 wins and 44 shutouts. Those shutouts, by the way, rank him fifth among active NHL goaltenders. For those wondering, yes Robin Lehner and Ray Emery rank second and third in most categories in terms of goalies drafted by Ottawa.
Elliott never played exceptional hockey in Ottawa but to his credit, he and Jaroslav Halak won the 2011-12 William Jennings award in Elliott's first full season outside of Ottawa (94 SV%) and went to the all-star game. And obviously no one I know would argue against that trade for Craig Anderson (now the oldest player in the league and still playing good hockey as we learned the hard way last night) as one of the best in franchise history.
All told, Elliott has played for five teams since leaving Ottawa where he had 59 wins and 9 shutouts in 130 games played. Elliott also holds the distinction as the latest draft pick in franchise history (291st overall in 2003). Speaking of the draft, Elliott ranks fourth in games played and third in wins in a goalie class that also included the aforementioned Halak, Marc-Andre Fleury, Jimmy Howard, and Corey Crawford.
For my Five Thoughts this week, in honour of Elliott and his unique legacy as a Senators draftee who Sens fans could have easily forgotten about for lengthy stretches of time, I present to you, the Brian Elliott all-stars. Now, to clarify, I very intentionally did not include players like Erik Karlsson, Mika Zibanejad, and Mark Stone on this list because they remain stars in this league and we never forget about them. Also they all played great hockey while in Ottawa. I also omitted the likes of Cody Ceci, Jean-Gabriel Pageau, and Curtis Lazar because they still have plenty of  years ahead of them in the NHL. So with that criteria in mind (grizzled veterans, originally drafted by the Senators, winding down their careers elsewhere) I present you with the Brian Elliott All-Stars:
Left Wing: Nick Foligno
Believe it or not, Nick Foligno ranks sixth all time among Sens draftees in games played and could catch Mike Fisher for fifth if Foligno can find another NHL gig next season. Nick also ranks tenth in points at 525 and second(!) in PIM at 875. Obviously we remember Foligno as the guy the Sens traded for Marc Methot. Some fans still have reservations about the trade and given the difference in vibe quality (and the fact that your Uber driver could probably play decent defence when paired with Erik Karlsson) I understand the truthers.
Drafted 28th overall in 2006, Foligno has the sixth most games played in his draft class and sits 18 games back of Claude Giroux (selected six spots ahead). Foligno trails Derick Brassard by 20 points in draft class scoring. Of note, Foligno went on to win the Clancy and Messier awards in 2016-17 with Columbus (one of three teams he has played for since Ottawa. Considering Foligno has no contract for next year, I could kinda wrap my head around accepting Boston winning the cup (also because it means Toronto makes it to the second round at the most).
Centre: Derek Grant
I challenge you to name a guy who is more a guy than Derek Grant. I had genuinely forgotten that the Sens drafted Grant. For the life of me, I couldn't remember who the Sens traded Grant for and then I learned the team just non-tendered the guy, makes sense! Like Elliott and Foligno, Grant does not have a contract for next season making him again a UFA, at age-33 as a depth centre on a medicore NHL team. Considering Grant has played for six teams since Ottawa, I don't fault anyone who can't name his current team. Spoiler alert: it's Anaheim (who Grant has played for on three non-consecutive stints.
At the end of his tenure with the Senators organization, Grant spent a full season (2014-15) in Binghamton, and went back and forth between Buffalo and Nashville's farm teams in 2016-17. I find it that much more impressive that Grant has stayed in the league this long given all those bus rides. Considering the Sens selected Grant 119th overall in the 2008 draft (the same class as Karlsson, Zack Smith, Mark Borowiecki, and Patrick Wiercioch) it seems pretty impressive that Grant finds himself tied for 25th in goals among his 2008 draft class peers.

Right Wing: Jakob Silfverberg
Ten years later, I hope we can all look back and laugh at how worked up we got over the Bobby Ryan trade. In the end both Ryan and Silfverberg topped out as 20-goal, 50-point type players in the regular season during their best years. Stefan Noeson and Nick Ritchie also both turned out to be guys. Anyway, back to Silfverberg who somehow ended up 18th in games played among Senators all-time draftees, and who could pass Brooks Laich and Martin Havlat with a healthy season next year (his last year on his current contract in Anaheim at $5.25M). Silfverberg also ranks 15th in goals all-time on the Sens draft list.
Like Grant, Silfverberg will leave Anaheim as a UFA at age-33. Possibly due to injuries, Silfverberg's game has fallen off considerably over the past three seasons. No longer a reliable 20-goal scorer who garnered a few Selke votes in his heyday, Silfverberg still ranks a respectable 15th in goals in his draft class (the 2009 class that produced five NHLers for Ottawa). While I don't see any contender trading for Silfverberg at next year's deadline given his cap hit relative to production, he could still conceivably sign with a good time the summer after this one to give it one more shot.
Left Defence: Mark Borowiecki
Now in fairness, Boro didn't leave Ottawa until after Lazar, Ceci, and Pageau but unlike those three, Boro has run into serious injury trouble in recent years and he has played a style of hockey that does not lend itself to longevity in the NHL. Boro will leave Nashville as a free agent this summer at age-34 (when did that happen?!).
Among Senators draft picks of Christmas past, Boro holds the time of all-time leader in PIM among defenders. Surprisingly, he ranks second in PIM among his 2008 NHL draft class. Boro, and I had completely forgotten this, led the league in PIM 2016-17 at 154 and almost set a new personal best (worst?) with 151 PIM during his second season in Nashville (he still led the league even if he didn't break his own personal record). Of course when fans in Ottawa do now reminisce about Boro, we do so fondly and think of his complete vibes 180 he pulled late in his career as a Senator (and obviously that time he singlehandedly stopped a robbery in progress). I imagine most fans in Ottawa would love to see Boro get one more chance at a cup next season if a good team needs a seventh or eighth defender.
Right Defence: Chris Wideman
Some days I still catch myself thinking: "Today Chris Wideman will finally carve out his spot in Ottawa's top-four." I have a hard time letting go of my bad takes. Like Boro, Wideman didn't leave Ottawa that long ago but Tim Gleason, Andrej Meszaros, and Christoph Schubert have all long since retired and I had to work with the options available (for the criteria I just made up in my head just now). Somehow Widemen sits just outside the top ten in Ottawa's drafted defenders in points (that list falls off fast after Karlsson).
Since his ignominious departure from Ottawa (a season during which he played with three different NHL teams), Wideman has played with three NHL teams (plus a stint when he signed with Anaheim but only played in the AHL). All told, Wideman spent two years in NHL exile before returning with Montreal. For all the time I spent clamouring for more ice time for Wideman in Ottawa, he only broke the 20-point threshold for the first time last year. He has one more year on his current contract before free agency, at age-33. Given all the twists and turns on his journey to date, and his already-apparent decline in production (on pace for about ten points over 82 games this season) I have no idea what Wideman's NHL future looks like.
So there you have it! The Brian Elliott All-Stars. The Sens drafted 'em, then they went other places and we (mostly) forgot about them. They put up some pretty shmegular NHL-type numbers and somehow still show up on the all-time leaderboards among Senators draftees. Hockey Reference made pretty much all of this article possible as you may have guessed. Enjoy the offseason, folks!