Fem tankar!
Sweden Trip:
Though I have seen the occasional grumbling about the timing of the thing, you'd need to have a pretty cold heart to not be warmed by just how much fun this trip to Sweden seems to be for the Ottawa Senators. For all of the criticisms leveled his way, it's also clear to me that DJ Smith handles the human side of coaching extremely well: getting Daniel Alfredsson behind the bench for the games in Sweden hits all the right notes, and is also not something that every coach would feel comfortable enough to do. Brady Tkachuk giving Alfie the game puck after the victory was a nice, fun touch too.
The trip also clearly means a lot to Erik Brännström, who's spoken about how important it is to be able to play in front of family and friends – some of whom have never seen him suit up in person during his time in the NHL. It's easy to forget that for a lot of the league's players, moving their whole lives to North America to chase their dream takes them far away from their families.
There's, understandably, been a lot of folks drawing parallels to the 2017 Sens' flame-out in the wake of their return from a similar trip to Sweden. I can't say I subscribe to any kind of theory that assigns explanatory powers to two games in a foreign country, so I'm left to judge the thing on whether the players, and the fans, seem to be enjoying themselves. So far, I'd say it's a resounding yes all around.
5v5 Struggles:
Are the Senators a good team or a bad team? The answer to that question seemingly varies from game to game. The Sens have reeled off wins in three of their last four games, and though yesterday's triumph over the Detroit Red Wings wasn't exactly what one might call decisive, Ottawa's record climbed to 7-7 on the campaign and they are just four points back of a wildcard spot with games in hand (one game on the Toronto Maple Leafs, three on the Tampa Bay Lightning). If you're a glass half-full type of fan, you might take comfort in the fact that they are very much still in the thick of things despites some bad injury luck.
If you're a glass half-empty type of fan, you are likely aware that the Sens' 5v5 shot and chances numbers are ghastly. Ottawa's 45.47 xGF% for the year is 29th in the league; only the San Jose Sharks, St. Louis Blues, and Chicago Blackhawks are worse. That's not the kind of company you want to be keeping. A sky-high 11.59 sh% at 5v5 is keeping the offense humming and the Sens on the plus side of goals – for now. I do think there's an argument to be made that Ottawa has a true talent shooting advantage that will likely find them near the top of the league by the end of the season, but no other team in the last five years has cracked 11% and less than ten teams have broken even 10% for a full campaign. Even the very best teams don't convert their chances at the rate the Sens are currently achieving. Eventually fewer of these shots are going to be going in. By then, the Sens will really need to have figured out the defensive side of things to get back on the right side of the ledger at 5v5.
Missing their #1 D-man
In working my way through the numbers for the above thought, I came across an interesting little statistical tidbit:
Games 1-7, 5v5: 51.79 CF%, 50.17 xGF%, 54.55 GF%
Games 8-14, 5v5: 43.32 CF%, 41.28 xGF%, 50 GF%
Did someone important get hurt in the 7th game? Much to ponder.
Goaltending is a Bumpy Ride
When the Sens signed Joonas Korpisalo to a 5 year deal with a $4M AAV, there was an expectation that he would deliver a degree of stability between the pipes to a team that badly needed it. One might quibble with the definition of "stability" in this case, but as of this writing Korpisalo has produced an exactly league average goaltending performance by allowing 31 goals on nearly exactly 31 expected goals: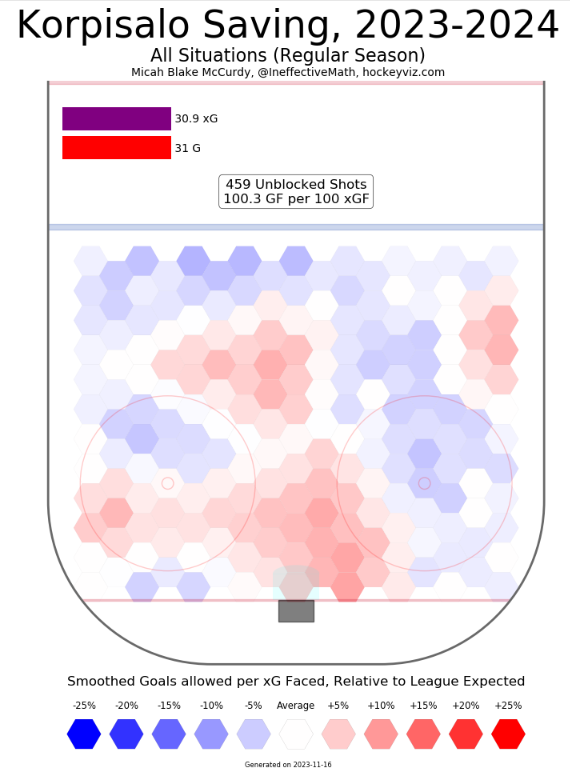 The sample is tiny so early in the year, but I do think it's instructive as to how volatile goalie performance can feel. There have been moments when Korpisalo seemed like he could barely stop a beachball, and there have been stretches where you could have convinced me that he wasn't going to allow another goal for as long as he lived. In the end, it all comes out in the wash: Korpisalo hasn't killed the team, but he also hasn't been a major difference maker. If this is what he is over the length of his contract it would be mildly disappointing, but this type of aggregate performance should also be enough for the Sens to qualify for post-season if they can get their house in order at 5v5.
The Crunch is Coming:
One of the side effects of the Sens suiting up for only two games in almost two full weeks to accommodate their Sweden trip is that their schedule is absolutely jampacked in the month of December. Ottawa will be gearing up for 15 (!) games in the last month of the calendar year, after which point they will have played 32 of their 82 games for the regular season. There was much consternation about the team's relatively slow start to the campaign potentially impeding their ability to compete for the post-season. At this point they've mostly held it together well enough that their dreams are still very much alive – that is going to be tested in a big way before the calendar flips to 2024.