Everything we know about the Ottawa Senators' 2023 Draft Class
Diving deep into Ottawa's 2023 NHL Entry Draft performance.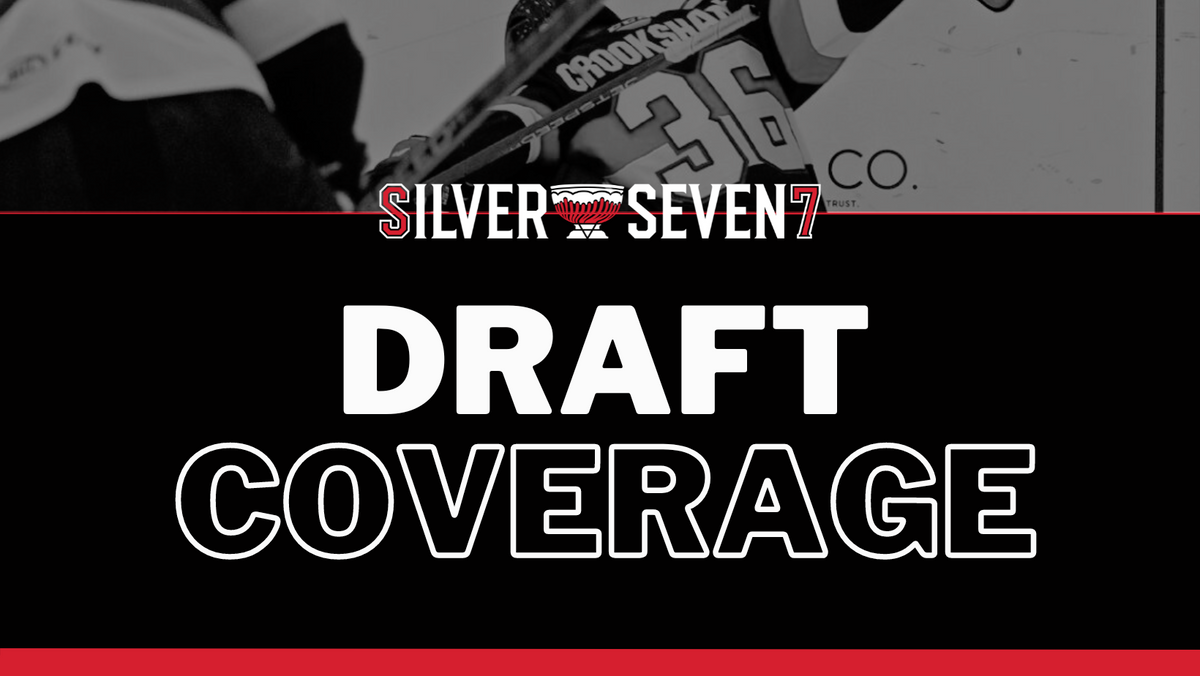 As the entirety of Ottawa's draft haul for 2023 came in the fourth round or later, it would be very understandable if you walked away from the draft having little to no clue about any of Ottawa's newest prospects. The good news is, we've got you covered! Let's dive in and learn more about Hoyt Stanley, Matthew Andonovski, Owen Beckner, Vladimir Nikitin and Nicholas Vantassell.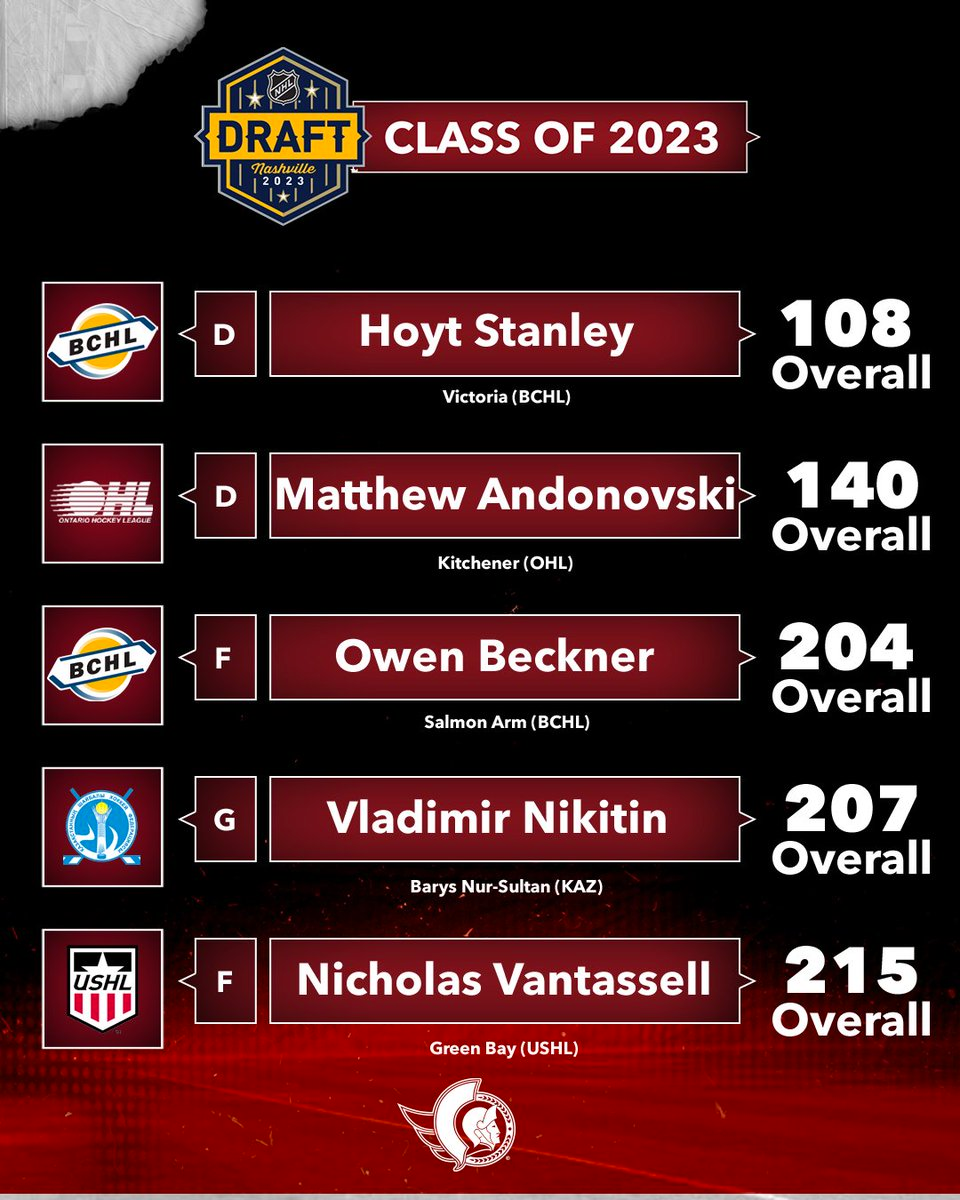 Hoyt Stanley, RD
A fourth-round pick by the Everett Silvertips in 2020, Hoyt Stanley was only 5-foot-6 at the time. Combine that with the COVID-19 pandemic and you have the recipe for a kid and his family deciding to take the long route, opting to go across the Strait of Georgia from West Vancouver to Victoria to suit up for the Grizzlies in the BCHL. That decision might just pay off for the now 6-foot-3 rearguard and Cornell commit.
A forward until the 2018-19 season, Stanley was the top first-time draft-eligible defender in the BCHL this season. He missed the majority of his rookie campaign with a concussion during preseason – debuting on his birthday and only suiting up for 13 regular season games and five playoff matches. This season was a different story as he led the Grizzlies in points from the blueline with 38 points in 53 games, a mark that had him tops among draft-eligibles and eighth among all BCHL defenders. His performance led him to being unranked on some outlets to being ranked in the top-100 in many cases by the spring: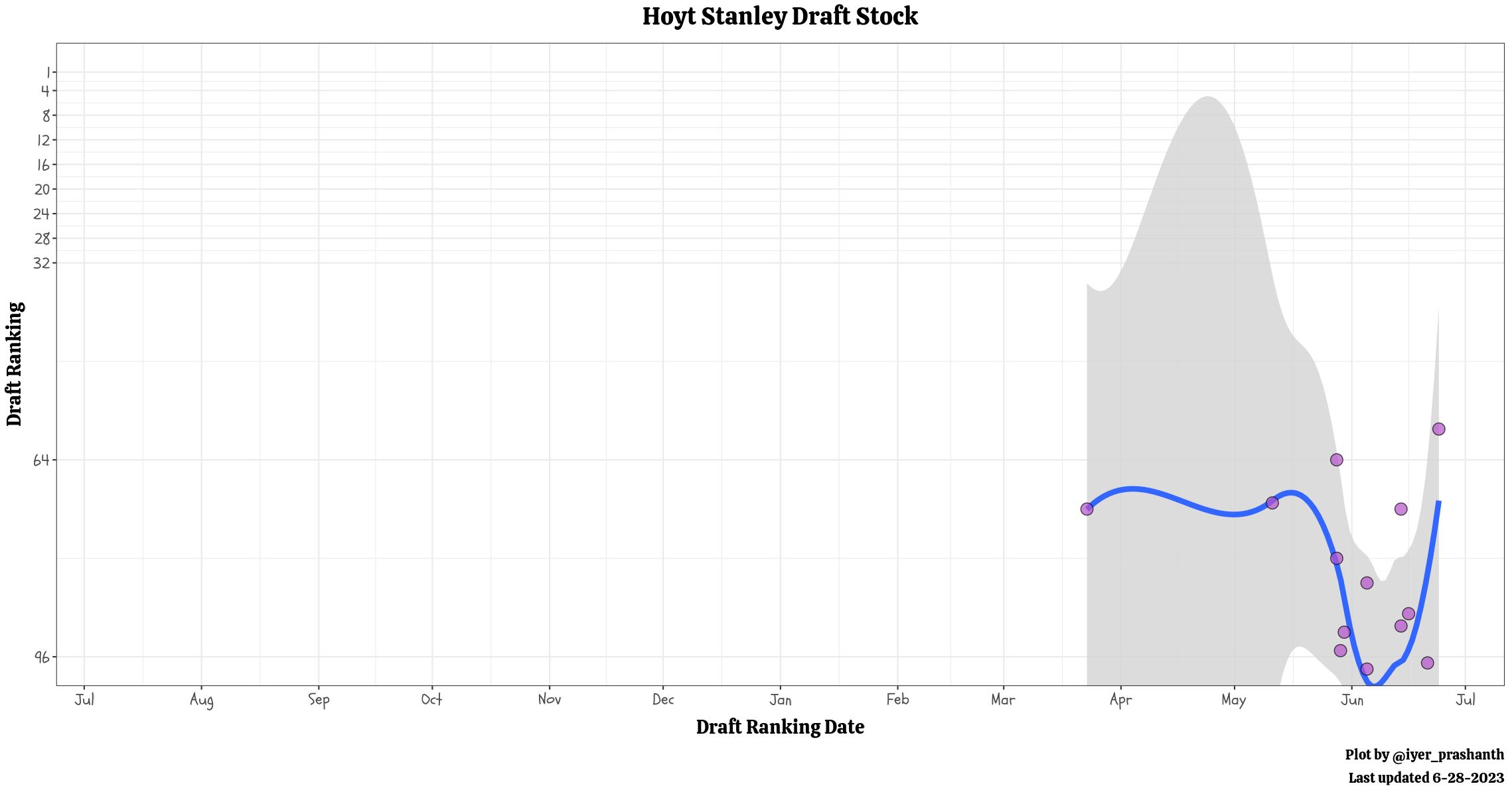 Stanley does a lot well. Namely, it's rare for a right-shot defender to have both his 6-foot-3 frame and an effortless skating stride. When you blend that top speed with quick decision-making, you have the package for a three-zone defender. On breakouts, he builds speed well and can transport the puck into the neutral zone, and has room to grow in how he executes under pressure when he enters the offensive zone. He's adept at using his reach and frame to protect the inside lane when defending the rush, and can continue to add strength in order to seal-off opponents to breakup the cycle game, support his pivots on recovery, and to further his four-way mobility. His in-zone offensive package is intriguing. Stanley has an accurate shot, but has his value when he activates – either through a well-timed pinch down the boards or as a weak-side passing option.
Growing up a Canucks fan, Stanley is hoping to make his own Drake Batherson-Sidney Crosby connection with Connor Bedard pay off. The Class of 2005 in British Columbia has been famous for a long time, and Stanley has had the opportunity to play regularly with Bedard, Matthew Wood, Andrew Cristall and more since he was 5 years old. He joins a Cornell team that's adding three of the ECAC's seven drafted prospects this season, and hopes to make alumnus Colin Greening proud with an Ottawa debut in three to four years.
Quotes:
From Senators assistant general manager, Trent Mann:
"He's a bigger kid, he skates very well, and he can move the puck. We have time with him, he's going to go to college, so the path is a little longer with that and gives him and our development staff to work with him to round out his game. Physically, he'll fill out during that block of time. We're excited — guys who can get around the ice and move pucks can help you win games. We need to get pucks to the forwards and is what we were looking to address."
From Senators scout, George Fargher:
"He moves the puck really well, he's got some good sense with the puck and he sees the ice well. He's got a good shot from the point. Going to Cornell will help his path and he's a good, skilled defenceman."
From Hoyt Stanley himself:
"I'm a two-way defenceman who is fast and has a high hockey IQ. I can contribute in all situations. At the pro level, I think I could play an all-around game."
From Nathan Murdock:
"His mobility is supreme, his physicality is great and improving, his puckhandling and offensive upside has upgraded VASTLY over the last year too."
From FCHockey's Joel Henderson:
"It is tough not to get lost in a dream world when watching Stanley. He's a big defender with long strides and can adjust his stance very quickly in moments. He protects well at his reach and usually does not hesitate to one-touch passes up the ice or shoot snap one-timers. In this viewing, it comes across as high-end flashes of tools that still need to be refined and put together."
From FCHockey's Donesh Mazloum:
"Boasting ideal size and strength while showing solid mobility checks two of the big boxes that NHL teams look for when evaluating defensemen. He is very thoughtful with possession and has a knack for predicting where the pressure will come from."
From Smaht Scouting's Josh Tessler:
"Stanley is a solid puck moving defenseman and was a great distribution from the blue line all season long. While the bulk of his assists, his passes even when they were defense-to-defense, those passes were more strategic. If he saw that he couldn't get a clear pass to the slot but his defensive partner could, he was going to feed his partner the puck. While in transition, he loves to complete passes off the boards when looking to get the puck around an attacker in front of him and to a teammate further up in the neutral zone."
From The Athletic's Corey Pronman:
"Stanley's pure toolkit gives him a real chance to make the NHL. He's a 6-foot-2, right-shot defenseman who can both skate and handle the puck well. When he's rushing pucks up ice or creating off the blue line he looks like an NHL defenseman. I would call him more of a transporter than a puck-mover, though, as I don't see a ton of vision in his game. Given his length and feet I would like to see him be more of a standout in his own end too, but that could come with time."
Learn more: From the BCHL; NHL Draft media availability; Profile on CanucksArmy
Matthew Andonovski, LD
A strong, mean, competitive defender, Matthew Andonovski is a throwback type of blueliner who defends his home base against opposition attack.
A fourth-round pick in the 2021 OHL Draft, Andonovski first gained the trust of general manager and head coach, Mike McKenzie, in November 2021 when he had to fill in for a suspended Arber Xhekaj and an injured Simon Motew. He contributed his first two points of the season in his next game:
"He has been good for us, a lot of guys can't play at 16, the game is too fast for them and they're overwhelmed and they're just surviving. He's making plays and doing things out there. All early signs point to him being a really good OHL defenceman."
Andonovski's simple, defensive-minded play doesn't lead to a ton of points – just four in 43 games in his rookie year, and 16 in 67 games this past season – but there are aspects of his history and potential tools that hint that there could be more upside. Andonovski played forward as a youth but moved to defence upon request from his coaching staff; he's always been a bigger kid and could box out opponents in front of the net. Two years of training with former Olympian ice dancer Vanessa Crone means that he has a long skating stride and a low centre of gravity,
Defensively, Kitchener beat writer Josh Brown noted that Andonovski was "one of the most improved Rangers this season and a go-to guy in the playoffs when the 8th seeded club ousted first seeded Windsor" while Brock Otten shared that he's an intelligent, stay-at-home defender who is competitive in puck battles but needs to improve his overall mobility. Andonovski can also throw it down with the best of them, with the Hockey Fights community ranking his tilt with Ethan Hay as their ninth best fight in 2021-22, and a bit of Chris Neil theatrics in his performances to boot.

Playing alongside fellow 2023 draftee Hunter Brzustewicz, Andonovski played third-pair minutes with the Rangers for much of the season but should be in an elevated role in 2023-24 with Lleyton Moore and Roman Schmidt graduating. The Senators will be hoping to see some improvements in his puck-handling and for him to put it all together with his skating package to take the next step.
Quotes:
From Senators assistant general manager, Trent Mann:
"He works hard, he's a big kid, and he doesn't back down from any situations. He's highly competitive; he's going to be able to play the penalty kill and shut down guys. That's where we see him. We'll help work with him to round out the puck-moving game of course because that's key, especially for the bigger guys. Wade Redden will have to be on his toes here the next little while."
From Senators scout, Don Boyd:
"He's a big, strong kid and his game, over the course of the year, has improved in all areas. He became a better skater, he handled and move the puck better. He got the ice time he needed and he played on the penalty kill. He's a competitive kid. We hope he continues to develop."
From McKeen's Joely Stockl:
"I was happy with Andonovski in every viewing I had, there are some defensive lapses but he moves the puck well and will be dangerous when he can learn to use his body to his max potential."
From FCHockey's Olivia Mcarter:
"Andonovski is a strong defender that really impressed me in this game. He held a high momentum throughout the entirety of the contest, challenged well in the offensive zone, and showed to have a good reach. When he was in the defensive zone, he positioned himself very well around the net-front and was able to grab hold of the puck and clear the zone."
From The Athletic's Corey Pronman:
"Andonovski is a good-sized defenseman who competes well and can make a lot of stops. He shows instances of skill with the puck but not consistently. His mobility is just OK for me, and he will need improvements for the NHL level."
Get a sense of his personality: OHL Draft interview with Sean Furfaro, Interview after signing with the Rangers, Andonovski mic'd up,
Owen Beckner, C
Hailing from Victoria on Vancouver Island and an alumnus of St. Georges Prep School (alongside Hoyt Stanley), Owen Beckner is a raw centre with upside that the Senators are hoping he'll unlock over his collegiate career with Colorado College.  
Drafted in the seventh round by Connor Bedard's Regina Pats in 2020, Beckner made the decision to stay closer to home and suit up with the Salmon Arm Silverbacks in the BCHL. Remember, April 2020 was the start of the pandemic, and with all of the uncertainty around the game of hockey and Beckner's future, he decided to try for the collegiate route. While he took a season to get used to the BCHL – only recording 10 points in 42 games in his first year with the club – Beckner exploded out of the gate in 2022-23, recording six goals in his first eight games and earning an opportunity to sign with Colorado College, where he joins Carsen Musser and Zaccharya Wisdom as NHL recruits to an up-and-coming Tigers team that went to the NCHC title game in 2022-23 and features its most NHL draft picks since the mid-00s. He finished his draft year with 50 points in 53 games, ranking third in the league among draft-eligible players and his team's leading scorer. It was enough to get him noticed by scouts looking forwards playing Tier II hockey in Canada.

Working with development coach Brandon Wong, an alumnus of Sens development camp in 2015 and coach of NHLers Tyson Barrie, Matt Irwin, and Dysin Mayo, Beckner has pro habits and a dart of a shot. What do I mean by pro habits? In the postseason, he consistently went to the front of the net and scored both of his goals in those areas. He also tracks back consistently on the defensive side of the puck, not letting the fact that he's his team's top scorer distract him from his two-way duties as a centre. When he's on his game, he's using his 6-foot-2 frame to handle the puck deftly on the rush, protect the puck, and use weight transfers to delay his body positioning until his teammates are in a better position to receive the puck. However, while he's competitive and can win battles, his skating can leave him behind the play and currently limits his impact to be energetic at 5-on-5. Credit to Beckner – he's well aware of this and plays on adding power to his skating stride this offseason.
Expect Beckner to either return to Salmon Arm or suit up with the USHL's Tri-City Storm next season – where Cameron O'Neill played this past year – to get more playing time.
Quotes:
From Senators assistant general manager, Trent Mann:
"He's got some skill and is a long, lanky kid right now, so physically, we'll have to help him with that. I don't know if he'll be quite ready to get on the ice right away — he had a hernia operation a little while back — but we'll check to see and medical will look at that."
From Senators scout, Bob Strumm:
"He's great defensively and has skill offensively. He's just a big, raw kid that has plenty of potential. His hockey mind allows him to be effective in all three zones. He has intelligence and skill. He's a big, raw project and you can see the upside."
From Owen Beckner himself:
"I have a hockey brain. I can think at a quick pace. I'm a skilled player that can make plays in tight places and see things before they happen. I'm also a bigger guy who can skate well. That translates to the next level because you have to be able to think at a quick pace with the increase of speed."
From The Athletic's Corey Pronman:
"Beckner is an NHL athlete. He's a big center who can skate and will be able to handle playing against men. He lacks skill and offensive instincts, though, and I think his effort is inconsistent, too. The Colorado College commit is a bit of a longshot bet, given the tools."
Read more: From the BCHL
Vladimir Nikitin, LG
The first player from Kazakhstan ever drafted by the Ottawa Senators, and the only Kazakh player selected in the 2023 draft, Vladimir Nikitin is a 6-foot-4, athletic goaltender who was the top draft-eligible netminder in his country. He's coming off of a regular season in Kazakhstan's top U20 league where he finished third in save-percentage (first among U18s) and went 9-0-0 in the playoffs to help Barys Astana win a championship. He was one of only three U18 goaltenders to play games (2) in Kazakhstan's men's league.
Perhaps even more impressively, he helped his country get promoted to the top flight at the U18s, including shutouts against Ukraine, Japan, and Hungary en route to a 0.936 save-percentage.
Nikitin will mind the net for Chilliwack in the BCHL next season before going to the USHL (Cedar Rapids has his rights) or ideally, collegiate hockey.
Quotes:
From Senators assistant general manager, Trent Mann:
"There's a package there of size and athleticism and flexibility. He's raw, he hasn't had a lot of coaching this far; we worked with Zac Bierk and Justin Peters alongside the amateur staff to identify some goalies where we feel like there's upside. This kid hits all the points."
Nicholas VanTassell, C
Ranked 164th among North American skaters by NHL Central Scouting, Nicholas VanTassell was Ottawa's final pick at 215th overall on Thursday afternoon. He became the fourth player expected to suit up for Greg Carvel's UMass Minutemen, where 2022 draft pick Tyson Dyck played last season and Cameron O'Neill will play next year.
VanTassell is from Basking Ridge, New Jersey – 45-minutes away from Newark – and the first-ever draft pick of Morristown-Beard preparatory high school. In an interview with Russ Cohen, he shared that he lost a year of hockey due to a knee injury, which impacted his confidence with the puck and his initial transition to the United States Hockey League (USHL) with the Green Bay Gamblers. In his first year of draft-eligibility, he only had 18 points (11G, 7A) and 18 penalty minutes in 58 games. In his second season, he was able to double those totals to 19 goals and 18 assists for 37 points in 62 games, utilizing his speed on the breakout to push back opposing defenders and then his hands to adjust the angle on his shots to cause difficulty for goaltenders.
It's notable that VanTassell's athleticism was highlighted by The Athletic's Corey Pronman as one of the best in this draft class, and it's likely what made him one of just 45 players who suited up at the 2023 USA Hockey BioSteel All-American Game. Coming in at 6-foot-4 and 196 pounds, VanTassell was one of the bigger players in the USHL and has the physical tools to transition to collegiate hockey. Adding some power to his skating stride and some agility to his edges will allow him to utilize his size most effectively to win pucks, separate from the opposition, and create space for him to execute his ideas when passing the puck. Expect him to start in a third-line role at UMass.
Quotes:
From Senators assistant general manager, Trent Mann:
"He's got size, he gets around the ice pretty well, and brings a few different elements to his game. His age doesn't scare us; we've had some success with these players in the past once we know, physically, what they're going to be and have had more time to mature. You get a little more clear in terms of their package. We're not going to force them all to be ready at the same time — they're teenage boys — so it'll take them time to be ready."

From Senators scout, Don Boeser:
"He's spent a couple of years in the USHL. He's got a big body, he's still developing and his game has grown over the last couple of years. He moves well for his size. He's going to U-Mass (NCAA) next year and we're expecting a lot out of him. He skates really, really well."
From Green Bay Gamblers assistant general manager, Kirk Luedeke:
"Nick has rare physical tools and gets up and down the ice so well for a big man, with a powerful shot and the ability to score from just about anywhere. Like [Valeri] Nichushkin, when he's driving hard to the net, few can physically match up against him. That kind of power and offensive upside is a logical fit for pro hockey after college"

From UMass head coach and ex-Senators assistant, Greg Carvel:
"Nick has great size and combines it with notable offensive ability. [...] He has the potential to be an effective power forward in Hockey East and I'm excited to see his game continue to grow once he gets to UMass. There is a lot of potential to be reached if Nick can continue developing his compete for the puck and use his size most effectively."
From The Athletic's Corey Pronman:
"Nicholas Vantassell is a big winger who moves quite well for a guy his size. He can make a decent amount of plays around the net due to his size. He has flashes of skill, but it's very inconsistent and whether he has the hockey sense for higher levels is debatable."
Highlights: YouTube video from high school; 45-second clip from high school; playoff goal from this year
---
Do you have a favourite player among the Sens' 2023 draft class? Let us know in the comments!
Not everyone can afford to pay for sports coverage right now, and that is why we will keep as much of the site's content free for as long as we can.
But if you are able to, please consider subscribing to help keep our articles free (and get a few extra perks).
Erik Condra
Ability to comment and participate in our community
Twice monthly newsletter available only to subscribers
Ad-free reading
Our undying love and appreciation
Brady Tkachuk
Everything from the Erik Condra tier
10% discount on all merch
Access to any future paywalled content
A personal thank-you from the Silver Seven staff
Daniel Alfredsson
Everything from the Brady Tkachuk tier
Inner peace knowing you are supporting quality, independent coverage of your favourite sports team