Monday LNN: DeBrincat Rumours, Leafs Adding Toughness, The "Yzerplan", and more
Links, news, and notes after a very busy first few days of free agency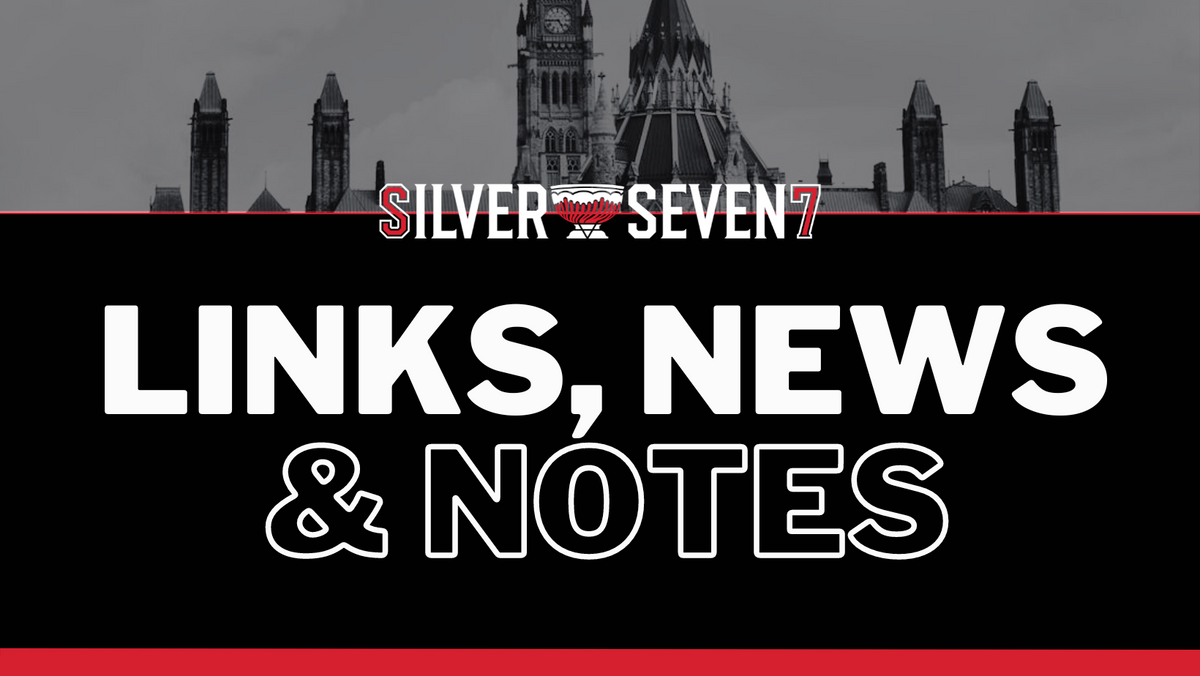 NHL free agency kicked off on Saturday, and there have already been a ton of moves to catch up on. There's too many small deals to count, but I'll touch on the most interesting ones, including all of the other Atlantic Division teams. You can see an updated list of all signings here.
As far as Ottawa Senators news goes, the Alex DeBrincat trade saga continues to drag on. As always, a lot of the reporting has been one-sided and we are mostly hearing from the team, or media who are getting information from the team. I haven't seen anything about DeBrincat requesting a trade or being adamant on not re-signing at all, although it does appear that he'd rather bet on himself if he isn't going to get the big deal he wants—which is his right. The Anaheim Ducks are a team that popped up as a potential suitor, as well as the New York Islanders. Both are somewhat surprising teams and in an Islanders deal, apparently Jean-Gabriel Pageau could be headed back to Ottawa. As much as I love JGP, I really wouldn't want him to be a big piece of a DeBrincat return. It seems likely that we'll just have to be patient with this.
The Toronto Maple Leafs have had an interesting past few days, as they added Tyler Bertuzzi, Ryan Reaves, Max Domi, and John Klingberg, and weirdly enough, Reaves was the only one they gave term to—three years. Bertuzzi seems like a perfect fit for them at just $5.5M, and while the others have some usefulness, I just don't think they upgraded a whole lot when you consider how bad Reaves and Klingberg's on-ice impacts were this season. Bertuzzi is essentially replacing Bunting too, and Domi is...an all-offense/no-defense version of Ryan O'Reilly except a lot worse in most conceivable ways? I can't say the Leafs look any better than they did in the playoffs – and I don't mind that at all.
Another Atlantic Division team that I am not envious of so far this off-season is the Detroit Red Wings. I used to think that Steve Yzerman was clearly the best GM in the NHL, but the "Yzerplan" in Detroit has been quite...odd so far. They signed JT Compher at 5x$5.1M, Shayne Gostisbehere at 1x$4.125M, Justin Holl at 3x$3.4M, Klim Kostin at 2x$2M, Daniel Sprong at 1x$2M, James Reimer at 1x$1.5M, Christian Fischer at 1x$1.125M, and Alex Lyon at 1x$900k. It was a massive list of some good players but not ones you should be overpaying (Compher and Holl being the egregious ones). Their roster has NHL quality throughout the lineup, but soon they'll have to start paying their young players like Mortiz Seider, Lucas Raymond, Marco Kasper, etc. but their cap seems likely to be tied up in some of these weird deals. The Wings appear poised to be a fringe play-off team for years to come, and all of a sudden I'm not as worried about Detroit's rebuild anymore.
The Buffalo Sabres added Erik Johnson at 1x$3.25M and Connor Clifton at 3x$3.33M. Their defense was a huge weakness last season, and they continue to look like a scarier opponent. The Sabres rebuild, unlike the Wings, has me worried.
The Boston Bruins are in an incredibly challenging position in regards to the cap, as all they've been able to do is add Milan Lucic at 1x$1.5M, James Van Riemsdyk at 1x$1M, Morgan Geekie at 2x$2M, Kevin Shattenkirk at 1x$1.05M, and our pal Patrick Brown at 2x$800k (2-way). They have just $6.2M in cap space, with Jeremy Swayman and Trent Frederic as RFAs, plus that's without Patrice Bergeron and David Krejci if they want to come back; and that's without factoring in the loss of the aforementioned Bertuzzi and Taylor Hall. It's going to be a much tougher road for them to even come close to their strength last season.
The Montreal Canadiens have been very quiet, as the only signing of note was Lias Andersson on a 2-way deal. They're another team that is still a long way away from being a contender.  
The Tampa Bay Lightning arted ways with Ross Colton (to Colorado for a 2nd-round pick), as well as Alex Killorn, who signed a mega 4-year/$6.25M deal in Anaheim. They picked up Calvin De Haan at 1x$750k, Luke Glendening at 2x$800k, Jonas Johansson at 2x$775k, Josh Archibald at 2x$800k, Conor Sheary at 3x$2M, plus another friend in Logan Brown on a 2-way deal. They can't do very much in terms of salaries, so just like Boston, it's difficult for them to really improve.
And for the final team in the Atlantic, Florida has been quite busy. They dealt Anthony Duclair to San Jose for Steven Lorentz and a 5th, and they also signed Evan Rodrigues at 4x$3M, Kevin Stenlund at 1x$1M, Anthony Stolarz at 1x$1.1M, Oliver Ekman-Larsson at 2x$2.25M, Nikko Mikkola at 3x$2.5M, Dmitry Kulikov at 1x$1M, and Mike Reilly at 1x$1M. They lost Radko Gudas to Anaheim and Alex Lyon to Detroit, although they have a bit more depth overall right now. If Sergei Bobrovsky is competent again next year, they'll be a tough out.
I mentioned the Islanders earlier, and they have had a wild few days as well. Lou Lamoriello re-signed Ilya Sorokin at 8x$8.25M, Pierre Engvall at 7x$3M, Semyon Varlamov at 4x$2.75M, and Scott Mayfield at 7x$3.5M. If there's one thing Lou loves doing, it's giving term to depth players. The Sorokin contract looks strong, but the others are definitely head-scratchers not because of the AAVs, but the term. Lou's successor is going to have a real mess on their hands but I suppose that's not Lou's problem; it's definitely his M.O. It's difficult to see how DeBrincat could fit there, but it's possible I suppose.
An under-the-radar cheap signing I liked was Matt Duchene to the Dallas Stars for just $3M on a 1-year deal. That should be tremendous value for the Stars.
It's almost impossible to do very well in free agency, but I was impressed with what the Carolina Hurricanes did. They signed Michael Bunting at 3x$4.5M, Dmitry Orlov at 2x$7.25M, and re-signed Frederik Andersen at 2x$3.4M, Antti Raanta at 1x$1.5M, and Jesper Fast at 2x$2.4M. Orlov's is incredibly high, but it's such low risk for just two years. They really needed offense, and Bunting will help them a ton for not much money.
At The Athletic ($), their team of writers graded the biggest signings, plus Dom L. analyzes what he views as the five worst deals from Saturday.
Ken Wiebe of Sportsnet also gives his impressions of free agency so far.
Last but not least, I'm not sure when this was taken, but Hoyt Stanley posted a picture of him as a kid in a Senators jersey meeting Erik Karlsson. He needs to make the Senators.
These few weeks around the draft and free agency are always the most fun as a hockey fan, although now there probably won't be nearly as much to do until we actually start playing games again. There are other signings that I didn't talk about, but feel free to open the debates: what were your favourite or least favourite signings so far?
Not everyone can afford to pay for sports coverage right now, and that is why we will keep as much of the site's content free for as long as we can.
But if you are able to, please consider subscribing to help keep our articles free (and get a few extra perks).
Erik Condra
Ability to comment and participate in our community
Twice monthly newsletter available only to subscribers
Ad-free reading
Our undying love and appreciation
Brady Tkachuk
Everything from the Erik Condra tier
10% discount on all merch
Access to any future paywalled content
A personal thank-you from the Silver Seven staff
Daniel Alfredsson
Everything from the Brady Tkachuk tier
Inner peace knowing you are supporting quality, independent coverage of your favourite sports team