Longform
Belleville: Year in Review
How did Belleville's top players perform and was their penalty kill the single greatest reason for missing the postseason?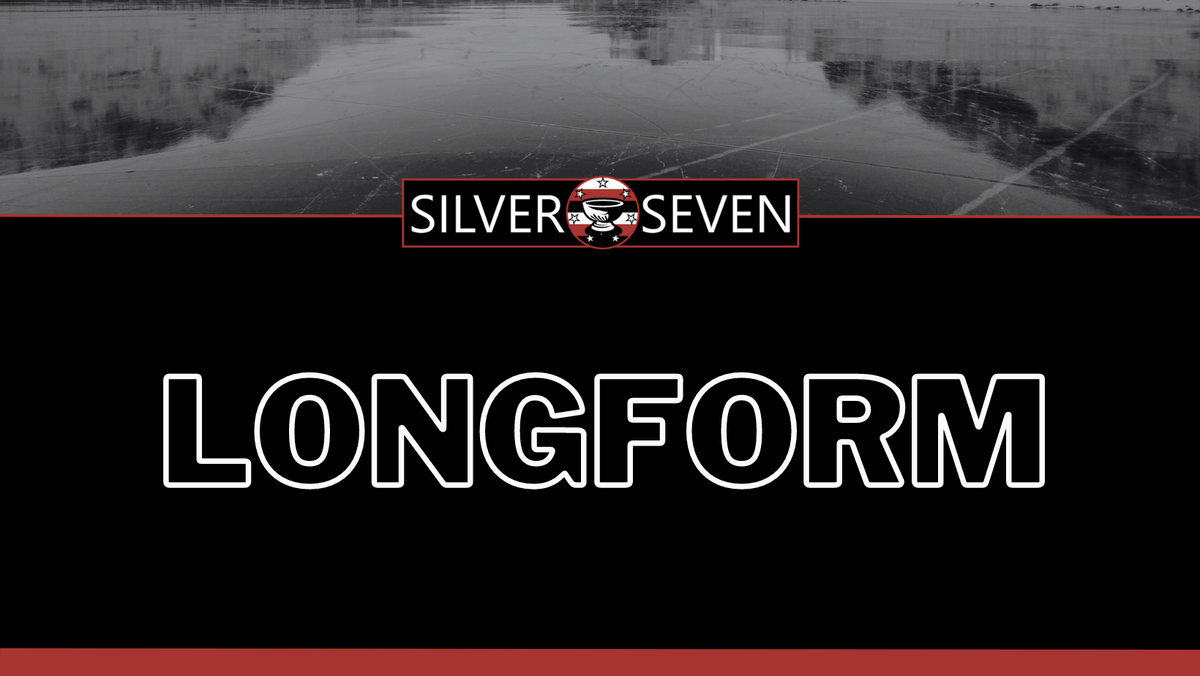 The Belleville Senators season is in the rearview mirror, off in the distance, as the team watches five of their North Division rivals battle it out for a chance to hoist the Calder Cup as the American Hockey League's top club.
As we look back on the season, there's one thing we can say for certain. Ottawa's injury riddled season had an understandably direct impact on Belleville's abilities to make the postseason. Whether it was missing top young guns like Ridly Greig and Jacob Bernard-Docker for decent stretches or missing your entire goaltending tandem, too. As mentioned in last week's prospects update, the Belleville Senators had 10 different people tossed between the pipes at some point this season, including seven goaltenders who simply aren't AHL calibre.
Needless to say, it's disappointing but not surprising to see Belleville's year end early. We know that CAA Arena would have been absolutely bumping in the postseason but, alas, we have to wait until next year to see it.
So, let's dive into the year that happened and see where the BSens succeeded and struggled. I've used the great data at AHLTracker to help inform some opinions, coupled with having watched every Belleville game since October.
Forwards
Up front, there were a number of strong campaigns put together by some of Ottawa's top prospects. Specifically, the organization has to be happy with what Egor Sokolov, Roby Järventie and Ridly Greig put forth this year. If you have been reading my work regularly, you'll know that I place a ton of value on primary points. For me, knowing which players are right in the mix of offensive production, particularly for forwards, is one of the more important metrics that you can find at the AHL level. Unfortunately, there isn't a reliable source getting deeper into AHL data just yet so we don't have possession, zone entry/exit or expected goals date to work with.
So, let's take a look at primary points and see who was directly impacting Belleville's ability to put the puck in the net.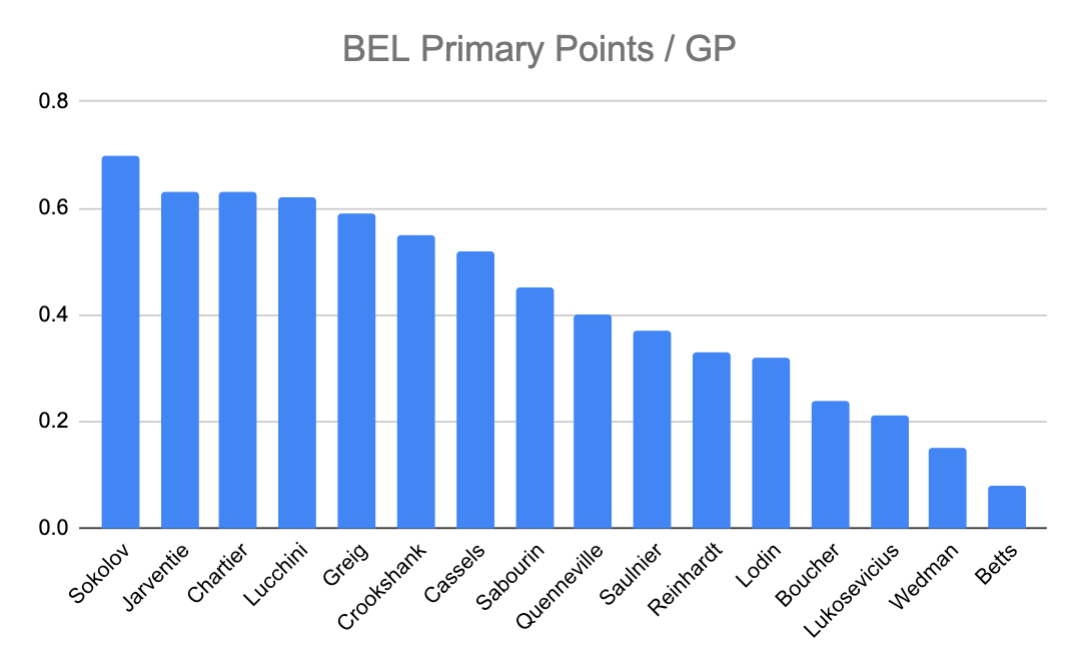 As you can see, Sokolov and Järventie led the way when it came to primary points per game played. Right behind them was Rourke Chartier and Jake Lucchini, two very strong veteran AHL forwards, with Greig and Angus Crookshank rounding out the top six.
While it's good to know where players stand within their own team, let's look at these players and how they compare to their peers. For Sokolov and Crookshank, they are both five years out from their draft year (DY+5). Amongst those peers, Sokolov ranked first and Crookshank ranked fourth in primary points per game. Then you have Järventie and Greig, both members of the 2020 NHL Draft that saw Ottawa bring in stars in Tim Stützle and Jake Sanderson. Amongst their prospect curve class, Järventie and Greig rank third and fifth respectively in primary points per game, amongst notable prospects like Lukas Reichel (1st), Marco Rossi (2nd) and Vasily Ponomarev (4th).
Needless to say, amongst their peers, all of Sokolov, Crookshank, Järventie and Greig held up right at the top when it comes to primary production.
In overall production, Järventie needs some extra praise for the season he had. The Finnish winger suffered an injury in October which saw him miss all of November and December, only to return on January 27th. What's more interesting is that the BSens flipped him from the wing to the centre, partially due to a lack of centres, so he had to deal with coming back from a lengthy injury and playing a new position. Still, Järventie started the season with only five points in his first ten games. Which means he finished with 25 points in his final 30. For a sophomore who only hit 33 points in 70 games last year, that's a big leap. A fully healthy season from Red Light Roby™ will be paramount in him getting into the conversation for NHL recalls in the 2023-24 season.
Defense
The Belleville Senators had seven defenders play at least 40 games, which is a pretty solid backend when it comes to consistency within the AHL. The main reason here was that the major injuries for Ottawa came up front and in net, leaving the majority of their blueline in tact enough that only Jacob Bernard-Docker saw a somewhat extended number of games as a call-up with 19.
This season we saw Lassi Thomson hit a bit of a plateau in production. Offensively, he's done what he's going to do at the AHL level and this year was all about how he could play away from the puck and in his own zone. I saw some improvement here but you'll notice that Thomson didn't spend a ton of time in the NHL this year. In part because of the aforementioned lack of injuries, but also because the weakest part of his game - positional play away from the puck - happens to be the greatest strength of JBD, his biggest competition for a spot on the right side of Ottawa's blueline.
For me, the most exciting story this year was the Maxence Guénette coming out party we got to witness. The 21 year old right shot defender went from a depth piece with potential last season to one of Belleville's most consistent contributors for defenders on the scoresheet. Guénette was drafted 168 spots behind Thomson in the same draft, and yet their primary point production was incredibly close this season (0.38 vs. 0.31), with Thomson just edging out Guénette for the top spot.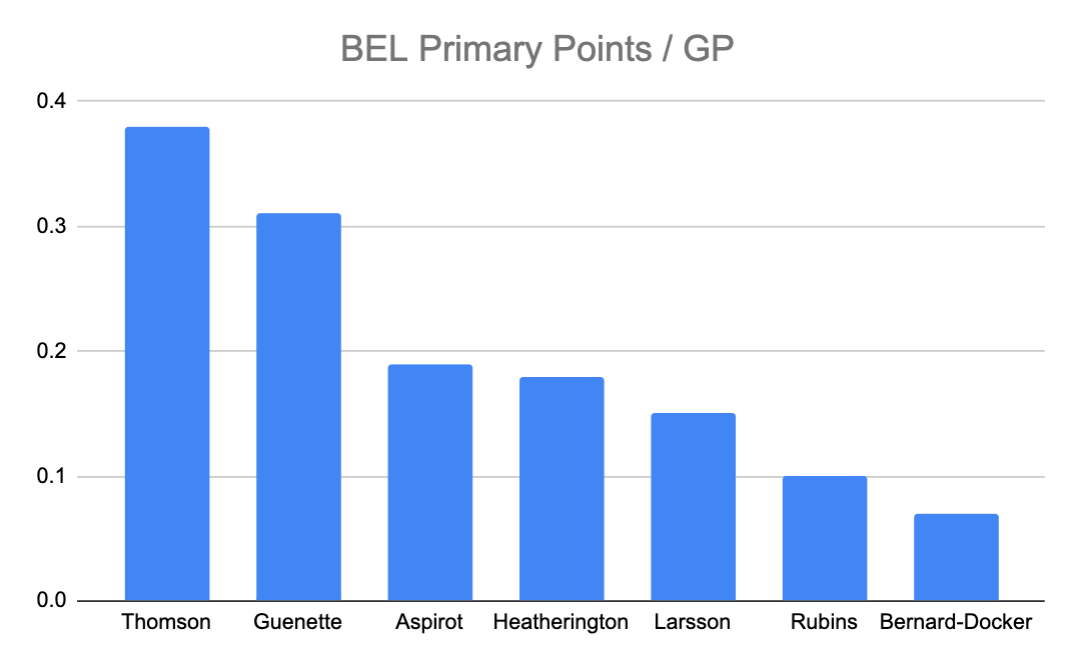 But once again how does Guénette compare? It shouldn't be confused that just because Guénette had a coming out party that automatically means we should shoot him up the depth chart. While his season was impressive, he ranked 9th amongst his defensive peers from the 2019 draft, well behind players like Ville Heinola (0.54), Jordan Spence (0.45) and Zac Jones (0.44).
If Guénette wants to take that next step, we'll need to see him take another leap offensively while improving his defensive play. He's come a long way in the latter, being trusted more and more as Belleville's season continued, but he's still well behind someone like Bernard-Docker when it comes to his defensive awareness and positioning.
Goaltenders
As mentioned, Belleville had a small army of people guard their net this season. We're going to ignore half of them, as there were really only five who either played enough to warrant discussion or are important enough to the future of the organization to talk about.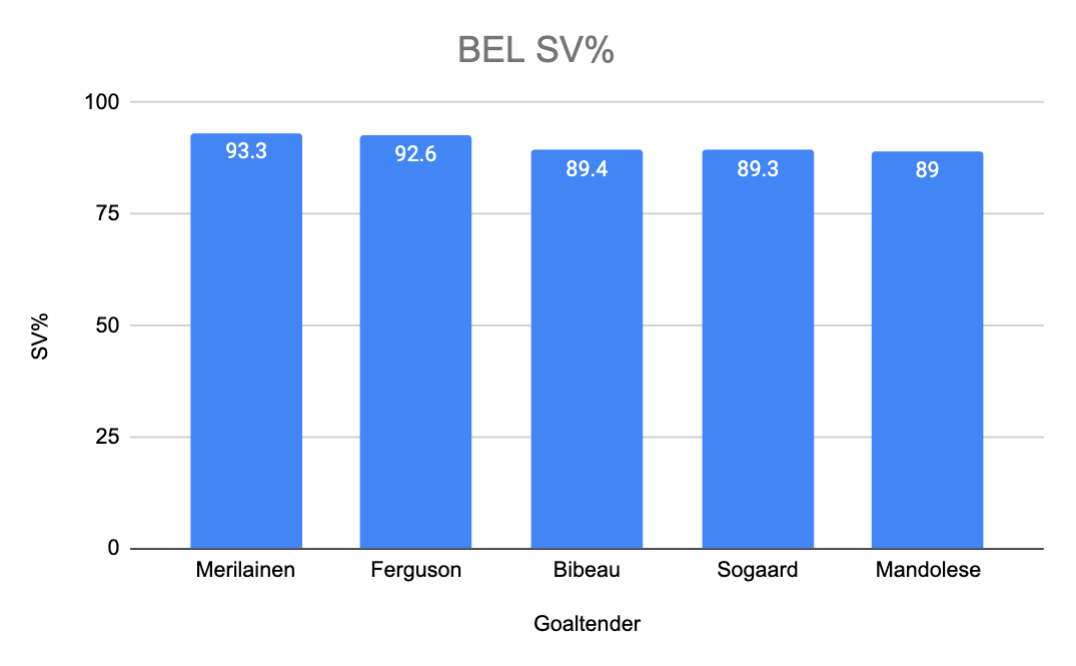 The interesting development this season for Belleville's goaltenders was that, of their regular guys, their two "goalies of the future" as of the start of the season ended up being their bottom two in save percentage. One asterisk here is that, while it's awesome to see Leevi Meriläinen at the top with a bright and shiny 0.933 SV%, we have to note that he only featured in four games, one of which was in relief.
The absolute standout for me was Dylan Ferguson. A story we've seen unfold in Belleville before with the likes of Jake Lucchini, Ferguson came into the BSens organization after being acquired from the Toronto Marlies and became a brand new player. At 24 years old, Ferguson had participated in parts of three professional seasons before this one, posting below league average numbers throughout. Even earlier this year, while playing for the top team in the North, Ferguson had a 0.888 SV% in five games. The moment he came to Belleville, something changed. He had a 0.926 SV% and a 6-1-0 record while also going 1-1-0 with a 0.940 SV% in two starts in Ottawa. I'd say there was "something in the water" in Belleville but he was already living on Lake Ontario with the Marlies so that can't be it.
In Ottawa, we saw Mads Søgaard play far more games than we expected this year. While his 0.889 save percentage in the NHL leaves much to be desired, he was able to put together a winning record at a crucial time of the year as the Sens were 8-6-3 with the Great Dane™ in net. In the AHL, it was a picture of inconsistency. The BSens posted a 6-10-2 record with Søgaard's 0.893 SV%. Søgaard would go multiple games with a sub-0.900 performance and then post three straight games where his worst effort resulted in a 0.923 SV%.
We know that there's no such thing as too many goalies in the system, as we saw with injuries this year. Not only that, but you have to put your eggs in multiple baskets with goaltenders, since Ferguson could be the guy to watch now but next season, somebody else could come in and show real promise. As far as I'm concerned, projecting goaltenders is the most difficult thing to do in hockey, so the fact Belleville has this many options of quality goalies on the rise is promising.
Team Performance
What you've read so far is praise for some of Ottawa's prospects who are refining their craft in Belleville, with very little criticism. So let's hop into the overall team performance this year and identify why we saw strong seasons from a number of individuals but that didn't translate to a winning record for the club.
First, we have injuries and call-ups, let's just throw that one out there and move on. We've talked about it enough.
Second, while Belleville had some strong individual performances, they didn't have enough superstar performances that could carry the team to one of the extra three wins they would've needed to make the postseason. For example, if you rank every skater who played a minimum of 20 games by primary points per game played, Belleville's top player in Egor Sokolov would rank 47th. After Sokolov is Chartier (67th), Järventie (71st) and Lucchini (75th). Belleville scored by committee this season but that committee wasn't potent enough to propel them to a playoff spot. They had a number of players who scored well, but lacked enough star power and secondary scoring to be enough. On the back end, the same thing is true. When other teams were getting offensive production from their blueline, Belleville had Thomson (33rd) and Guénette (52nd) as their top contributors.
Third, and most importantly, where Belleville certainly left points on the table is related to special teams. When it comes to the powerplay, Belleville found success. They were tied for third in the North Division and 10th across the league with a 20.7% success rate. The team paired that with a league leading 347 playoff opportunities. When you look at a solid success rate with a ton of opportunities, you'd think this would be a playoff team. Unfortunately, it was the other side of their special teams performance where much was left to be desired.
It's hard to point to one particular thing and definitively say that was the downfall of a team but with the Belleville Senators, I think you can. Their performance on the penalty kill - and the number of times they found themselves shorthanded - has a very good case to be the number one reason we aren't still watching the club play hockey. While the BSens found themselves with the most powerplay opportunities in the entire league, they also led the league in powerplays given with a whopping 336 shorthanded situations. When you couple that with their 28th ranked penalty kill (77.4%), and league leading 76 powerplay goals against, you can see where the three (or more) wins Belleville needed to make the postseason might have gone. To give you an idea, there was only one playoff team in the league who gave their opponents over 300 powerplay opportunities. Belleville's 336 shorthanded opportunities given was roughly 50 higher than the average playoff team. That's 50 additional odd man chances given away relative to those teams that punched their ticket to the big dance. That is, simply, far too many.
If I'm the newly promoted Head Coach David Bell, I'm focusing on two things and two things only this offseason: how do you plan on succeeding on the penalty kill and how do you plan on creating a more disciplined culture for this team. Simply put, the Belleville Senators paraded to the penalty box and then failed to get really good at something they were doing all the time. In the 2022-23 season, Belleville lost by one goal on 17 occasions. Belleville allowed at least one powerplay goal in 13 of those 17 one goal losses. And in five of those 17 games, they allowed at least two. All Belleville needed to make the playoffs was an additional five points. You'd have a tough time convincing me that tightening up their penalty kill, playing more disciplined, or both in those 17 one goal losses alone couldn't have got them close to, if not beyond, five points further in the standings.
Looking Ahead
Heading into next season, we're going to see a few graduations in some way, shape or form. You've got a long offseason for Egor Sokolov to continue improving his skating, Ridly Greig to add some bulk to his frame and for both Lassi Thomson and Jacob Bernard-Docker to prepare themselves to battle for Ottawa's seventh spot on the blueline.
In net, I think Belleville is going to look quite strong next year. I'd be pretty surprised if Ottawa goes into next season without adding a goaltender to compete with Anton Forsberg at the NHL level, leaving all of Mads Søgaard, Kevin Mandolese, Dylan Ferguson and Leevi Meriläinen to battle for the crease in Belleville. Of those four netminders, Ferguson and Mandolese are both without a contract at this time for next season. Four goalies is a lot to have outside of your NHL roster but if we learned anything from this past year, it's that maybe it's better to overload the AHL with goalies, letting them bleed into the ECHL, rather than clear the way for an obvious tandem at the AHL level.
What we're also likely to see is some interesting additions to the AHL. Up front, the injury riddled Tyler Boucher will turn pro. Boucher is coming off back-to-back OHL seasons where he played fewer than 25 games each year due, primarily, to injury. That being said, Boucher has always struck me as the type of player who would excel at the AHL level. He's physical, he's tenacious and he's got skill. At the AHL level, that combination is very valuable.
Zack Ostapchuk is another likely candidate to be added to Belleville's roster after a strong WHL career with Vancouver and Winnipeg. He's a player who received high praise following his draft year from Head Coach DJ Smith, so I'd expect he'll come and play a prominent role in Belleville as a rookie, similar to players like Josh Norris, Drake Batherson and Ridly Greig before him.
On the back end, Tomas Hamara has the choice of either heading back to the OHL for his overage season or making the jump to the AHL. While I think he has a lot more to prove in junior, a source at the Kitchener Rangers told me he doesn't expect Hamara to return purely because the majority of import players in the OHL opt for the AHL over an overage season. Personally, I'm of the opinion that we should also be seeing Tyler Kleven join Belleville. While he had a strong NHL debut which led to multiple Sens Twitter personalities and podcasters putting him into the NHL lineup in permanent marker next year, Ottawa may be best off leaving him to marinate in the AHL at the start of the season with three of Thomas Chabot, Jake Sanderson, Jakob Chychrun and Erik Brännström holding down the left side in Ottawa. I would also, selfishly, love to see Kleven and Bernard-Docker playing 23+ minutes a night together in the AHL. It would do wonders for Belleville's season.
Overall, the BSens will need some added or renewed veteran help, with players like Scott Sabourin, Jonathan Aspirot, Jacob Larsson, Lucchini and Chartier all on expiring contracts. What we can look forward to, though, is a better team top to bottom with added depth and youth injected into the lineup. Up until yesterday, there were questions surrounding who would be serving behind the bench for the upcoming season with David Bell only holding the interim tag following the firing of Troy Mann. That interim tag is no longer, as the Senators announced Bell's promotion to full-time Head Coach, the third in Belleville's history.