Are We Sure That We Can't Fix Mathieu Joseph?
The latest instalment in my unplanned series about players that I like more than you do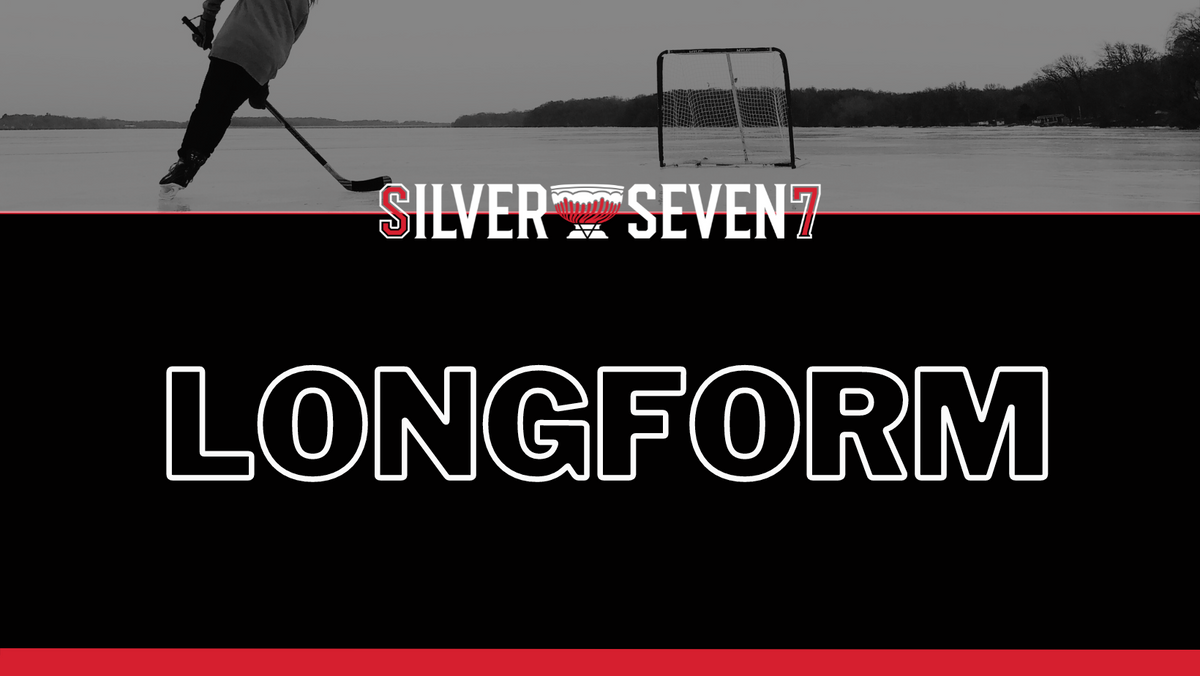 As a contributor here at Silvers' Seven, I largely consider myself someone who stays up-to-date on Ottawa Senators-related news and narrative. Every now and then I still have my Rip Van Winkle moments when it comes to my favourite squadron though. And that brings me to Mathieu Joseph, whom I had believed we, as a fanbase, collectively liked but now suddenly--we don't like? I can only speak from my own personal perspective, and maybe a lot of readers have long-held skepticism about Joseph but around the site at least, we used to see him as something of a defensive wiz and nerd stats darling, no?
Not to dox my fellow writers or anything but what happened to this? And this? And this? Even our esteemed and largely pragmatic editor in chief figured four years at $2.95M seemed like a perfectly fair deal for Joseph. Now we, again as a collective fanbase, have determined that Joseph need serve at the altar as our salary cap sacrifice to make room for Shane Pinto's next contract. What the hell happened? I should note here that I know that I cannot dissuade any reader who holds any belief about spending efficiency. If you don't like Joseph at $2.95M then I don't intend to convince you otherwise. People take those opinions to the grave and I get that. But I myself liked the signing at the time and then I blinked my eyes and now I have to defend Joseph a year later. Life comes at you fast, folks.
Let's start with something crucial and also enigmatic: injuries. Shortly after Joseph joined the Senators in the spring of 2022, he suffered an upper body injury that ended his season. Last season Joseph had two lower body injuries that cost him two and five weeks of the season respectively. Even for young, healthy athletes in the prime of their career, these things can add up and create long-term problems. We don't know the details, though. We don't have access to the medical charts and we can only assume. Maybe the injuries have affected Joseph's play and thus the fanbase's perspective of his value. I personally tend to see this as a reason to forgive a mediocre season but, again, others may see this as another red flag on a contract they already don't like.
Okay so now beyond the context of injury let us discuss Joseph's mediocre season by the numbers. My very cursory research gives me the impression that a player with Joseph's contract should consistently put up 20G/20A seasons or thereabout to get decent return on investment (or you can fight me in the comments). Joseph did not have that kind of a season. He also hasn't had those types of numbers at any point in his career, always hanging around 0.35 points per game. So why didn't I hate this signing at the time? Well for one thing, Joseph still has youth and potential on his side, and he has still never played more than bottom-six minutes save his brief flourish in Ottawa in the Spring of 2022. Joseph also has a reputation for his defensive prowess and special teams talent (I'll get into that in later paragraphs). All that to say, when the Sens acquired Joseph and extended him, we had a philosophy of "Give Joseph the opportunity in an expanded role and utilize his strengths, and he'll pay dividends." That didn't happen last season (whether injury-related or otherwise).
In a classic showing of small sample size theatre, Joseph racked up a point-per-game in the spring of 2022 while enjoying time in Ottawa's top-six (both his individual shooting percentage over 20 and on-ice shooting percentage over 13 could have served as indicators in hindsight) before injury ended his season. Thereafter Dorion went to work extending the restricted free agent (after Joseph filed for arbitration). This kind of stuff happens all the time in the NHL. I don't really sweat this one too much and unlike a lot of other Sens fans I think this can still work out for Joseph in Ottawa. However, it does concern me somewhat that three injuries later Joseph's nerd stats that once buoyed his reputation suffered somewhat alongside his goal-production or lack thereof. Okay enough dancing around the nerd stats that I keep promising, I'll break it down.
First of all, Joseph had zero five-on-five goals last season. That's not good. I can't candy-coat that and I know I'm doing a bad job in my role of Joseph apologist already. At the same time, Joseph's five-on-five primary assists per 60 (0.8) tied for best on the Sens among forwards so what gives? He could set up the plays but not score on his own. And we can't chalk it up to regressed shooting percentage because at five-on-five, Joseph didn't shoot. He ranked dead last in individual expected goals per 60 at five-on-five among Sens forwards. Other than the lack of shooting, Joseph still demonstrated a lot of value even at five-on-five by drawing more penalties than he takes (+0.3 drawn per 60).  The more I look at the numbers the less I worry about the lingering effects of injury.
I want to talk specifically about penalty-killing: Joseph has always had a reputation as a threat shorthanded, and that stayed true even last year while the five-on-five scoring woes drew our attention. Other than Tim Stützle, no one looks more dangerous on the penalty kill than Joseph. Joseph had team-leading rates on the penalty kill with 1.28 points per 60 and 0.94 individual expected goals per 60. If he can steal pucks and create offence off the rush shorthanded, then that to me suggests Joseph still has his eyes, hands, and legs working for him so I feel a lot less concerned about the lingering effects of those injuries. I don't feel as confident about the powerplay.
Joseph never got many powerplay opportunities in Tampa and I don't seem him getting many more in Ottawa. He can, once again, set up offence as he ranked second among Sens forwards with 3.7 primary assists per 60 on the power play but again ranked dead last in individual expected goals per 60. For whatever reason, he can generate offence only when it seems most difficult and never when it seems straightforward. And cumulatively, the Sens powerplay performs worse with Joseph who has a relative rate among Sens forwards at -3.85 on-ice expected goals for per 60. On the penalty kill, Joseph has a solid -2.3 expected goals against per 60 and a +0.9 expected goals for shorthanded giving him a nice complementary skill that again we seem to overlook given the overall grimness of his traditional stat line on the season.
In terms of five-on-five nerd numbers, Joseph finished middle of the pack at %50 on ice expected goals for while playing tough minutes getting just 39.6% of his starts in the offensive zone.
Speaking of deployment, line-mates also probably played a role in Joseph's offensive regression from the spring of 2022. Joseph played most of his five-on-five minutes with Tyler Motte, Pinto, Dylan Gambrell, and Derick Brassard. With Motte, Joseph had about average on-ice results and little individual production. Joseph put up worse on-ice rates with Pinto (both players had better rates apart) and this applied to Joseph's results with all of Ottawa's second-liners who in all fairness couldn't seem to find any chemistry among themselves or with others. With Gambrell, Joseph had worse on-ice results. As luck would have it, Joseph played his best hockey when he lined up with Brassard who does not have a contract for this upcoming season (and who we may not even see in a Senators jersey again sadly). Brassard also had his best rates when lined up with Joseph. Chemistry exists. If you want some sort of hope, Joseph also had good rates in small samples with Ridly Greig and Mark Kastelic so maybe DJ Smith can make something happen there.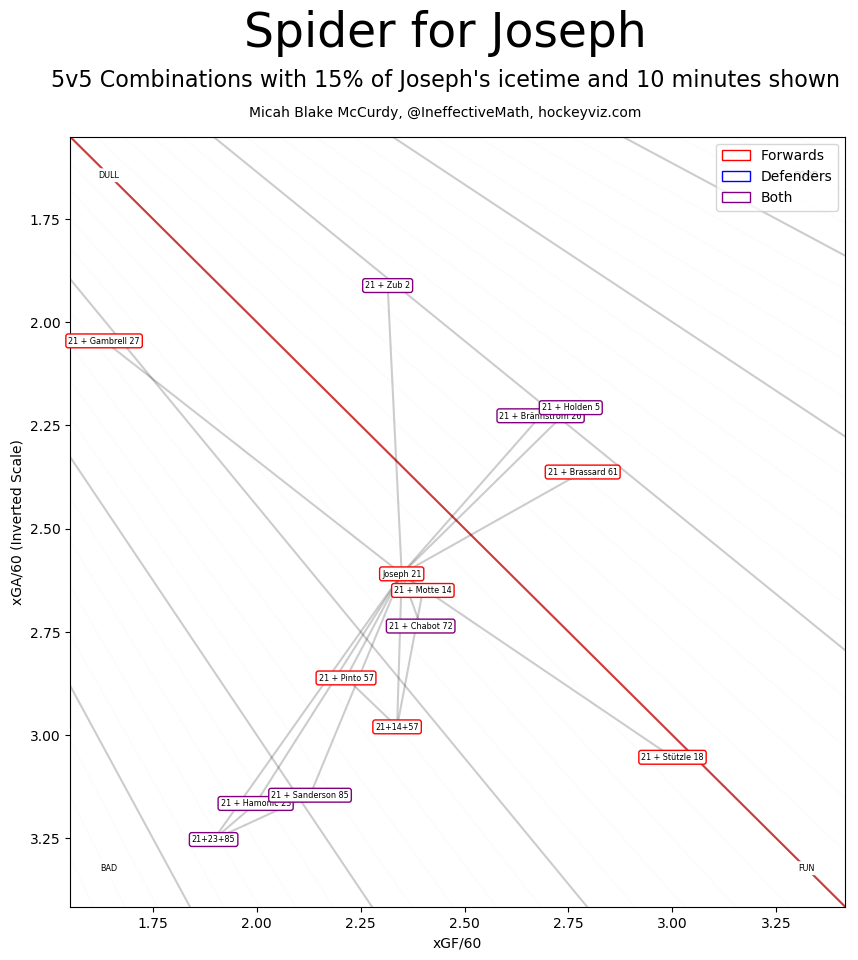 In summary, do I think Joseph can have a bounce-back season in terms of offensive production? I don't know. I don't think it makes sense to shoehorn him into the top-six given all the information we have but Joseph does deserve better line-mates nonetheless than he has last season. Joseph, should he stick around this season, may also find new life with potential line-mates Vladimir Tarasenko, Dominik Kubalik, or Jiri Smejkal should the stars align in such a way. Ottawa still plays perfectly average hockey offensively with Joseph on the ice and slightly better than average hockey defensively with Joseph (-0.07 expected goals against/60 rel). Joseph also provides plus-plus value on the penalty kill even if he can't complement that with powerplay production. Does that justify his $2.95M cap hit? You tell me. Also remember that the Yashin trade tree still lives either way on as Ottawa holds Tampa's fourth-round pick in next summer's entry draft.
As always, stats courtesy of naturalstattrick.com
Not everyone can afford to pay for sports coverage right now, and that is why we will keep as much of the site's content free for as long as we can.
But if you are able to, please consider subscribing to help keep our articles free (and get a few extra perks).
Erik Condra
Ability to comment and participate in our community
Twice monthly newsletter available only to subscribers
Ad-free reading
Our undying love and appreciation
Brady Tkachuk
Everything from the Erik Condra tier
10% discount on all merch
Access to any future paywalled content
A personal thank-you from the Silver Seven staff
Daniel Alfredsson
Everything from the Brady Tkachuk tier
Inner peace knowing you are supporting quality, independent coverage of your favourite sports team