Analyzing Potential PTO Options for the Senators
Are there any players the Senators could bring in on a tryout contract like they've done recently with Derick Brassard and Tyler Ennis?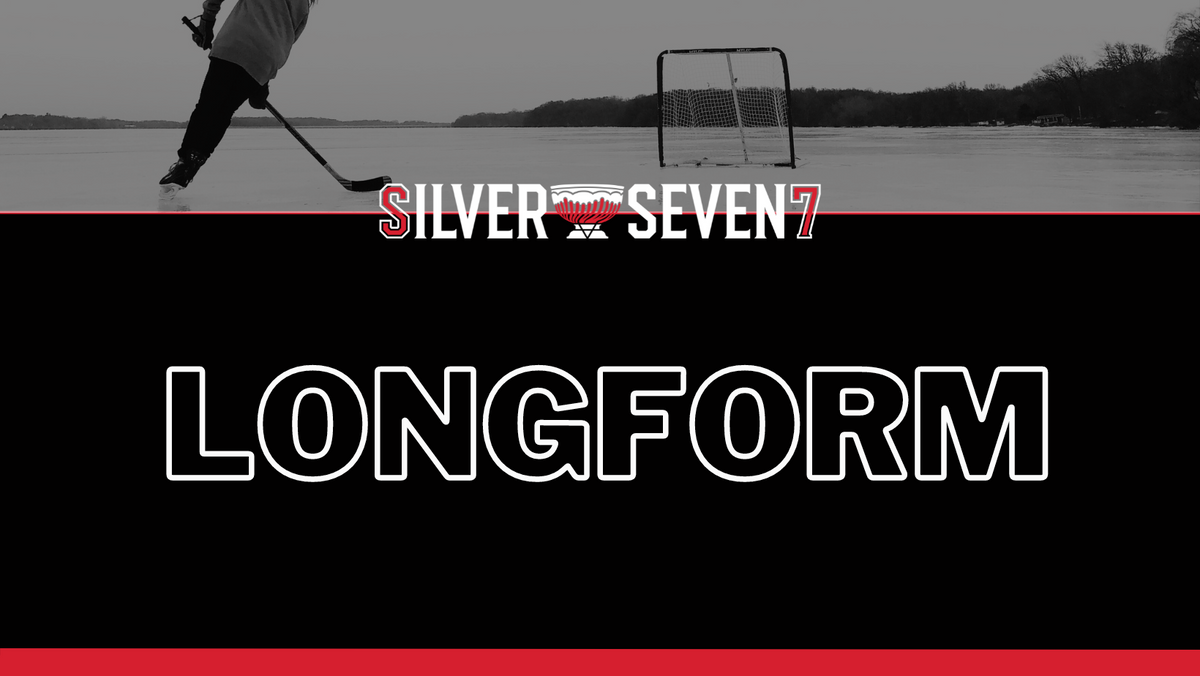 Every summer, there are a surprising number of NHL-caliber players that find themselves without a contract. Sometimes it's just a game of musical chairs and they're left without a spot, and sometimes there just isn't much of a market for their services. These players often end up signing a "PTO" or "professional tryout contract," which allows them to join training camp with an organization for no guaranteed money, and if the team likes them enough, they can then sign them to whatever deal they'd like—usually something at something approaching league minimum.
The Ottawa Senators often invite at least one player to training camp on a PTO, and they've even had two recent success stories in back-to-back seasons with Derick Brassard last season and Tyler Ennis the year before. Neither were guaranteed contracts at the outset, but they signed one before the season began, with Brassard notching 23 points in 62 games and Ennis putting up 24 points in 57 games—not bad for players who were unsigned all off-season. PTOs don't always get signed to a contract, nor do they always perform well during the season. However, they're often worth looking at, and this season is no different.
I wanted to go through a list of unrestricted free agents who the Senators could potentially sign to a PTO in September. Obviously, Pierre Dorion still needs to shed salary to make room for Shane Pinto and Egor Sokolov, so a new player right this second wouldn't make much sense. However, depending on what money gets sent out, they could still have room for a league minimum player. Let's look at some names:
Tomas Tatar
This is a dream scenario, although seemingly very unlikely. It's strange that he's still unsigned considering he had 48 points in 82 games and is only 32 . His underlying numbers are fantastic as well, which makes him an intriguing option:
However, Tatar is probably waiting to see if a team can give him at least a few million, which the Senators wouldn't have, even if they do move some salary out. Furthermore, Tatar does not fit the mould of the type of player DJ Smith has typically preferred in the bottom six, but hey, you never know.
Danton Heinen
Heinen is still only 28, and can easily fit into any team's third or fourth line. He's put up more than 33 points in three of his six seasons, and last year he was on pace for 28 in a full season. He had 18 goals in 2021-22 and can still play—realistically he'd be better than a bunch of options that Ottawa already has in the bottom six, so I'd be all for bringing him in. He made $1M on a 1-year deal in 2022-23 and he wouldn't be expensive this year either.
Zach Aston-Reese
"ZAR" has been an analytical darling for a few seasons, and he just quietly puts up good results. He's not going to be a point producer as he's never even hit 20 in a season, and his play suffered a little bit this year, but his defensive impact has stayed strong: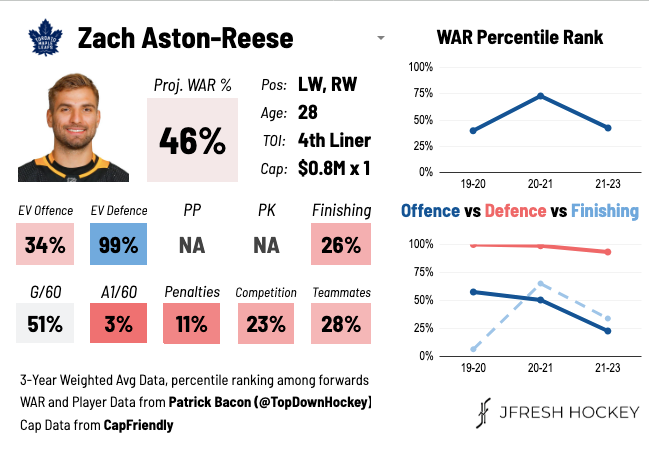 You can't go wrong with him on your fourth line – especially if you want a whole lot of thing to happen when his line is out there; nothing would be an improvement on last season's fourth line performance!
Nick Ritchie
Ritchie was taken 10th overall in the 2014 draft, the pick that was dealt from the Senators to the Anaheim Ducks in the Bobby Ryan trade. He's a prototypical "big body" at 6'3, 236 lbs, and can easily play on Ottawa's fourth line. Ritchie posted 26 points in 74 games between the Arizona Coyotes and Calgary Flames. I'm not sure if they need another physical player like him, but I wager he'd be someone the Senators like.
Josh Bailey
Bailey has been loosely connected to the Senators due to his relationship with assistant coach Jack Capuano. The soon-to-be 34-year-old has had a great career but he played quite poorly for the Islanders in recent seasons and is probably not going to see much of an improvement moving forward. However, he's a veteran presence, and you can never rule out how much teams love that, especially at training camp. It wouldn't be the worst thing to have him around for camp without the commitment of  a deal.
Adam Erne
Erne has been a depth forward between Tampa Bay and Detroit since 2016, although not with a ton of success. He's only 28 and had 18 points in 61 games last season, although he was also sent down to the AHL for 9 games. I wouldn't want him playing many minutes, but he's at least a potential name to look at.
Colin White
I don't think this would happen, but it would be neat to see White come back to the team that drafted him. He never turned into the player we hoped for, although he probably shouldn't be out of the NHL either. White posted just 15 points in 68 games for Florida, and somehow only had 2 points in 21 playoff games, so that wasn't enough to impress the Panthers. I say it's worth exploring bringing him home purely to put a smile on his face while he's back with his pals.
Paul Stastny
I was somewhat surprised to see that Stastny hadn't retired yet. He'll be 38 in December, but he's remained somewhat useful over the past few seasons: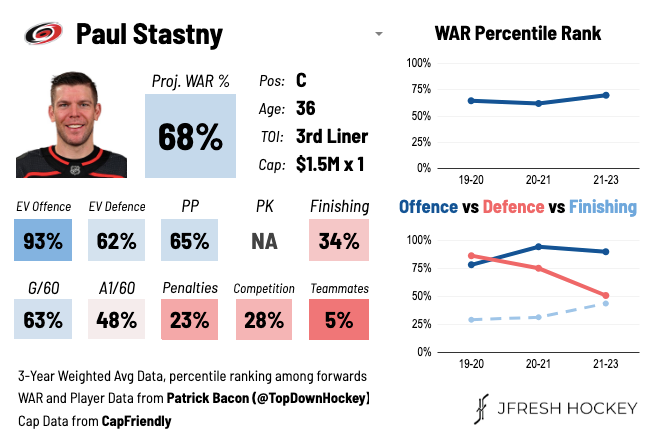 He had 22 points in 73 games for the Carolina Hurricanes, and much like Brassard last year, he could probably fit in the bottom six with no problem. As with all of these guys though, you shouldn't be relying on him.
Jujhar Khaira
Khaira doesn't have the most impressive resumé, but he's been able to stay in the NHL since 2016-17 without being sent down to the AHL. He had 14 points in 51 games for the abysmal Chicago Blackhawks last season, and I don't know how much positive value he'd bring. However, if they want to create some competition for depth players, an established NHLer makes sense.
Noah Gregor
Gregor is in a similar spot to Khaira but with a shorter resumé. He's spent his whole career in San Jose and had 17 points in 57 games this past season. He reminds me of Dylan Gambrell in that they both began as Sharks and had very good numbers in the AHL/NCAA/WHL but haven't done much since then. Could he beat out someone like Parker Kelly? Maybe, but I'm sure the Senators prefer Kelly's toughness.
Phil Kessel
I mean...it'd be pretty funny right? He was barely a player for Vegas in the playoffs as he only suited up four times, but he did play in all 82 regular season games and had a respectable 36 points. Considering Ottawa's need for defensive forwards, I don't see a fit here, but the stories would be funny to see.
I didn't include any defensemen on here because a) Ottawa's pretty set with their seven defensemen plus Tyler Kleven, and b) the list of available defensemen is...sparse. Ethan Bear would be a cool option but he'll be injured for a few more months.
Out of these options, who would you like to see at training camp with a shot at a job?
Not everyone can afford to pay for sports coverage right now, and that is why we will keep as much of the site's content free for as long as we can.
But if you are able to, please consider subscribing to help keep our articles free (and get a few extra perks).
Erik Condra
Ability to comment and participate in our community
Twice monthly newsletter available only to subscribers
Ad-free reading
Our undying love and appreciation
Brady Tkachuk
Everything from the Erik Condra tier
10% discount on all merch
Access to any future paywalled content
A personal thank-you from the Silver Seven staff
Daniel Alfredsson
Everything from the Brady Tkachuk tier
Inner peace knowing you are supporting quality, independent coverage of your favourite sports team