For the Ottawa Senators, a Lack of Draft Picks Means the Time to Win is Now
The Senators don't have many picks and prospects left to deal; they will need to move promptly so as to not miss their window.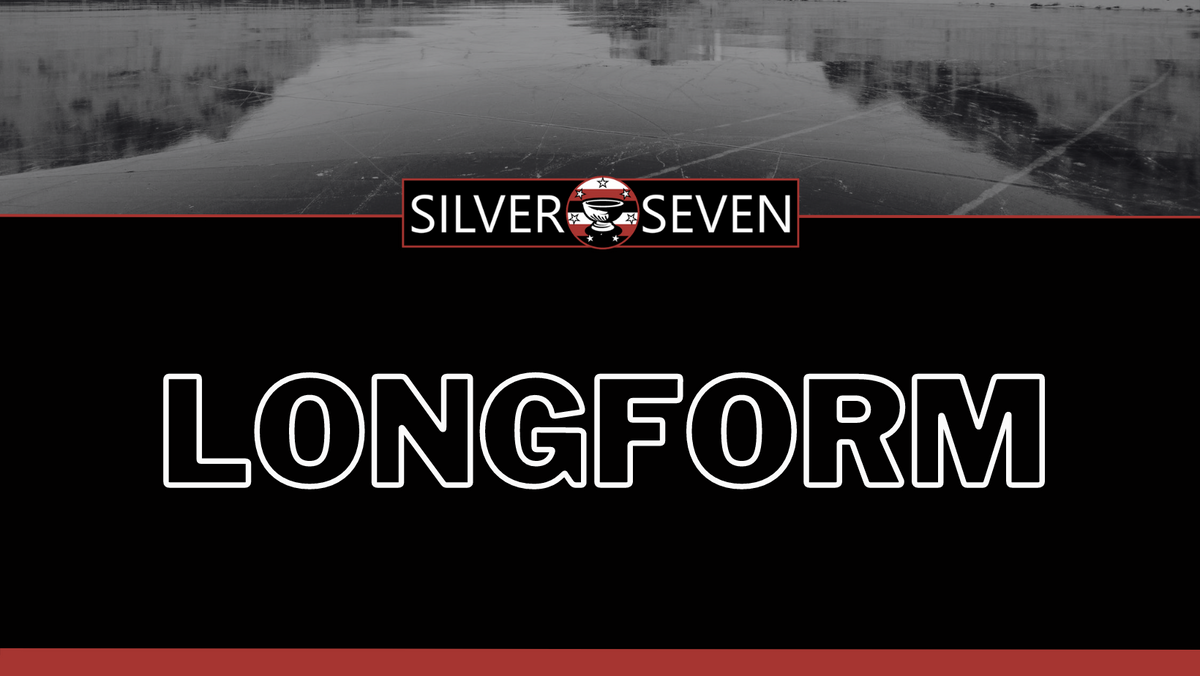 We all know where the Ottawa Senators stand: they finished with 86 points, which is respectable but not good enough to be a playoff team. They have a ton of young talent on their roster, and after years of rebuilding, the expectations for next season are play-offs or bust. It's simply good enough to say "We took a step forward" anymore.
Perhaps the best illustration of that fact is GM Pierre Dorion's willingness to mortgage a plethora of draft picks between 2021-2026 in order to bolster this lineup – probably because he knows that this is the perfect time to accelerate. He's dealt a total of 17 picks from those drafts, which most notably netted them Alex DeBrincat and Jakob Chychrun:
2021: 2nd, 4th, 5th, 5th
2022: 1st, 2nd, 3rd, 7th
2023: 1st, 2nd, 3rd, 6th
2024: 2nd, 3rd, 7th
2026: 2nd, 4th
Granted, he's also acquired nine picks (that he hasn't subsequently dealt) including a 2022 2nd, 2022 3rd, 2022 5th, 2022 5th, 2022 7th, 2022 7th, 2023 7th, 2023 7th, and 2024 4th, but most of those are very late selections and don't come close in value to the picks he's dealt away. Don't misunderstand: that isn't meant to be me saying that Dorion is trading away too many draft picks and isn't focusing on the future. Not that there haven't been mistakes like a 2nd for Derek Stepan, a 2nd and Jonny Gruden for Matt Murray plus a 3rd and a 7th to get rid of Murray, and also a 2nd and a 4th to get rid of Nikita Zaitsev are careless that simply didn't need to happen. So it isn't ideal that those five picks should've easily been retained but were not.
Nevertheless, the point of this isn't to ridicule Dorion for moving too many picks. Rather, I want to highlight how crucial it is that the Senators take this window of contention seriously. Ottawa's farm system is not in a very good place right now, although most of that is due to the incredibly high volume of players they have graduated recently. Since 2021, that includes players such as Tim Stützle, Josh Norris, Drake Batherson, Shane Pinto, Jake Sanderson, Erik Brännström, Mark Kastelic, and Parker Kelly, with potentially Ridly Greig, Tyler Kleven, Jacob Bernard-Docker, Lassi Thomson, and Mads Søgaard reaching that mark as well. That is an incredible amount of value in just a few seasons, with most of them performing somewhere close to as well as one could hope.
In fact, the 2020 draft looks like a masterclass in drafting, as Ottawa had 10 selections and seven of them have already made their NHL debut. They have two stars with Stützle and Sanderson, plus Ridly Greig, Tyler Kleven, Leevi Meriläinen, Egor Sokolov, and Roby Järventie all have good chances to be NHL contributors, and even Philippe Daoust, Cole Reinhardt, and Eric Engstrand have some potential as well:

That draft and their young players acquired before that have set them up quite well for the future, which is very exciting. However, things...start to get very thin after 2020. As I mentioned, Dorion has traded away a lot of draft picks from 2021-2026, and they haven't really unearthed any potential star players in the 2021 and 2022 drafts. That's not to say that none of the players they selected can become good NHLers, but the progression of those two drafts (especially 2021) pales in comparison to the star-studded 2020 class: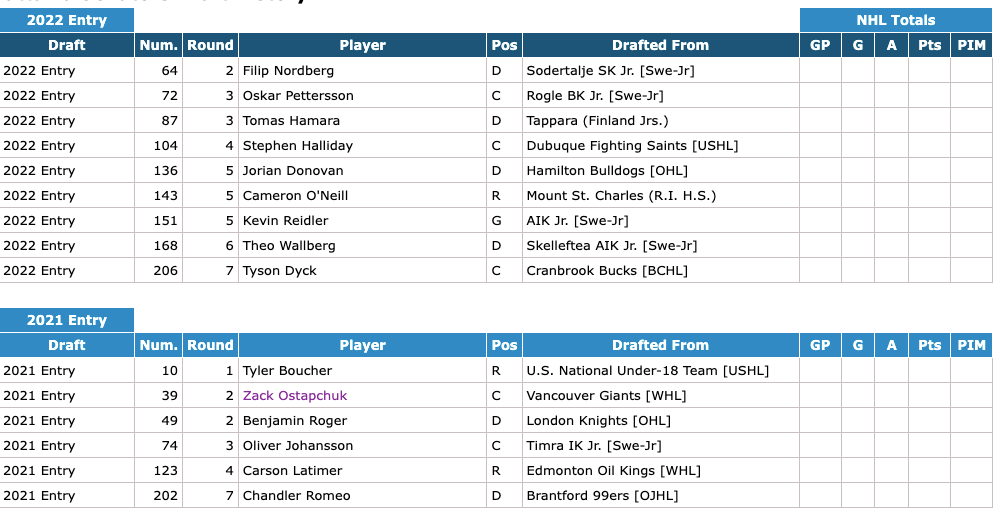 Zack Ostapchuk, Stephen Halliday, Tomas Hamara, and Jorian Donovan show some interesting potential, but I wouldn't put any of them in the blue-chip by any means. There just aren't a whole lot of players that you can pencil into the lineup and count on in the next year or two—it could happen, but there's a chance none of them reach the heights we hope they do. It'll be too bad if they're unable to get much from those drafts because the best teams like Tampa Bay are able to constantly get cheap rookies into their lineup, which costs no assets.
What does all of this mean though? Simply put, Ottawa doesn't have a ton of assets to deal with in order to improve, and they will really have to rely on their amateur scouting to get any advantage they can with their later picks. It's not as if the Senators need to draft more star players, but they definitely need to be able to identify good role players, because a team with good depth is usually homegrown. It will be more challenging to improve the team now, and without a constant stream of top young players coming in (partially due to the lackluster 2021 and 2022 drafts), Ottawa needs to be urgent with their window. The team is young now, but some teams take years to make the playoffs, win some rounds, and then finally win the Cup. Alex Ovechkin and the Washington Capitals have only gotten out of the second round once and it also took them 13 years to win the Cup.
Urgency means that the Sens can't be satisfied with missing the playoffs for any season for the foreseeable future, and considering players peak around their mid-20s, the next five years or so are the perfect opportunity for the Senators to pounce on their window. I'm fine with trading picks and prospects, but they need to be smart with it, and they also need to maximize their value at the draft with not as many picks at their disposal. Sometimes they do excellently well like in 2020 and 2009, and sometimes not so much like in 2021 and 2016.
Adding DeBrincat and Chychrun for lesser prices and six picks total were wise moves at the time, and in retrospect, but that also means that there are no excuses anymore, and the team needs to go all-in on this potential winning period. I don't feel great about the farm system, although it's hard to complain about so many excellent graduations. The good news is that Ottawa really only needs to add quality depth now because they've got the top players figured out. They just better act with urgency, as this fanbase is starved for not just a playoff berth but playoff success.