A Deep Dive Into Brady Tkachuk's Quest To Score A Between-The-Legs Goal
The captain wants so, so badly to pull off this move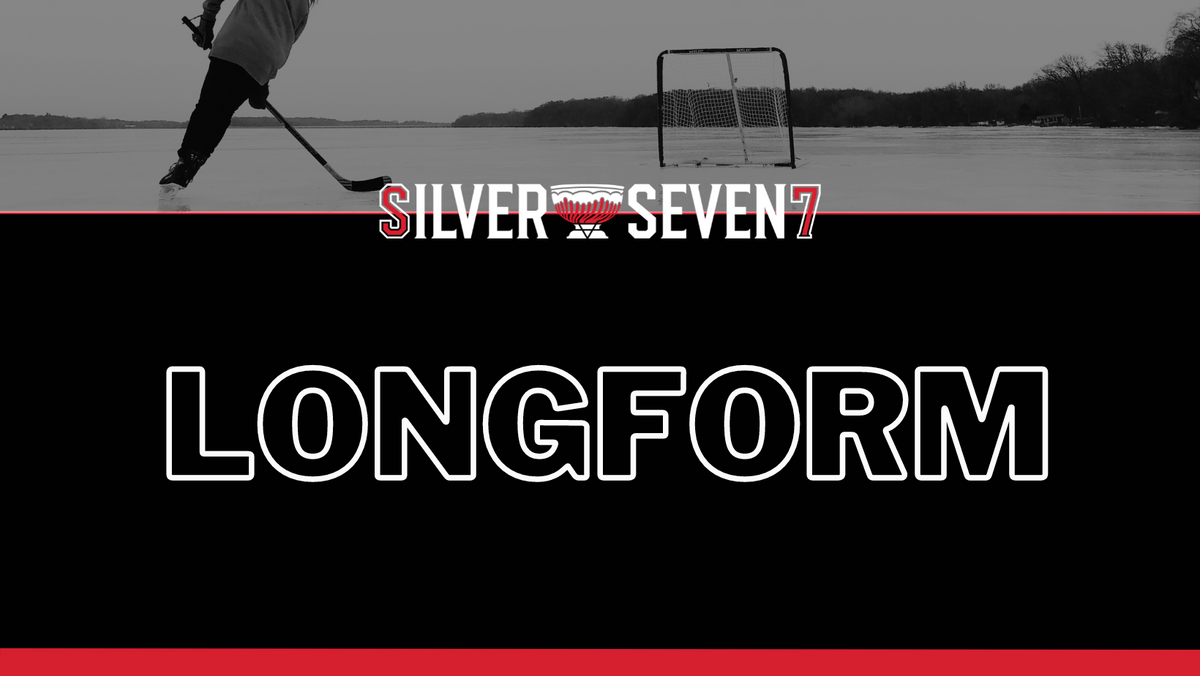 In 2023, the game of hockey is faster and more skilled than ever, with players like Trevor Zegras pulling off trick shots that change how the game is played. Moves that previously would have made national headlines are now so commonplace that they don't even guarantee a player a spot on the highlight reels.
It is thus inspiring to see a player as well-known as Brady Tkachuk struggle so publicly to pull off a well-known trick shot.
Although the above tweet proves that this quest of Brady's has been going on for quite some time, it really started during the 2021-22 season. Braeden was not (and some might is still not) known as a particularly flashy player. While his older brother has made the between-the-legs shot his signature move, the Sens' captain plays a more meat-and-potatoes style -- preferring to jam the puck into the goalie's pads a bunch of times or simply plant himself in front of the goalie hoping that he can block out the sun and have the puck deflect off him into the net. That changed in 2021-22, when he must have gotten more comfortable in the NHL and realized that he does, in fact, have enough skill to do cool things on the ice. Or maybe he just realized it would be a great bit if he started attempting skilled plays. Who knows what goes on in his mind?
Whatever his motivations, one thing is clear: he has been on a mission to pull off that move ever since. He even attempted it in a promotional shoot in fall 2022, but even outside of a game scenario he just couldn't do it. During the season that followed, he would attempt to score a between-the-legs goal a total of eight times, which I know because I took it upon myself to track his attempts all season. He succeeded on 0 of those attempts. We're approaching "statistically, one of those shots should have gone in by now" territory.
So, what is it about that move? Why is it so difficult and impressive? And why can't Brady Tkachuk pull it off no matter how hard he tries?
The between the legs deke aims to fool goalies by bringing their attention to where most players are able to get shots off, then switching things up at the last minute by bringing the puck behind you. It requires a lot of coordination and practice, because you have to be able to both get the puck between your legs, and get a shot off from an odd angle. It takes a lot of practice and skill to not just fall down – if you don't believe me, try it yourself next time you're out on the rink.
Because it's the offseason, I tracked down as many videos as I could of the captain trying and failing at this move, to try to figure out what the problem is.
The first clip we're going to examine is one that doesn't even come from a game situation: he tried to do it during the NHL media tour last year, when he was being filmed trying cool shootout moves.
Here, his problem is obvious. It's just a bad shot. He sends the puck right to the goalie's chest. The Brady Tkachuk special.
Next, let's look at his most famous attempt from last season, and my personal favourite. The date was October 29th. The Sens had gotten off to a good start, but were losing by one goal to their divisional rivals, the Florida Panthers, and in danger of dropping their second straight game. We didn't know it at the time, but that losing streak wouldn't end for a long time. As the seconds wound down in the game, Brady Tkachuk found himself in front of the Panthers' net with the puck on his stick, and. Well.
Once again, he shows poor mastery of the move here. He doesn't even get the shot off.
In fairness to Brady, his thought process does make sense in this situation. He's on his backhand, with a defenseman bearing down on him. He has enough space to spin around and get a forehand shot off, which possibly might have been the smarter move, but the between-the-legs deke could have worked; if he'd done it properly.
Yes, he wasted a chance to score with his net empty and tie up the game, but think about how cool it would have been if he'd succeeded.
Our next clip comes from December 17th, in a game against the Detroit Red Wings. This is another one of my favourites because it did eventually result in a goal being scored, just not by Brady.
This time, I can't find any fault with Brady's technique. He's facing away from the goalie when he receives the puck, so it makes perfect sense for him to glide backward into the crease and put the puck between his legs. It's truly the most logical move. The puck also seems to be going over the goalie's shoulder, and might very well have gone in if not for the Red Wings defenseman sliding along the ice to foil Brady's plans. That was definitely tripping, for the record. Anyways, the chaos that Tkachuk creates in front of the net gives Claude Giroux the perfect opportunity to step into a shot and score, so I guess we can consider this Brady's most successful attempt all season.
The next attempt happened a few weeks later, and it was probably his most impressive attempt last year.
This time, he's on a partial breakaway, with the time and space to pull off whatever move he wants, so of course he goes for his favourite one. It's unclear if he's aiming to go five-hole or blocker side, but either way the goalie saves it without too much trouble. It's not the best shot, but those types of plays aren't really Brady's strong suit anyways, so points for creativity.
Finally, we jump all the way to April, in a game against the Montreal Canadiens.
Once again, we find Brady in the corner, receiving the puck as he cuts to the net while still facing the play. You can see how this is the type of scenario where a between-the-legs shot makes a lot of sense. If he's facing away from the net, then he has to spin around to get a shot off, and that's likely to be difficult for him to do when he has defensemen barreling down on him. The fastest way to get a shot off is to go between the legs, and that's what he does. It's hard to tell from the video where the puck goes, but it looks like a good enough shot, except that once again his problem is that the defenseman gets to him first.
So there you have it. As funny as Tkachuk's attempts to pull off this move have been, not all of them have been him showing off at inopportune moments. His style of play means that he's often right in front of the net with very little time or space to make a play. Early in his career, he was famous for always sending low-quality shots toward the net without creating many truly dangerous chances for his team. As he's matured, he's gotten better at creating high quality chances, and adding skilled plays to his repertoire is a part of that. One day he'll actually score with one of those moves. I believe in him.
When will that happen? My guess is either an overtime playoff winner, or an empty-netter to put his team up 5-0. No middle ground.
In the meantime, I hope he keeps trying. It's a great bit.
Not everyone can afford to pay for sports coverage right now, and that is why we will keep as much of the site's content free for as long as we can.
But if you are able to, please consider subscribing to help keep our articles free (and get a few extra perks).
Erik Condra
Ability to comment and participate in our community
Twice monthly newsletter available only to subscribers
Ad-free reading
Our undying love and appreciation
Brady Tkachuk
Everything from the Erik Condra tier
10% discount on all merch
Access to any future paywalled content
A personal thank-you from the Silver Seven staff
Daniel Alfredsson
Everything from the Brady Tkachuk tier
Inner peace knowing you are supporting quality, independent coverage of your favourite sports team