Game Coverage
Bottom-Six Helps Secure 7-4 win over the Tampa Bay Lightning
Ottawa's fourth line scored four times as they defeated the seemingly disinterested Lightning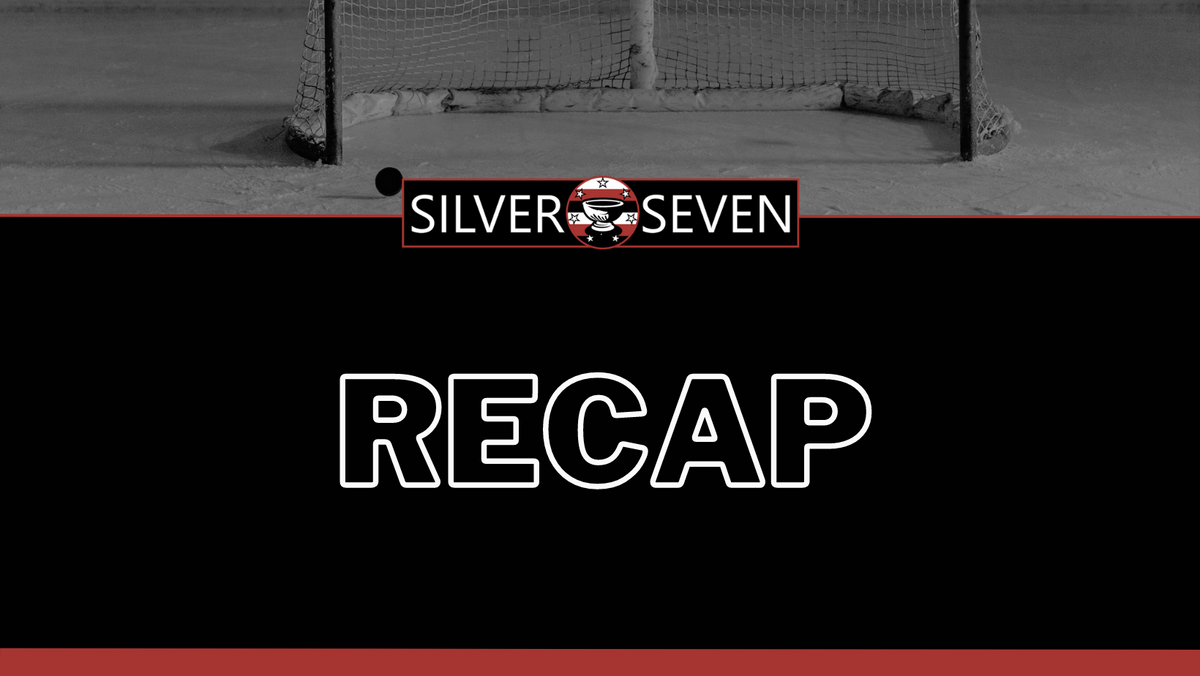 The Ottawa Senators had just three games left in the season heading into tonight, and they were hosting the Tampa Bay Lightning, who have been ready to start the playoffs for weeks now. The Senators have nothing to play for except their pride and to finish off the season on a strong note.
First Period
The game couldn't have started better for the Senators. Alex DeBrincat's dump-in ricocheted off the boards and all the way back to Erik Brännström. Brännström took a one-timer on that loose puck, and Drake Batherson made a slight tip, which was just enough to get it past Brian Elliott:
Just seconds after Batherson's goal though, Artem Zub tripped Nikita Kucherov, putting Tampa Bay on the powerplay. In the least surprising turn of events, that trip let the Lightning immediately get back into the game. Steven Stamkos made sure that Nick Holden was screening Cam Talbot, and he fired it top corner to tie the game at 1:
After eight minutes of no dangerous chances either way, Julien Gauthier came screaming down the ice on a rush with Egor Sokolov. Gauthier was looking for the shot all the way, and considering how quick his release is, I can't blame him. He beat Elliott cleanly over the shoulder, giving Ottawa the lead again:
An Erik Cernak penalty gave the Senators an opportunity to make it a 3-1 lead, but Ottawa's only real chance was a blocked one-timer from Alex DeBrincat. Against a somewhat disinterested Lightning team, the Senators were up 2-1 after 20 minutes.
Second Period
Tampa Bay didn't exactly pick it up in the next period, as the shots were 11-2 during the first 12 minutes of the second. Thankfully that translated to the score, as Patrick Brown would make it 3-1. Artem Zub's shot point couldn't be controlled by Elliott, and Brown made a nice play to get loose and bury his own rebound off the crossbar:
Although the Senators were once again dominating the play, they shot themselves in the foot by taking back-to-back penalties courtesy of Erik Brännström and Claude Giroux. The Lightning had 1:12 of 5-on-3 time, and they certainly made the most of it. For some reason, Jake Sanderson, Nick Holden, and Patrick Brown were all below the goal line battling in the corner, and Brandon Hagel made quick work to cut the lead back down to one:
It was a careless mistake that made no sense, and not long after, they tied it up once again. Victor Hedman had all the time in the world to take a one-timer from Kucherov, and it seems like he just beat Cam Talbot cleanly, a situation that has been all too familiar for the Senators of late:
So despite clearly being the better team for more than half of the game, Ottawa was tied at 3--sound familiar?
More frustrations mounted, as it looked like Tim Stützle gave the Senators the 4-3 lead--but not so fast. For what seems like the millionth time this season, Ottawa's goal was called back due to it being offside by the tiniest margin. It was a great effort from Stützle, but it was all for nothing:
Thankfully, Ian Cole would give the Senators some life. He took an interference penalty on Brady Tkachuk, and DeBrincat was able to take advantage of that with a one-timer that barely squeaked past Elliott. In fact, the refs had to review it just in case, which would've been hilarious if that goal was also called back. Alas, it counted, and Ottawa was up 4-3 heading into the final frame:
Third Period
2:07 into the third period, something magical happened: Egor Sokolov finally got his first career NHL goal in his 11th game. It was a long time coming for him, and he is someone that deserves some good luck. He's been excellent in Belleville this season with 55 points in 67 games, and it's great that he's finally getting a chance to play in the NHL. Erik Cernak fell backward while trying to move the puck, and Sokolov was left all alone in front. His deking before sliding it five-hole showed the confidence of an NHL veteran, and you could see how much that goal meant to him:
Amazingly, the Senators DJ played the Jaws theme song and "Baby Shark" afterward in honour of his "Sharkolov" nickname. Yet based on the theme of this game, the Lightning were not going to give up there. Just four minutes later, Brayden Point would get his 49th goal of the season after being open in front of the net and deflecting a hard pass from Hedman:
The fact that the two goaltenders were 35 and 39, a 10th goal being scored was to be expected. We didn't know if it was going to be good or bad news, but Mark Kastelic made sure it was Ottawa who answered next. He raced to a loose puck in the neutral zone and impressively snapped it past Elliott. Despite it being a good shot, it was still probably one that Elliott should have had:
The Senators and Lightning really wanted to make this as interesting as possible though, so Ottawa took two penalties in succession: too many men and holding. Tampa Bay couldn't really muster very much though, which made the final 1:30 the most intriguing. The Lightning had a few close chances, but Tkachuk was able to get it into the offensive zone, over to Stützle, and then over to Giroux, who recorded his 998th career point. He just needs to get two points in the final two games to get to 1000. With the 7-4 win, Ottawa improved 38-35-7.
Notable Performances
The Senators bottom-six has not been nearly good enough this season, but tonight they were the reason they won. Gauthier, Brown, Sokolov, and Kastelic all scored a goal, and Mathieu Joseph looked electric on the ice as well.
With Brännström's assist, he now has 8 points in 13 games. Points shouldn't be a good indicator of how well he's doing, but the biggest knock on him was that he wasn't producing offensively, and now he is. He seems to just keep getting better.
There's a chance that tonight was Brian Elliott's final NHL game. The 38-year-old has played just 21 games this season, and he has just an .886 SV%, so I'm not sure there'll be much of a market for him. If this is it for him, he had an incredibly successful career for a ninth-round draft pick, with 524 GP and a .909 SV%.
Cam Talbot has looked incredibly disinterested over the past several weeks. It's definitely time to move on from him.
Batherson had a team-high 94.88 xGF%, and DeBrincat was just behind at 93.95%. Only Tkacuk, Giroux, and Stützle were below 50% tonight.
Game Flow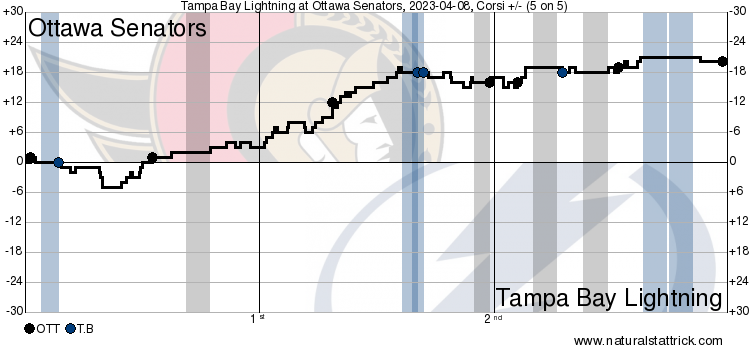 Heat Map