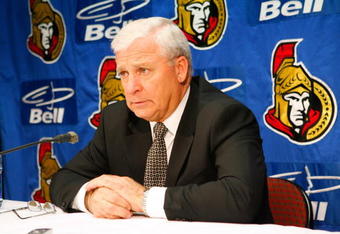 Since the Ottawa Senators were mutilated by their all-time rival the Toronto Maple Leafs, the press, media, radio, everything with a plug on side in a computer andon the other in their ass has been circling the Ottawa Senators like a dump of shit, pigs just waiting to gobble it up. It started with the managerial mess with Bryan Murray trying to fire Cory Clouston, but Eugene Melnyk saying no. Andthen there's talk Murray's done and Pierre McGuire is going to take over. Now I'm not entirely sure who Pierre McGuire is, because TSN is a luxury here in Swedish Land. But with no past experience at General Manager, how is he our saviour, to rescue our team and send us to the ultimate destruction in the playoffs by the Pittsburgh Penguins.
I'd just like to say that all of that is described by two words: bull and shit. First off, look at who's writing all these stories. The Toronto Sun. The fucking Toronto Sun. Not the Ottawa Sun, but columnists for the Toronto Sun. Steve Simmons is a pure-bred Maple Leafs fan, but never seems to be right. Remember last year when he said Tomas Kaberle hated Ron Wilson? Yeah, how's that going. And even if these guys aren't only writing for the Toronto Sun, they write for Sun Media. When was Sun Media ever correct about everything? Bruce Garrioch? Don Brennan? Both likely get their "inside info" from a 5-year old on the jungle gym. Now, asking how I know that much info? Call it finally finishing university and finding out, "Holy crap, I have nothing to do".
The worst thing is that the Senators Blogosphere is getting caught up in all of this muddle of poop. I'm not going to name anyone, but now...
"but I have been hearing more and more that Bryan Murray will be fired on Thursday or Friday and that none other than TSN's Pierre McGuire will be taking over the GM duties for Ottawa." is being thrown out there. Seriously? Where did you hear that from? The Latest Swedish Bikini Model?
"As for a change behind the bench, if body language is any indication, it would at least appear Clouston expects a change. His "stare to nowhere" after every goal, and penalty, has been omnipresent over the last few games, and if nothing else, it certainly indicates a degree of paralyzing frustration on Clouston's part."Really now, so his stare to nowhere indicates Clouston think he's goign to get fired. So where is he supposed to stare? Down? Up? Sideways? X-Ray Lights into Alex Kovalev's Head?
Bryan Murray is a smart man. I have all the trust in him. He has made some mistakes, which have blown up in his face. But he has made some great trades and his drafting record is superb. Remember the Kuba trade? Although people are pissing on thatas of now, we totally dominated that trade. Listen to this quote form yet another blog...
So here's saying it's Kuba leaving in the off-season. He's been steady but never really excelled that much ever since the Senators thoughtlessly moved a young defenseman in Andrej Meszaros for him due to a contract squabble. Meszaros, as most young defenseman do, went through some expected growing pains with Tampa but now leads the NHL in plus/minus for the Flyers, plays over twenty minutes a game and has a cap hit of 4 million, just $300,000 more than Kuba - basically peanuts.
Pretty much the author of this passage who shall remain name-less suggests the trade was Meszaros for Kuba? Straight-up? Well, now that would have been an awful deal, but IT WAS NOT MESZAROS FOR KUBA!!!!!! We also got Alex Picard anda 1st- Round Pick which turned out to be I believe 26th. In this day of age, that's a great pick to choose a solid future player. Kuba and Picard played solid in their first year, but Picard was a free-falling train ever since andwas packaged with a second rounder for Matt Cullen. That same 1st rounder went to New York for basically Chris Campoli, who still remains in a Senator uniform and has sadly had the best season of his career this year. And when Kuba eventually get's traded out Ottawa, we still will getsomething in return, likely a 3rd round pick in my estimates. Although, my estimates do suck. And Andrej Meszaros. Sweet jesus, does no one remember how horrible he was in his three-year tenure in Tampa Bay? He was HORRIBLE. He was traded to the Philadelphia Flyers for a 2nd round pick. Kuba, Picard, and a 1st Rounder vs. 2nd Rounder. Hmm, I wonder what is better. AndI know this is becoming a really long paragraph, but Andrej Meszaros is doing "so well" in Philadelphia because he plays in Philadelphia. When he plays on a full-throttle team loaded with talent and bound to be a Stanley Cup Contender, even Mattias Weinhandl can score 30 goals. So seriously, there is not argument in this category. even when talking about peanuts.
Cory Clouston had led this team to winning records before this season. Cory Clouston re-vitalized and developed players such as Mike Fisher, Jesse Winchester, Chris Campoli, and Erik Karlsson. Clouston's system to forechecking hard and jumping in the rush is something needed to succeed in today's NHL. We all saw what happened when we hired a defensive coach, Craig Hartsburg. You need energy, and Triple C brings that. One bad phase of a season, and the head is being called. Personally, Bryan Murray and Cory Cloustonshould both stay as Coach and General Manager. I believe that in time the franchise will transition the keys to Bryan's nephew, Tim Murray, and with Clouston as head coach and a ship of great defensive prospects and future cupboard blue-chippers, I believe this season will become an abberation once we roll into next year.
And if the report of Bryan Murray trying to fire Cory Clouston is true, good on Melnykto not succumb to pressure. Stay the course, do not become another version of the Toronto Maple Leafs. One season of missing the playoffs isn't as bad as some may thin, especially when considering how deep June's Draft is expected to be. But either way, that report from Steve Simmons is not true. Murray is a smarter man than that, and he knows how to handle things.
I do think there are problems on this squad though. I think some players need to be shipped out, such as Alex Kovalev, Filip Kuba, and Jarkko Ruutu. And there needs to be an account of responsibility being taken by the players. They need to collectively take a breath, and play. Play the game of hockey. Go out there and give it your all. If you lose this time, then so what? There's tomorrow's game, and the next day, and the day after that. It's not like they're going to lose every game known to man-kind.
In all, I may be the minority here but I still believe in this squad, from the players to management. Although making the playoffs isn't likely this time around, there is still time to make noise. And even if the sour note continues, the 7th Overall Pick isn't bad at all. I believe though, and I believe things can still happen. But that's just my perspective. I'd like to hear yours.